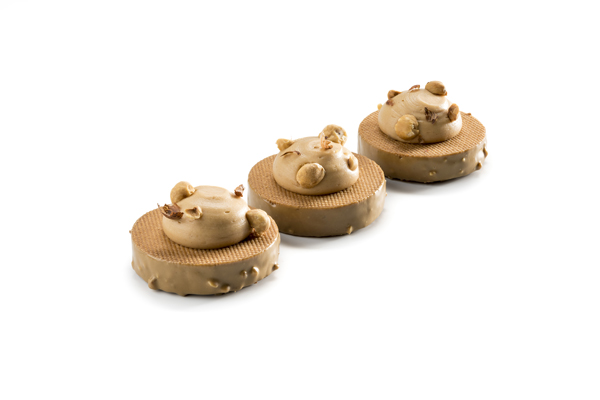 Used Cacao Barry products
Recipe components
Sablé hazelnut paste 100%
| Ingredients | Preparation |
| --- | --- |
| | Mix butter and flour |
| | Then add sugar and baking powder. |
| | At the end add paste and eggs. |
Crémeux hazelnut & salted caramel
Ingredients
Preparation

gelatin powder (200 Bloom)

Mix gelatin with water.

Bring to boil milk, cream and paste.

Make dry caramel with glucose and sugar. Deglaze, add salt.

Make custard with egg yolks.

Add gelatin mass.

Set cool until 25C and mix with whipped cream.
Ganache Alto el sol
| Ingredients | Preparation |
| --- | --- |
| | Make ganache at 50°C. |
Hazelnuts caramelized praliné
Ingredients
Preparation

chopped caramelised hazelnuts

Praliné 50% Piemont Hazelnuts

Melt cocoa butter until 55C. Add praline, hazelnut grains and tempering.
Hazelnut gourmet glaze
| Ingredients | Preparation |
| --- | --- |
| chopped caramelised hazelnuts | Melt chocolate and glaze until 40C. Add nuts and oil. |
Custard
| Ingredients | Preparation |
| --- | --- |
| | Make custard and add butter. Set cool. |
Custard with praliné
| Ingredients | Preparation |
| --- | --- |
| | Mix all ingredients and whip. |