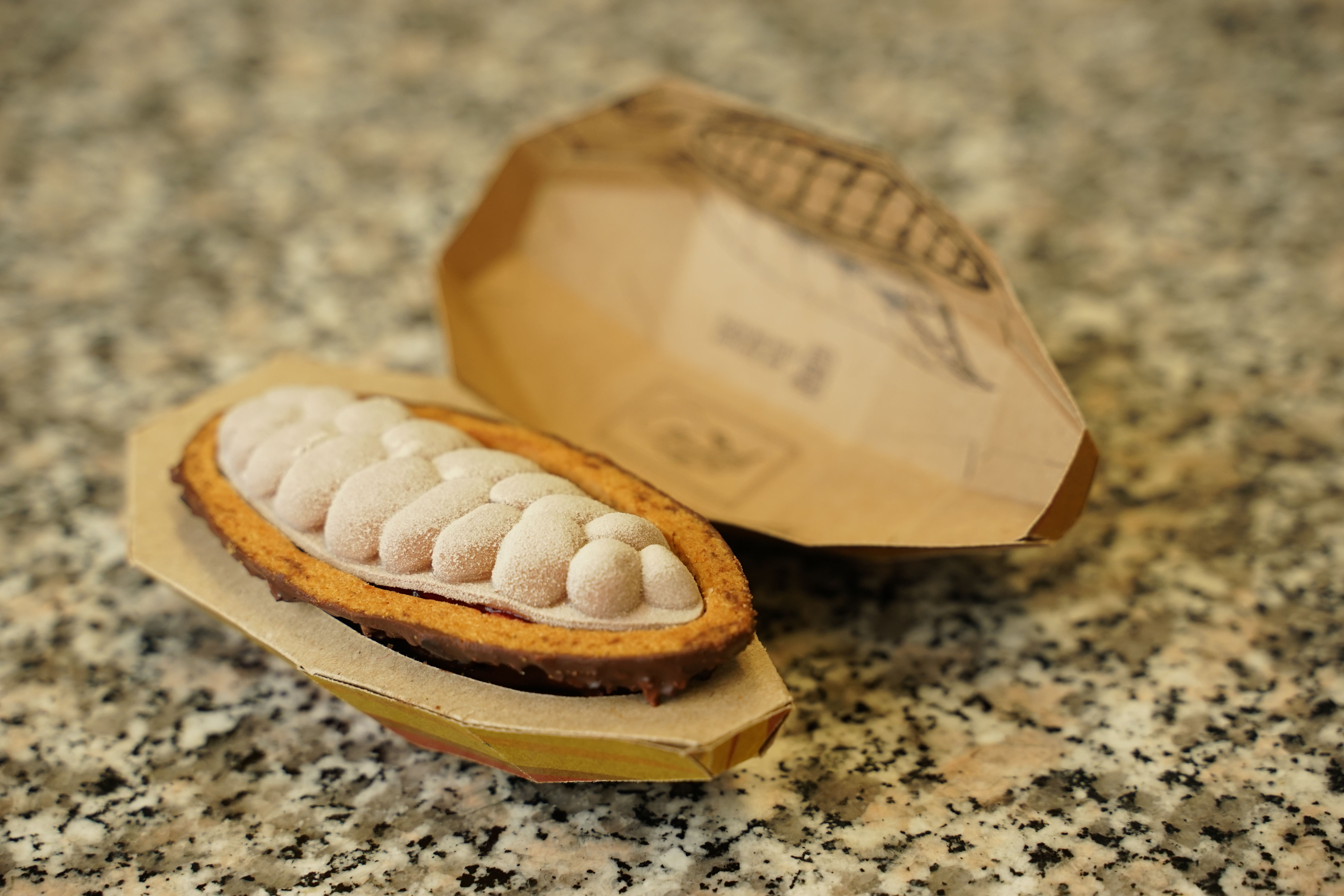 Used Cacao Barry products
World Chocolate Masters
PROTECTION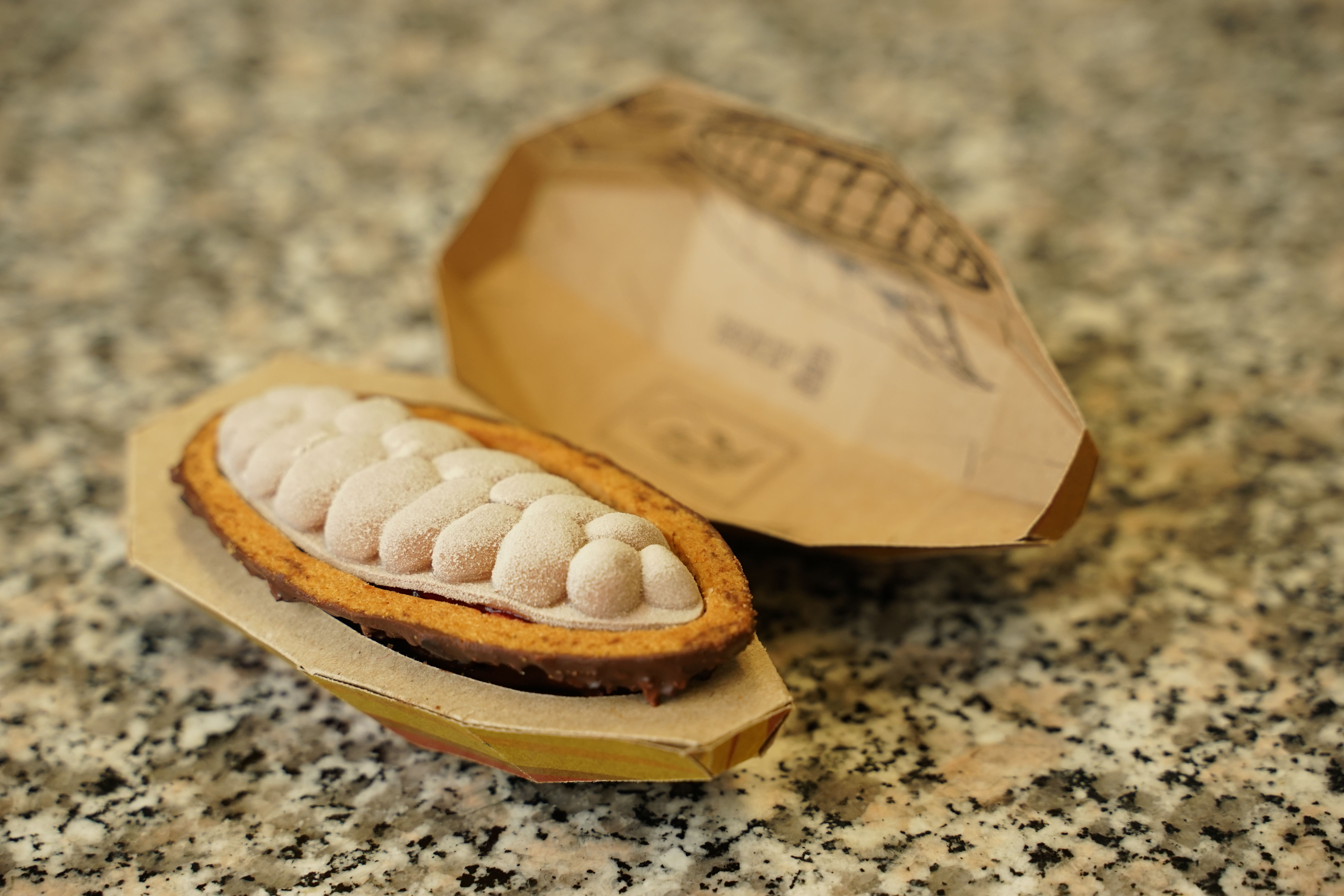 The snack is shaped like a veined outer shell of the cocoa pod. The sablé made only from vegetable ingredients is baked in a special silver-plated mould to the desired shape. In the Snack the Alto el Sol chocolate cremeux is mixed with agar-agar and coconut fat, covered with a slightly smoky Kappia pepper cream seasoned with red paprika. The next layer of the Snack is a vegan sponge cake topped with a  raspberry gel.
The arched sablé-boat representing the cocoa bean is covered by chocolate mixed with grapeseed oil and scattered by cocoa nibs from the outside.
The half of the cocoa pod is closed form above by another layer of chocolate cremeux sprayed with  vegan white chocolate velvety surface which evokes the seeds sitting in the fruit under the white protective membrane in the cocoa fruit.
The Snack has a recycled paper package that protect, support the quick and easy consumption and also educate the customer via a special code with augmented reality. 
Cocoa is one of those treasures which may soon disappear from our world if we exploit nature and do nothing. Chocolate is a gift that would leave a large emptiness around the world if it would be no longer accessible to people. I believe that together, with a broad collaboration we can turn the current difficult situation in a positive direction. I would like to present this philosophy both in my sculpture and all my desserts. Each of them has a message, a call to humanity to act together.
ENVIRONMENTAL PROTECTION has many aspects and many ways, like sustainability or creating less waste, reduction of noise and pollution, etc. It is no matter which way we choose, but we should keep going on it in our everyday life.
Used Cacao Barry products
Recipe components
Vegan sablé
Ingredients
Preparation

Mix

At the end mix in

Roll between 2 baking papers into desired thickness.

Bake at 160°C for 21 minutes.
Alto El Sol Cremeux
Ingredients
Preparation

Mix

Heat

At 45°C add mixture above and bring to boil and cook for a couple of minutes

Pour over

Blend it with hand blender.

Pipe immediately to the silicon mould and leave the remaining in the fridge.
Kappia Pepper Cream
Ingredients
Preparation

Kappia pepper (in whole pieces)

Bake

Bake in the oven at 210°C for 40-50 minutes.

After baking cover with cling film.

Remove skin and all the seeds.

Blend pepper to a cream.

Mix

At 45°C add to the cream and bring to boil.

Add

And cook for 2 minutes.
Raspberry Gel
Ingredients
Preparation

Heat

Mix and at 45°C add to warm purées

And bring to boil.
Chocolate Biscuit
Ingredients
Preparation

Mix

Reserve on room temperature at least for 10 minutes.

Vegetable oil (Sunflower)

Add

Mix and sieve

Add to batter and mix with a whisk.

Bake at 180°C for 8- 9 minutes in deck oven.
Chocolate Glaze
| Ingredients | Preparation |
| --- | --- |
| | Melt |
| | Blend with |
| | Add |
White Velvet Spray
Ingredients
Preparation

Melt

Mix together and use as velvet spray
For Assembly and Finishing
First of all mix the baked crumble with tempered cocoa butter and press in the desired mold. (Pressed sable)
Pipe the Lavender Apricol gel in the center and place 3 pieces of the Hazelnut sponge ( Half sphere)
Pipe the Alunga cremeux and the Sea Salt Caramel Whipped ganache evenly. Top with the Lavender Apricot pearl and some Piemont Hazelnut halves. Decorate with the thin chocolate sticks and a piece of Micro green.