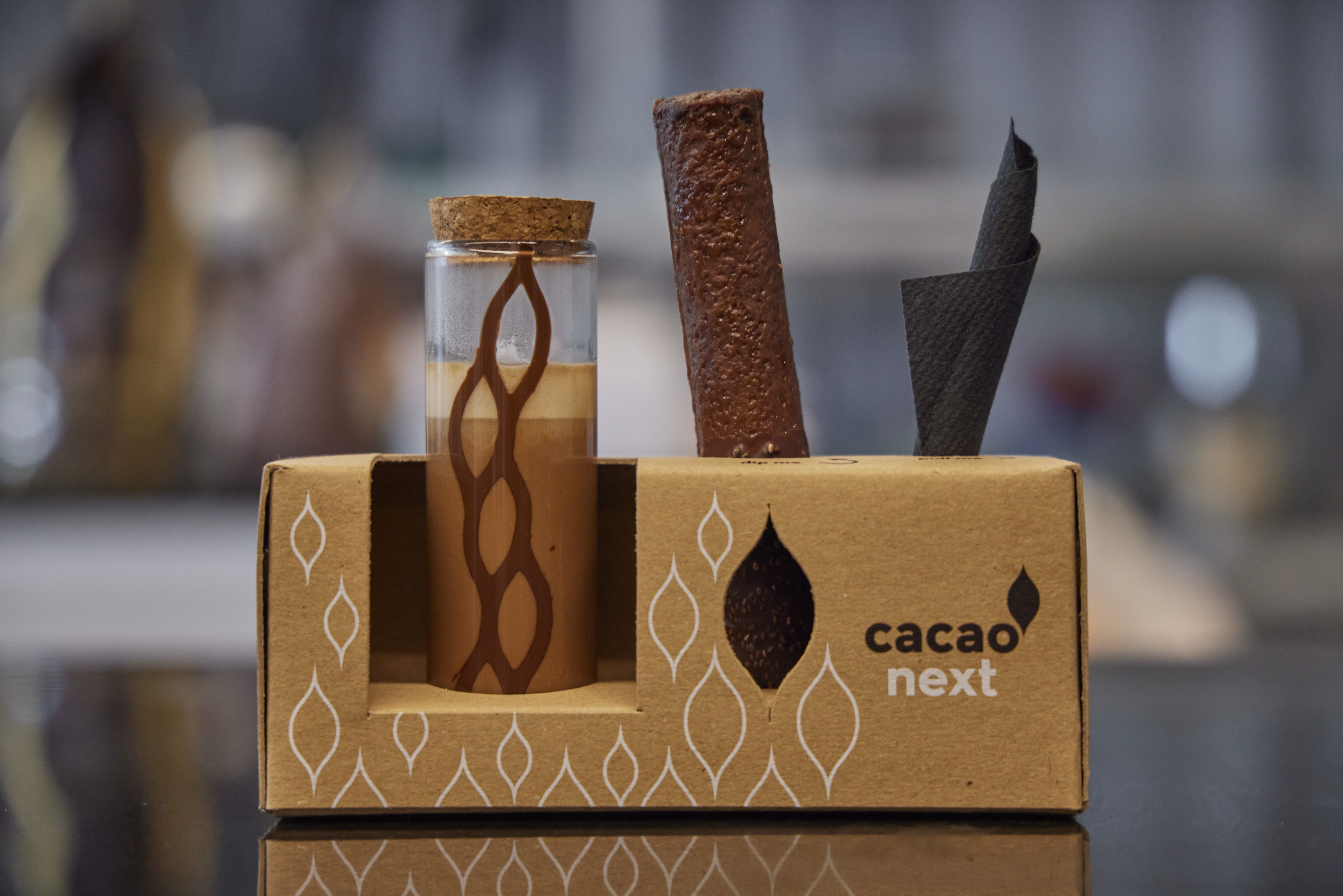 Used Cacao Barry products
World Chocolate Masters
Choco-Almond Duality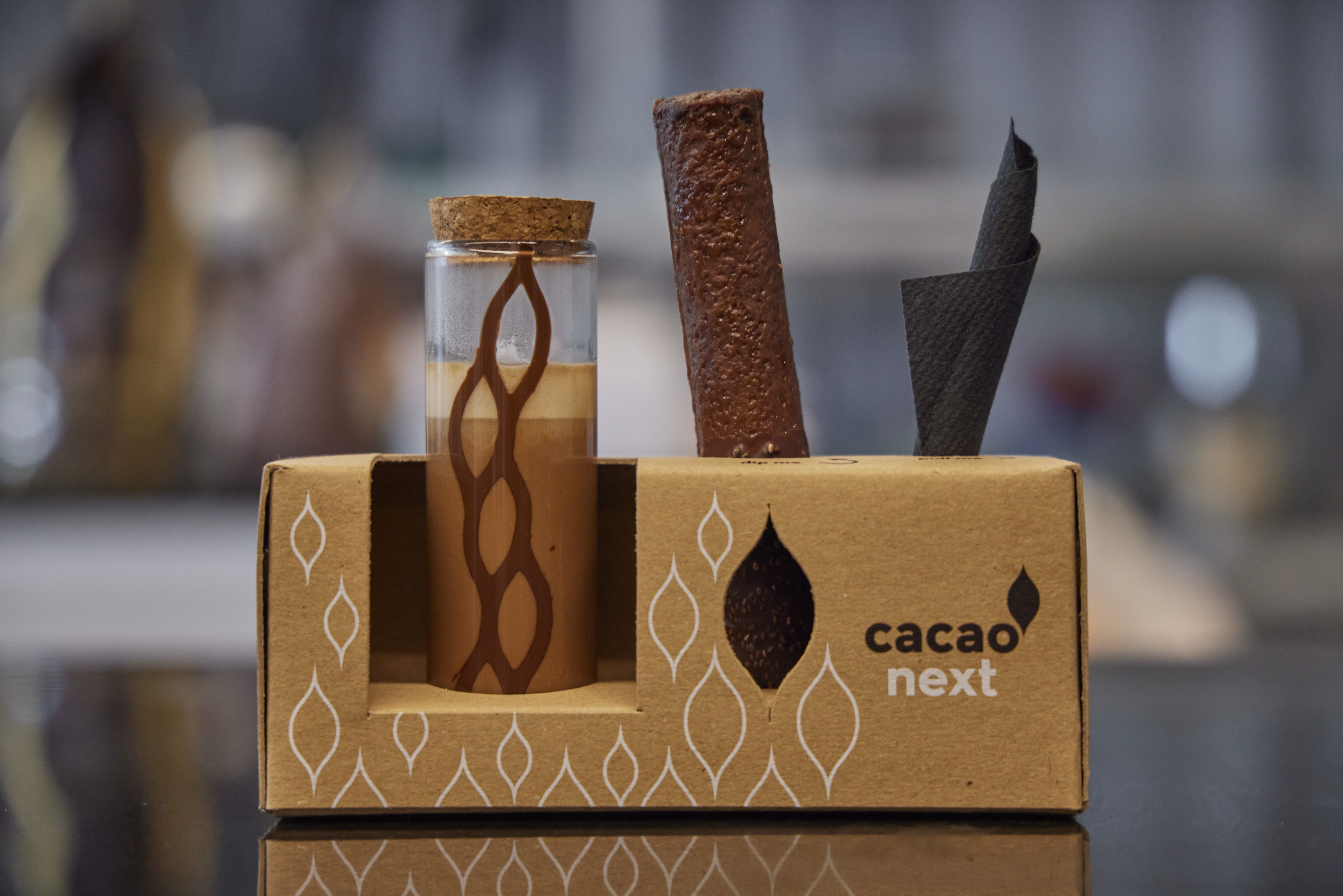 This plant-based snack features an interesting variety of textures in two different elements. It has an intense dark chocolate flavor, combined with the taste of roasted almond versus raw almond. It is completed with black cherries infused with Mavrodaphne sweet red wine and an antioxidant mix of spices.
For this snack, my inspiration is to present the "contrast" between a natural - unaltered flavor, and one that has been developed by us humans, using almonds as an ingredient. These two different flavors finally come together with chocolate. They can be enjoyed separately as well as in combination. A crude looking crunchy-filled snack features the raw almond flavor (nature side). A "shiny" hot-chocolate drink features the bond between the plantation chocolate Alto el Sol and the roasted -Maillard reaction- almond flavor, (knowledge/science side). By dipping the top half of the snack in the drink, the flavors come together, with chocolate being the binding element.
The snack is inspired by a traditional Greek sweet pie called "Bougatsa" that has a crunchy thin pastry exterior and is filled with semolina cream.
Nutrition-wise, this snack is a powerhouse of energy and packs a great quantity of antioxidants that come from the combination of almonds, cinnamon, curcuma and black pepper, red wine, the anthocyanins of the cherries and of course, the cocoa solids.
Used Cacao Barry products
Recipe components
Chocolate - Vanilla Phyllo Pastry tubes
Ingredients
Preparation

Scrape the vanilla seeds and add them in the water.

Knead all the ingredients together until the dough becomes elastic. Rest for 1 hour, divide in 80g balls and roll it out until it is very thin, almost translucent, dusting with flour so it doesn't stick.

Coating

50:50 Deodorized Cocoa Butter : Extra virgin almond oil mix

QS Fine sugar - Extra Brute Cocoa Powder mix

Cut the phyllo in rectangles, brush with a cocoa butter and almond oil mix and sprinkle with a sugar-cocoa mix. Repeat on the other side, then roll in metal tubes and bake in 180°C for 11-12 min.
Chocolate Chia dip
Ingredients
Preparation

Melt

Then

Melt Fleur de Cao 70% and Deodorized Cocoa Butter. Then add chia seeds.
Raw almond - Cherry chocolate cake
Ingredients
Preparation

Soy protein isolate powder

Whip in mixer like a meringue and set aside

Beat in mixer to soften with the paddle attachment

Melt together and add in almond paste

Sift together all the powders

Mavrodaphne wine infused black cherries

Freeze and dice

Mix the almond milk meringue with the almond paste mix gradually, then add the powders and mix. Add the cherries and homogenize.

Spread on a baking sheet 1.5 cm thin and bake at 175°C for 12 minutes. Cut mini cylinders once cooled.
Chocolate - raw almond semolina cream
Ingredients
Preparation

Scrape the vanilla bean, boil everything and strain

Soy protein isolate powder

Mix together, then add hot almond milk mix gradually and homogenize. Put back in the saucepan and cook like a pastry cream.

Add everything in hot cream and whisk together until homogenous

Film the surface and let cool, then cream it with a whisk.
Roasted Almond and Spices Hot Chocolate Drink
| Ingredients | Preparation |
| --- | --- |
| | Boil together and strain |
| | Pour above mix and blend until homogenous. Keep hot until serving. |
Cinnamon -maple - Roasted Almond foam
| Ingredients | Preparation |
| --- | --- |
| | Mix all ingredients together and foam in a milk frother. |
Antioxidant black cherries infused in Mavrodaphne and spices
| Ingredients | Preparation |
| --- | --- |
| | Boil everything together and strain. |
| | Add cherries and boil for a few minutes. Let infuse 24h and strain. Keep the cherries aside. |