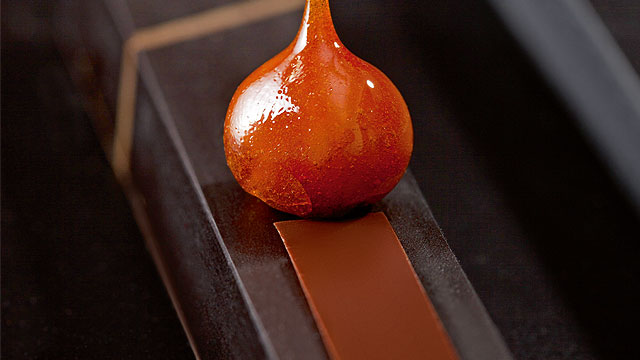 Used Cacao Barry products
Fall / Winter
Gourmet snack chocolate-hazelnut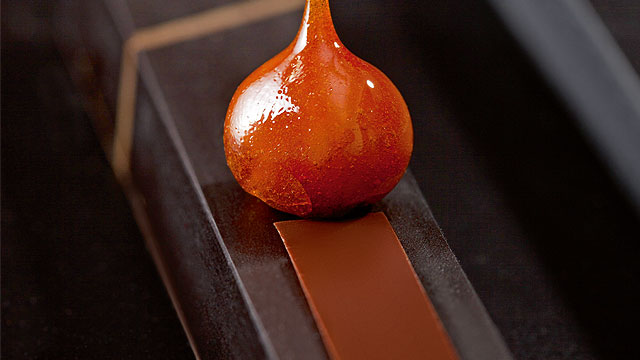 Dosage
Recipe for 50 candy bars
Used Cacao Barry products
Recipe components
Inaya™ spread
Ingredients
Preparation

Heat

Praliné 50% Piemont Hazelnuts

Pour over

Add

Mix.
Inaya™ marshmallow
Ingredients
Preparation

gelatin powder (200 Bloom)

Soak

Heat to 110°C

Pour over inverted sugar in the mixing bowl and mix gently

Add the melted gelatin.
Beat at high speed.

At 40°C, carefully add the previously melted (40°C) Inaya™ dark chocolate couverture
Assembly
Ingredients
Preparation

Shape a thin layer of Inaya™ 65% dark chocolate couverture

Pipe a "tube" of chocolate-hazelnut ganache.
Pipe the marshmallow directly after foaming.
Close with the Inaya™ 65% dark chocolate couverture and acetate sheet.

Make bars of around 1 cm in width and 5 cm in length with the tempered chocolate and sprinkle them with Plein Arôme Cocoa Powder

On each bar place a caramelized hazelnut and a thin line of gold dust
Chef's suggestion
Perfect at teatime with a hot drink such as a tea with woody notes, an Arabica coffee or a smooth hot chocolate.