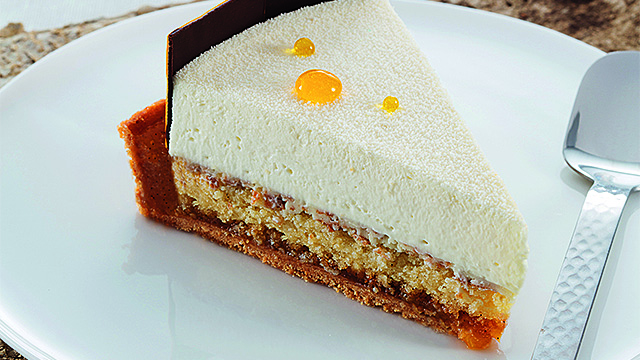 Used Cacao Barry products
Fall / Winter
Layered Blanc Feuilletine™ and Apricot Tart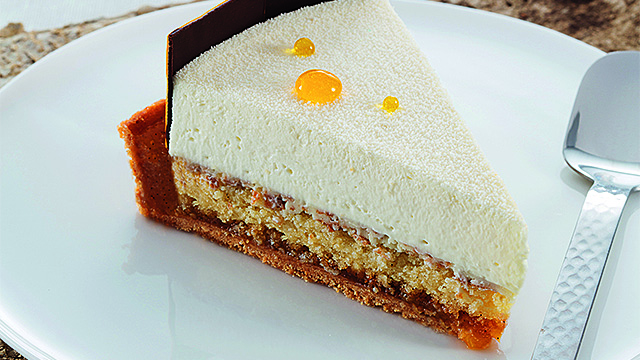 Dosage
Recipe for 4 tarts, 20 cm in diameter.
Used Cacao Barry products
Recipe components
Apricot Compote
Ingredients
Preparation

Heat to 40°C

Combine and add

Cook at 103°C.
Leave to cool at 20°C.
Cover the shortcrust pastry bases with the apricot compote.
Almond Biscuit
Ingredients
Preparation

Heat to 50°C

Beat with

Add

Bake at 180°C in 16 x 4.5 cm rings for 12 minutes.
Cut the almond biscuit into 1cm-thick slices.
Place them on top of the apricot compote.
Blanc Feuilletine™ Crunch
| Ingredients | Preparation |
| --- | --- |
| | Heat some Blanc Feuilletine™ at 30°C and then spread a layer of the mixture on to the almond biscuit in the 16 cm rings. |
Zéphyr Mousse
Ingredients
Preparation

Make a custard.
Cook at 85°C.

Pass through a conical strainer and pour onto

At 25°C, add
Assembly
Top the Blanc Feuilletine™ crunch with the Zéphyr™ mousse in the 16 cm rings.
After freezing the dessert, spray with a mixture of 50% cocoa butter and 50% Zéphyr™ White Chocolate.
Spray the mixture at 45°C to obtain a smooth, velvety finish.

Make the shortcrust pastry bases and spread with a layer of Mycryo® Cocoa once cooked. Leave to cool.