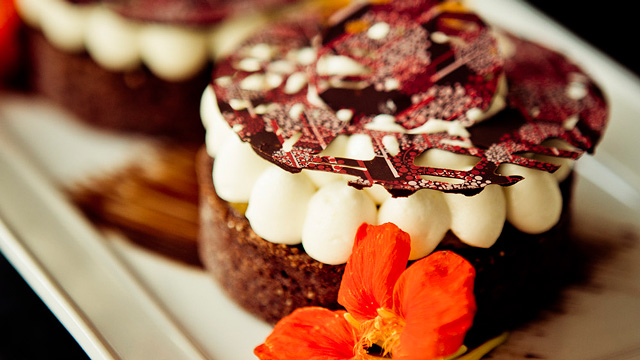 Used Cacao Barry products
Fall / Winter
Caramel Ocoa™ ganache & peach chocolate tart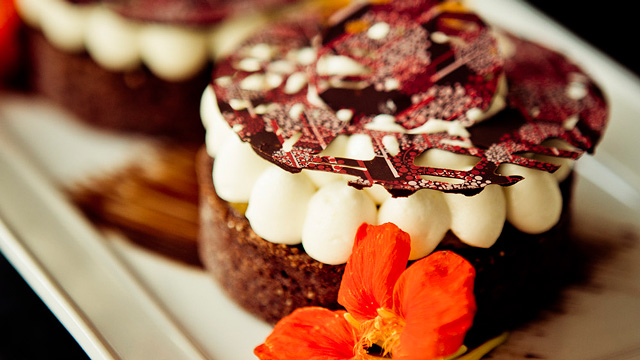 Spread praliné feuilletine over the bottom of the cooled chocolate tart shell.
Pour in cooled Ocoa™ caramel ganache and let set.
Peel skins and remove pits from peach.
Slice peaches into halves, slice into sections and arrange over ganache in the tart shell.
Pipe prepared Chantilly cream over the peaches to cover the entire top.
Garnish with chocolate décor.
Used Cacao Barry products
Recipe components
Chocolate Tart Dough
Ingredients
Preparation

Cream the butter and icing sugar.
Add the eggs.
Sift dry ingredients and add till just combined and let the dough rest in the fridge.
Roll out and shape into tart moulds, rest again and bake at 350°F.
Praliné Feuilletine
Ingredients
Preparation

Melt the praliné and milk couverture together.
Mix in the pailleté feuilletine.
Caramel Ocoa™ Ganache
Ingredients
Preparation

Mix the sugar and water in a pot and boil to a dark caramel stage.
Warm cream in another pot and add to caramel when caramel stage is reached.
Pour over dark couverture, mix until smooth, cool down.
Poached Peaches With Labrador Tea
Ingredients
Preparation

fresh labrador tea leaves

Place all ingredients into a pot and bring to a boil, then turn down heat and simmer for 10 minutes.
Shut off heat and cover pot and cool down.
Labrador Tea chantilly cream
Ingredients
Preparation

Labrador tea poaching liquid

Place poaching liquid into a pot and reduce to a thick syrup, cool down.
Whisk whipping cream to firm peaks and fold in icing sugar and cool Labrador tea syrup.