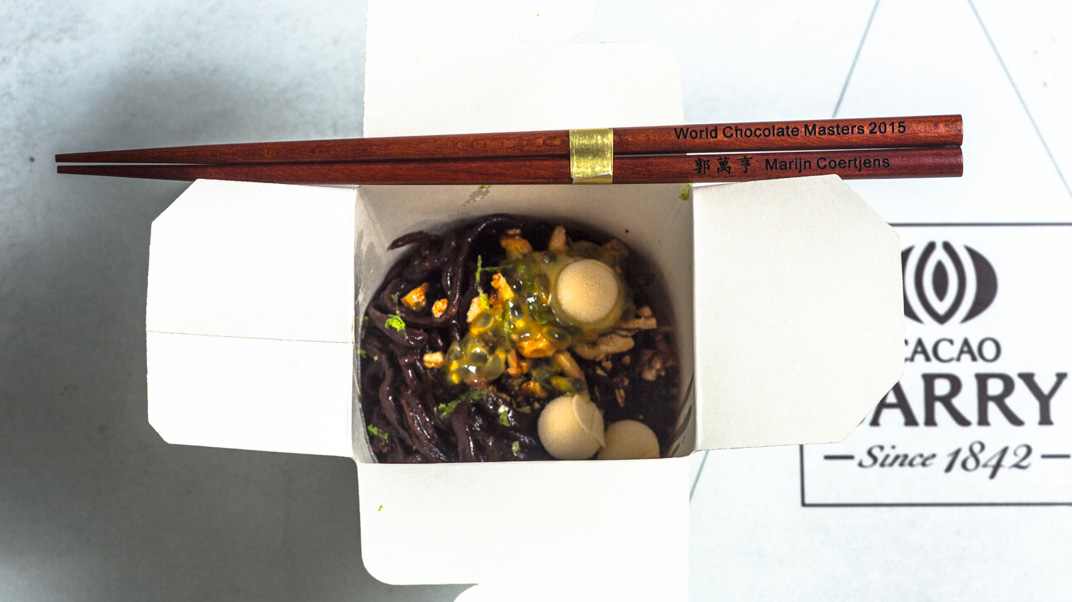 Used Cacao Barry products
Recipe components
Chocolate Noodles
Ingredients
Preparation

Mix all ingredients into smooth dough. Wrap in cling film and leave to rest in refrigerator for 1 hour.
Roll out with pasta machine and pass through noodle maker.
Boil in stock for 6 minutes.
Stock
| Ingredients | Preparation |
| --- | --- |
| | Mix together all ingredients and boil noodles in it. |
Caramelised cashew nuts
Ingredients
Preparation

Mix together all ingredients in saucepan and heat to caramelise nuts.
Keep a few good-looking nut halves aside and cut the rest into small pieces.
Chocolate crumble
Ingredients
Preparation

Mix together all dry ingredients and mix in soft butter.
Spread out on backing sheet and bake at 160°C for 20 minutes.
Inaya™ Chocolate Mousse
Ingredients
Preparation

Whip cream and store in refrigerator.
Heat together syrup and milk.
Mix previous mixture in three steps into melted chocolate and cocoa mass, and emulsify to create ganache.
Fold whipped cream into ganache.
Passion Crémeux
Ingredients
Preparation

Hydrate gelatine in water. Mix pectin with sugar.
Safe for butter, mascarpone and gelatine, mix and heat all ingredients to 85°C in Thermomix.
Add gelatine and leave to cool to 37°C. Add butter and mascarpone.
Pour into small spherical moulds.
Base syrup
| Ingredients | Preparation |
| --- | --- |
| | Mix all ingredients and bring to a boil. Leave to infuse and strain. |