Strawberry. Miso. By Chris Underwood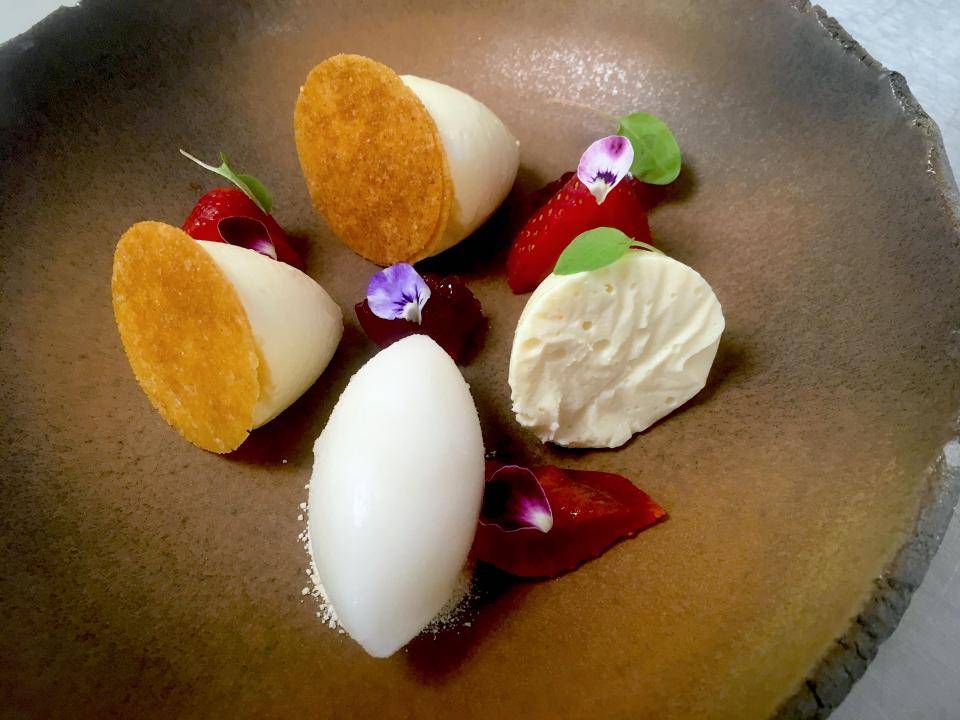 For the end of summer, Chris, the Beaverbrook estate pastry chef is sharing with us a beautiful strawberry recipe with a touch of miso.
White chocolate cream

Cacao Barry Zephyr 500g
Cocoa butter 25g
Milk 125g
White miso 60g
Whipping cream 500g
Trimoline 50g

Method

Melt chocolate and cocoa butter
Heat milk and trimoline
Blitz in the milk and trimoline mixture and the miso with the chocolate.
Leave to cool to around 40˚C
Lightly whip cream and fold into mix.
Leave to set and bag in piping bags ready for service.
Compressed strawberries in fructose

Prepare the strawberries and sprinkle fructose over them evenly
Place into a container and put in sous vide machine
Repeat this process
Strawberry jam jelly
500g peeled strawberries
200g sugar
20g lemon juice
250g syrup
6g gelatine
Method
Place the strawberries, sugar, lemon juice in a bowl and cover with cling film
Place over hot simmering water and leave to heat for around 20 minutes until the juice starts to extract from the strawberries. Sieve.
Gently heat the syrup and add the soaked gelatin, sieve and mix well with the strawberry mixture.
Place in fridge till set

Yuzu Sorbet

Ginger syrup:
2 litres water
2kg caster sugar
8 stem ginger balls (blitzed in thermo)
Method
Place all the above in pan and bring to the boil
Leave to cool then sieve.
Recipe sorbet:
2 liters Canada dry ginger ale
1 liter ginger syrup (as above)
15g gellan gum type f
Yuzu juice to taste
Method
Place the syrup, ginger ale, gellan into saucepan
Bring to the boil stirring all the time
Boil for 2 minutes
Remove from the heat and add the yuzu
Place into beakers and freeze

Crystalised white chocolate
180g white caster sugar
80g Cacao Barry Zephyr white chocolate roughly chopped
Method
For the crystallized chocolate, put 75ml cold tap water and the sugar into a saucepan and place the pan over a high heat. Bring to the boil and continue to heat until the temperature of the liquid reaches 135°C or until the syrup at the side of the pan begins to colour. Remove from the heat and immediately add the chopped chocolate.
Whisk to incorporate the chocolate and continue to whisk until the liquid has completely crystallized. Pour the chocolate crystals onto a parchment lined tray and allow to cool.
Caramelised feuille de bric pastry
200g golden caster sugar
200g ground almonds
200g caster sugar
Melted butter
Method
Place all the above together and mix well
Take the feuille de bric pastry and brush with melted butter all the way to the edge
Sprinkle the sugar mix evenly on top and cover with another buttered bric sheet
using a cutter,  cut out the discs and place onto a silpat mat and place another mat on top and a baking tray to weigh down to ensure thin, evenly coloured and crispy discs.
cook @ 180°C fan, 3 0 humidity untill golden, leave to cool