Chocolate and salted caramel Tart with Popcorn Ice Cream and Chocolate Nuggets by Paul Kelly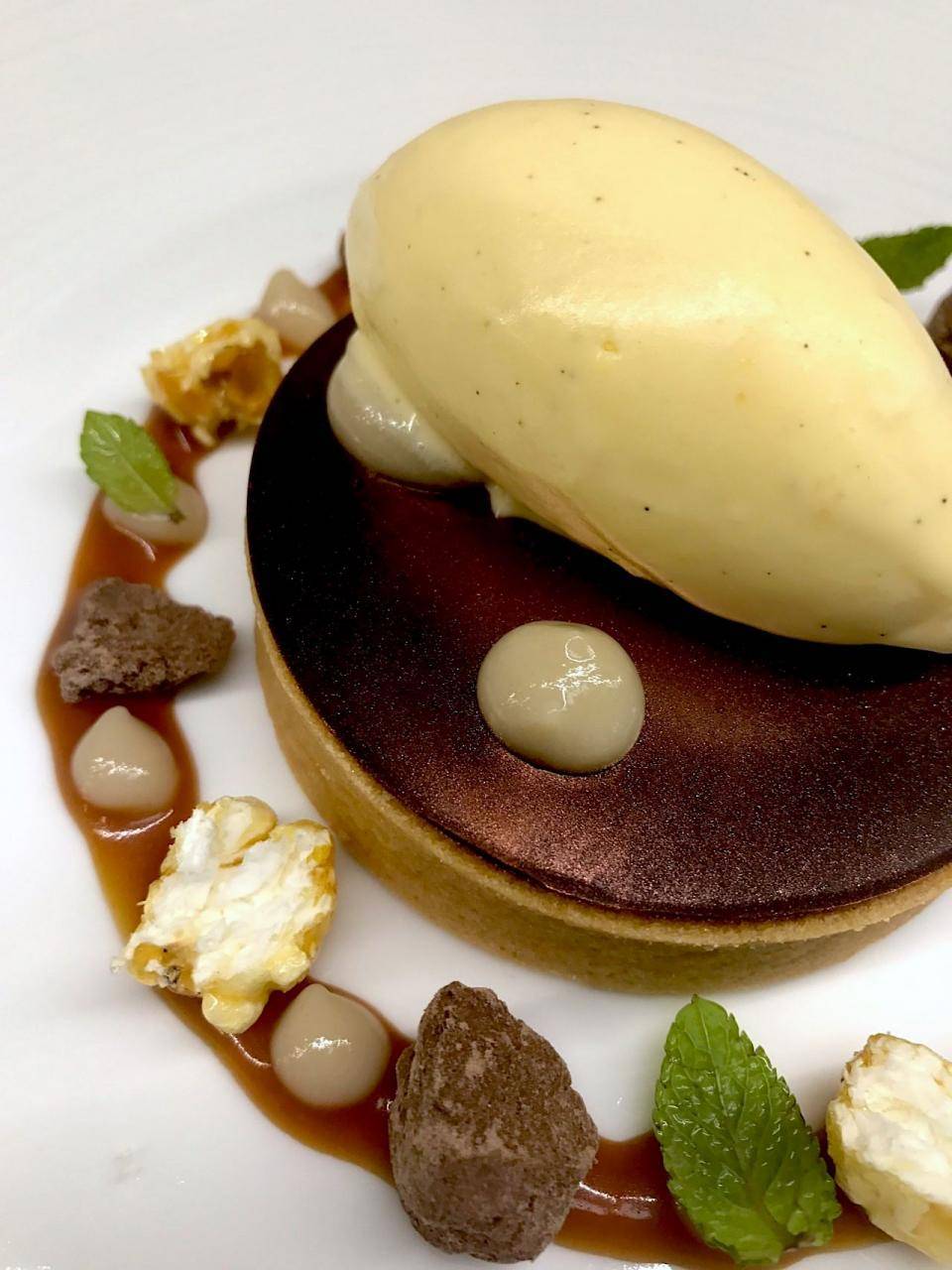 Paul Kelly, the Cacao Barry Ambassador from Ireland, is sharing with us his version of salted caramel tart.
Sweet Pastry
Plain Flour    470 gr
Icing Sugar   180gr
Salt                   4gr
Eggs              100gr
Butter             240gr
Put the butter in a bowl together with the sugar and cream using a wooden spoon or hand-held electric mixer. You don't want the mixture to be too fluffy; just bring it together.
Add the egg to the butter mixture and beat until smooth and completely incorporated.
Mix the flour with a pinch of salt and fold into the butter mixture gradually, in batches, until absorbed. Be sure to incorporate all the butter sticking to the sides of the bowl. Don't worry if the pastry is quite crumbly at this stage
Turn the pastry onto a lightly floured surface and knead it quickly until it all comes together. You need a light and gentle touch here – if you work it too much, the pastry will be tough.
Wrap the dough in clingfilm and chill for 30 minutes. This resting stage is essential, because not only will the pastry be easier to roll into shape, it won't shrink while it's cooking.
Remove the pastry from the fridge. Place on a lightly floured surface and, with a floured rolling pin, roll to the thickness required. Turn regularly to achieve an even shape before using to line your tart ring. Freeze at this stage and blind bake from frozen.
Salted caramel filling
Double Cream 250 gr
sugar  340gr
glucose 80gr
butter  400gr
brown sugar  250gr
salt  3gr
Tip 340g white caster sugar into a heavy-based frying pan it's important to use white sugar so you can see the clear colour change. 
Put the pan on a medium heat until the sugar has dissolved. Do not stir as this will cause the sugar to stick and crystalise into lumps. Instead, simply agitate the sugar occasionally using the end of a wooden spoon, just to ensure the sugar melts evenly. Once the sugar has melted turn up the heat and bubble for 4-5 mins until you have caramel. Take off the heat, then carefully stir in  of (?) double cream and butter, stand back when you do this as it may spit. You need to stir rapidly but be very careful as the sugar will be extremely hot. Re boil mixture and add brown sugar to dissolve before adding salt….
Pop corn Ice cream
To make popcorn ice cream add 100r of caramel popcorn with 7gr NH Pectin to 550r sauce anglaise.Blend with a hand blender until smooth and place into a Rouzer container to freeze over night.Next day remove from freezer and use on Rouzer Machine. .Always mix on router two hours before use to ensure you can get perfect quenelles.
Sauce Anglaise
220 ml heavy cream
220 ml milk
20 ml vanilla extract
6 egg yolks
125 g white sugar

In a small, heavy saucepan, heat cream/milk and vanilla until bubbles form at edges.
While cream/milk is heating, whisk together egg yolks and sugar until smooth. Temper egg yolk mix with heated cream/milk and gradually add egg yolk mixture back to remaining milk mixture, whisking constantly. Continue to cook, stirring constantly, until the mixture coats the back of a spoon.
Chocolate Crémeux
sugar 600gr
glucose 200gr
milk 340gr
cream 1340gr
egg yolks 270gr
Cacao Barry Or Noir Merrion Signature chocolate  700gr
    
In a medium heated saucepan caramelise the glucose and 300r sugar, add the cream and milk to a simmer. Remove from the heat. In a medium bowl, whisk the egg yolks with the last part 300r sugar. Gradually whisk in the hot caramel cream/milk. Transfer the mixture to the saucepan and cook over moderately low heat, stirring constantly with a wooden spoon, until the custard is slightly thickened and coats the back of the spoon, about 5 minutes
   
Strain the custard through a fine sieve into a heatproof bowl. Add the chopped chocolate and let stand until melted, about 2 minutes. Whisk vigorously until smooth, then place the crémeux into a shallow tray and allow to cool. Refrigerate.
Cacao Barry Or Noir Merrion Signature 67% Dark Chocolate chocolate Nuggets
Merrion Or Noir 67% Dark Chocolate 300r
Sosa Maltosec   100gr
Melt dark chocolate to 34 degrees and slowly add maltosec until chocolate begins to dry up and break into nuggets.
Chocolate Discs
Temper dark chocolate and spread very thinly on parchment paper. Allow to crystallise 
and cut with a cutter. Brush with edible copper dust.
Banana Compote
Banana puree     300gr
Gel crème cold      30r  (SOSA PRODUCT)
Place banana puree into a measuring jug and slowly blend in gel creme...Mix will naturally thicken. Place into a sauce bottle.
Assembly
Trim edges of blind baked tart case, fill 1/3 of tart shell with salted caramel and 2/3 with chocolate creme. Place chocolate copper disc on top to seal tart.
Using a 10"Plate pipe a perfect circle of 8'' diameter with some soft salted caramel mix, place tart in centre of the plate and decorate caramel ring with popcorn, chocolate nuggets banana compote gel and maybe some mint:)
To finish quenelle popcorn ice cream, serve and enjoy!