Graham Hornigold - from Hakkasan Group to new challenges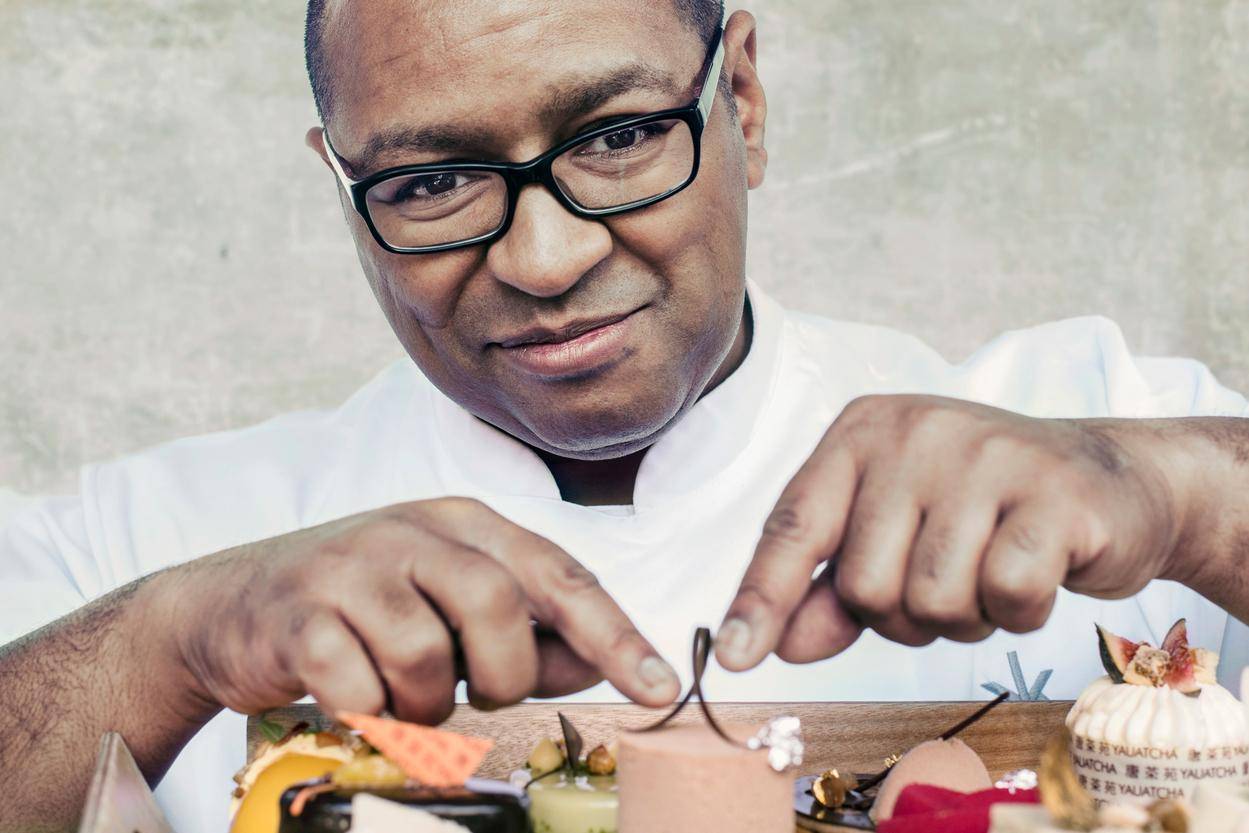 When interviewing Graham Hornigold, then the executive pastry chef of the Hakkasan Group, for the first time, we met for a lunch. He wanted me to get an insight into his way of thinking and his values before doing an interview. He gained a great respect from my side - as a professionist and as a human being. Recently Graham left the group for which he has built pastry teams all around the world and is starting a new chapter in his career, so it was the right moment for a new interview.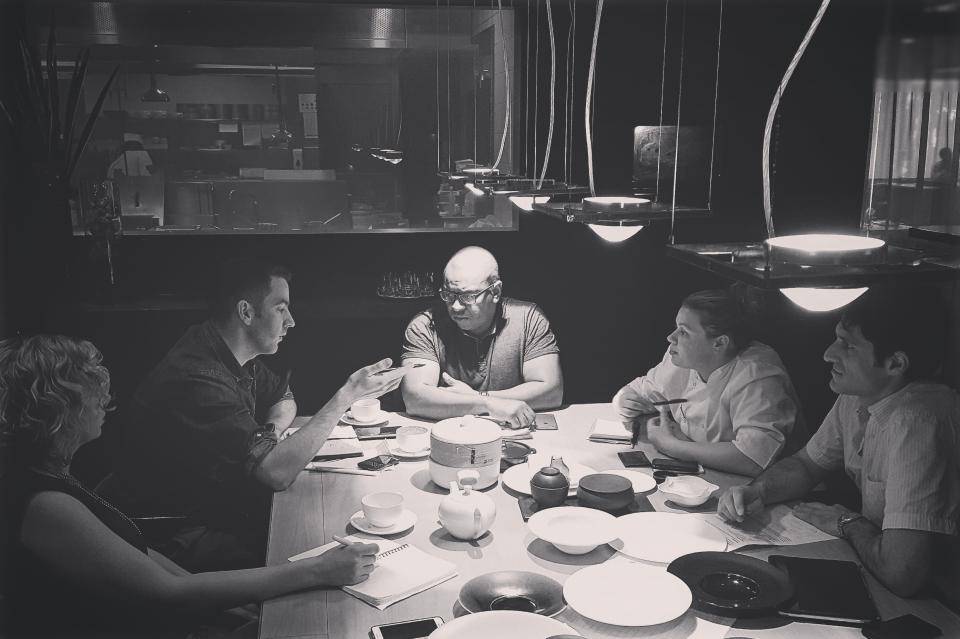 You have recently finished your long involvement with the Hakkasan group. Excited about new life? What are your plans now?
I was with Hakkasan group seven years nearly and it has been a great opportunity. We had something special and I wish them all best. Right now I am working on a series of projects with a few professionals from various fields and in time hope to have a one-stop shop for all patisserie related needs. These are all still on the table so to go into details here wouldn't be proper, but I hope to be able to share more in due course.
I will never forget our first meeting - at Yauatcha, having lunch together, when you told me your secret for perfect restaurant desserts - the factor of reopening appetite after a long meal. You are one of the legends in the British pastry world who has taught many pastry chefs who later became quite famous chefs themselves. What does mentoring mean to you and do you have any anecdotes from that to tell?
Training chefs is the best feeling in the world!! I used to love, during the interview process, seeing the reactions of the candidates after we had eaten the Asian cuisine and I explained the dessert ethos. The expression and understanding which you see is the most rewarding - these chefs then became hooked. This is carried forward into the dessert design and production where the whole team chips in, if they chose to. But all throughout my career the team is the most important, the camaraderie, the staff meal and the sense of family and belonging. You can still see this in the chefs whose teams have brought them success themselves. And they live by two rules "Fresh is best! And taste is everything"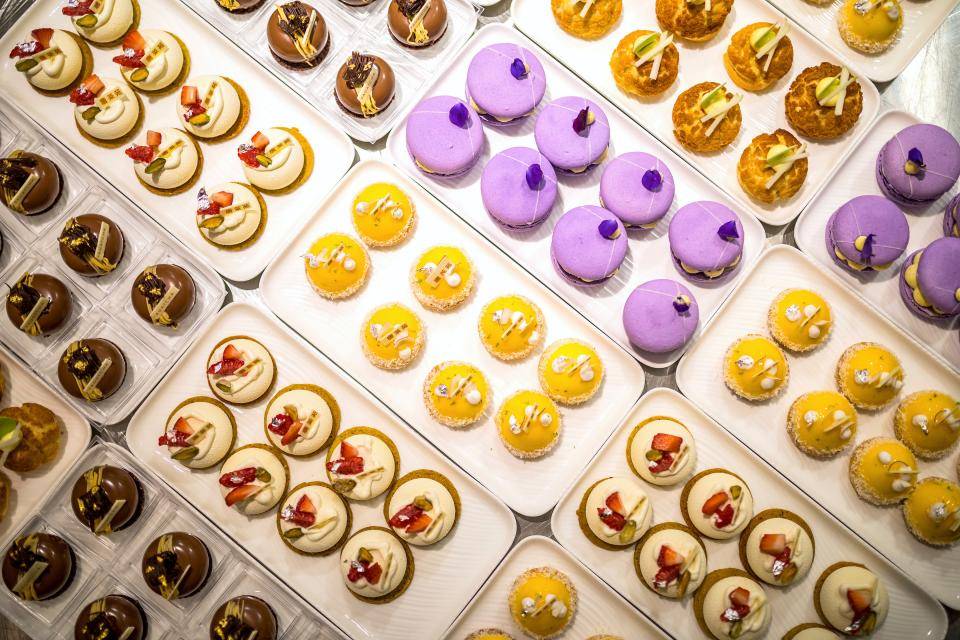 Jay Rayner in his restaurant reviews often complains about the level of the desserts. How is your experience with it?
I agree desserts are still generally too sweet, imbalanced and conflictive with the meal experience. I am not saying my way is the best way, far from it. It is merely an alternative and my opinion on desserts and patisserie which adapts to each region.
What do you think needs to be improved?
To be honest I see the real value of a pastry in sales and its percentage to the bottom line, which may sound obvious but how much does it actually contribute? The requirement of a skilled chef is only necessary at certain levels of restaurants and businesses. As such core recipes, training schedules and kitchens need to reflect the needs of an operator who can truly future proof through in house training. As for industry, chefs need to learn more about the section to have greater cohesion in the menu and the dessert composition. Pastry chefs also need to consider their true value to the business and salary expectations closely matched by sales performance, although this depends on the size and the type of business.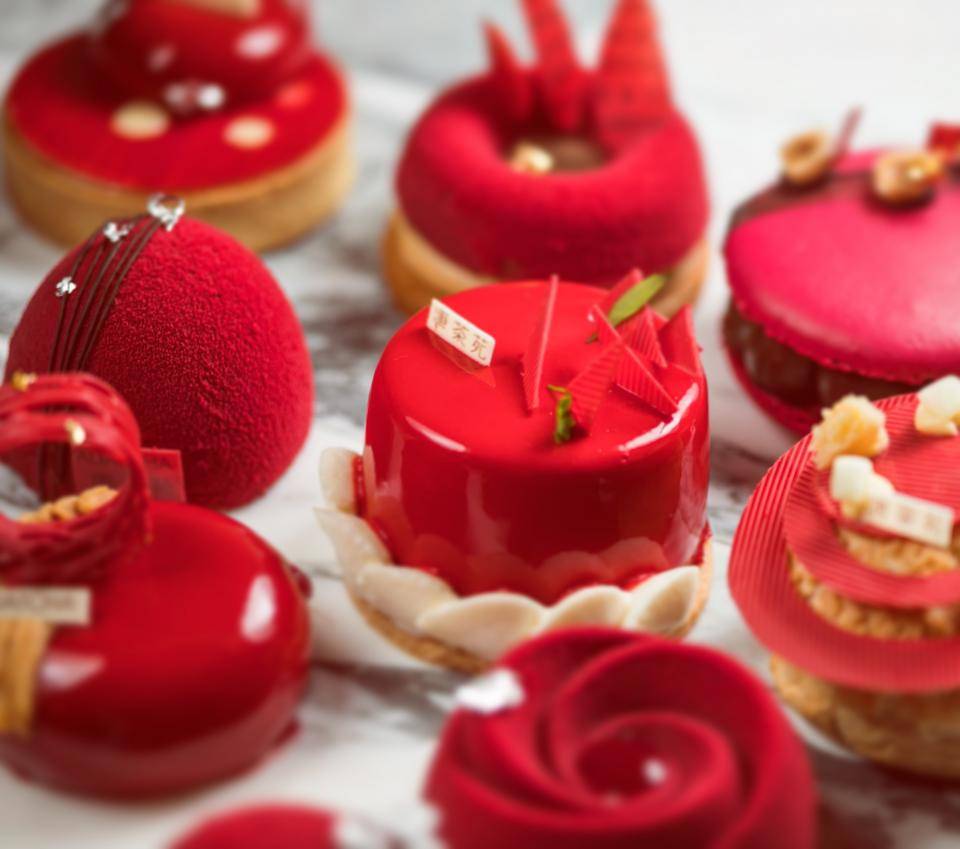 Are you planning to do also some consulting to help this change?
Consulting is essentially what my previous role entailed, albeit to one company. So yes I am opening my own business and hope to add additional brands and services to encompass all areas of patisserie and general planning and kitchen management.
One of your favourite ingredients is chocolate. Why?
Purely because of its diversity, history, production, terroir, story, influence, passion and mystery.
Along with global appeal, comfort factor, warming nature (hot chocolate) and finally its taste.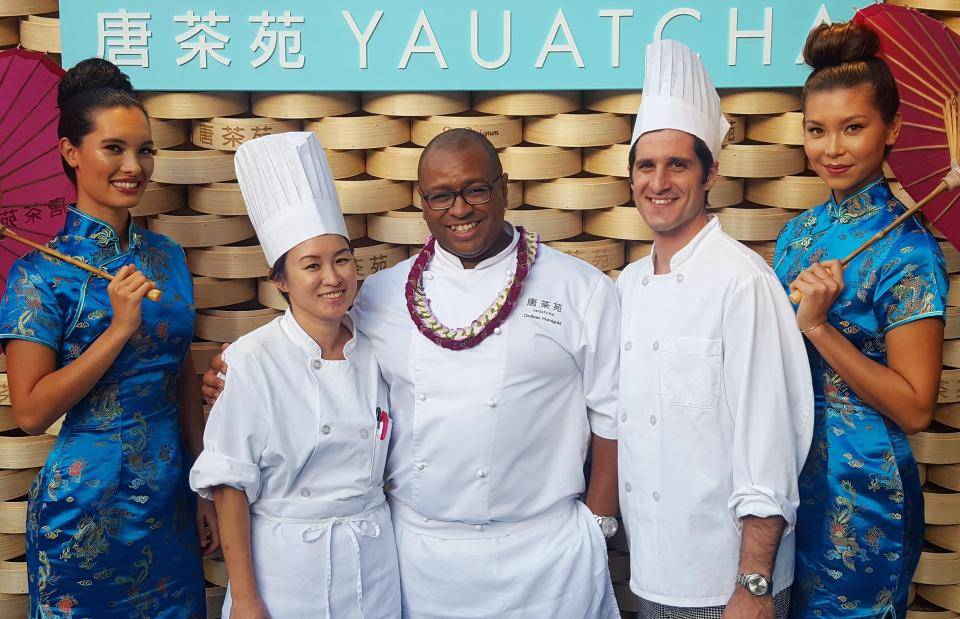 When you were in Hakkasan you switched from another chocolate brand to Cacao Barry. What do you like best about Cacao Barry?
Well, they use quite a few brands so it is easy to get the best product for each creation. But also to keep the chefs minds open to what they wished to use in the future. But at Yauatcha I asked for exclusive use of Cacao Barry chocolates globally as it was easy to obtain, to work with and for me as a chef it was also the choice for the diversity of flavours and in the majority there is less sweetness, which is you know high on my list.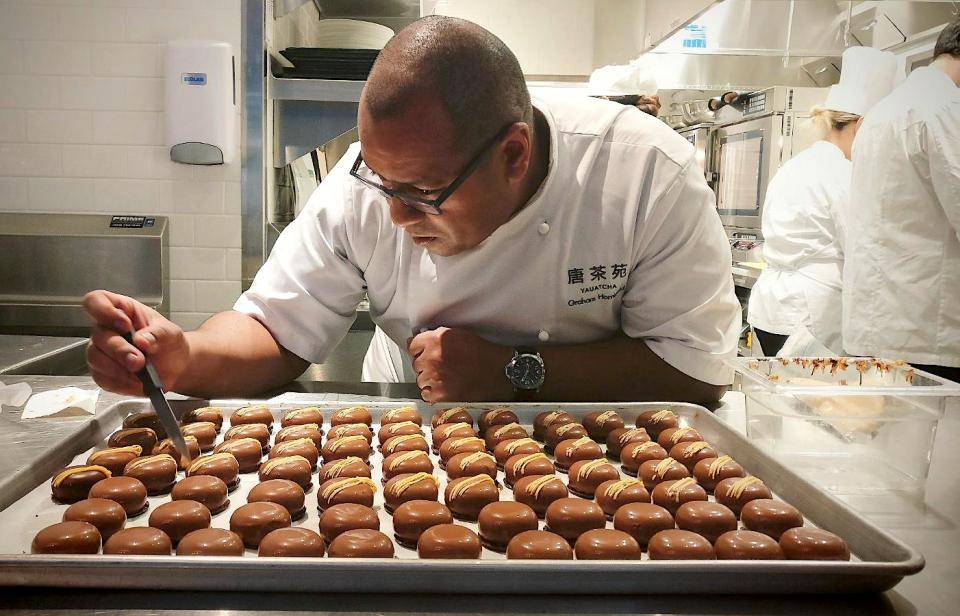 What are your favourite combinations with chocolate?
Chocolate on its own is the best, as each is individually formulated to create a uniqueness, but if pushed nuts and caramel.
Lately there is a trend of combining chocolate with more unusual ingredients - vegetables, spices, etc. What do you think of that?
I do not think it is anything new just it's time on the culinary cycle. Spices have always been used. They grow around cocoa and along the Mayan's used chillies in their drink, so spices should come natural to chocolate in my view. As for vegetables, I think this is an interesting avenue to explore and one which throws up a huge number of possible flavour combinations as long as we as chefs can keep the balance and maintain a sense of reasoning rather than some food trends throwing up very strange and often unpalatable dishes.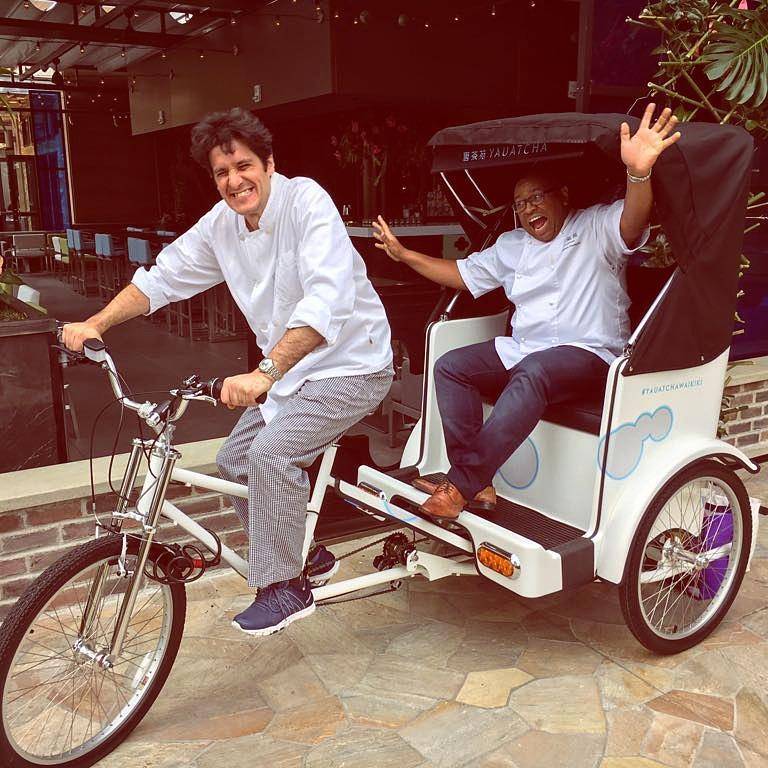 In 2018 there will be a new WCM competition with the theme Futropolis. How do you see the desserts of the future?
Again we all are aware of allergen trend dishes currently rising, but healthy desserts I believe will make a huge impact going forward, with all the dairy substitutes and flavours they offer along with looking into the calorific and nutrition benefits of modern desserts. We definitely need more healthy yet super delicious desserts!
Do you have any golden dreams for your future?
My future is there to see, I will continue to help and develop chefs, and hope I can do this through my new business and if it fails will get back up and start again. Essentially we all learn from each other we all have to pass on the knowledge, and strive for better working conditions and fair pay, but keep real the business and how we contribute to it. Pastry is my life and I enjoy training other pastry chefs whilst increasing my own knowledge as well as future-proofing our industry as best I can through my business and associations.