Maria Guseva - from Russia (with love) to two Michelin starred Raby Hunt in the UK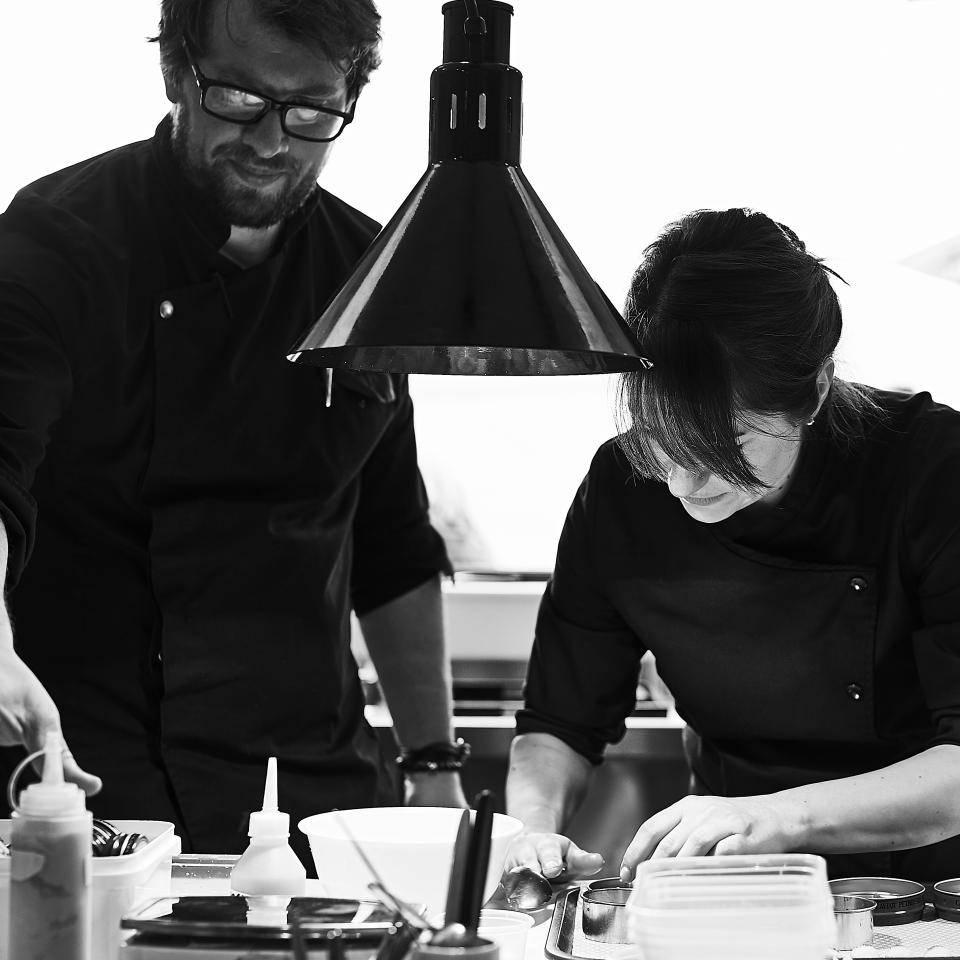 Maria Guseva moved to UK following her ex-partner who got a job in the North East. The relationship didn't survive, but she gained two new loves with her move to the new country: the one for pastry and chocolate and of her new partner in love and work, chef James Close of the two Michelin starred Raby Hunt in Summerhouse, Darlington.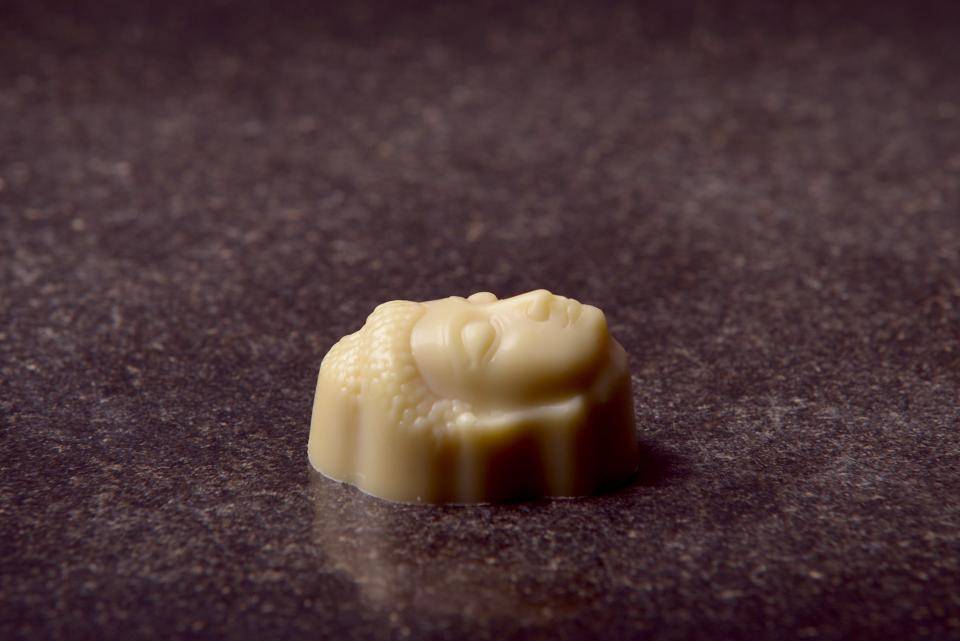 Where did it all start? How did you fall in love with cooking, pastry and chocolate?
Technically, it was a pure accident. I just finished my degree in Moscow and moved to UK with my partner who got a job in Newcastle. Temporary housewife role pushed me into a serious depression, and it took me a while to understand that the luck of self-realization was the main reason for it. Yet being in a different country, having access to new ingredients and actually having the time to discover new recipes and cook food every day made me realise that I really enjoy cooking. Friends used to come over for dinner, saying that I should go to a cookery school. And so I did.
Actually I used to enjoy cooking since I was a child, just never considered it as profession. My mother was always very busy at work (she's a general in the army at the moment), yet the house would be perfectly clean and tasty food would always be on the table. She wouldn't mind if I attempted to bake something or if I used some spices which I didn't know but was hypnotized by their smell and colour. On the other hand, lots of things were built up around eating. We used to live in the far East of Russia, really close to Chinese border, so every trip to the food market would mean eating something new and very diverse. Many of my childhood memories are actually food related: my first Japanese ramen, really spicy Korean salads and raw fish, hot Chinese noodles etc. We would very often have salmon roe or black caviar in the house, simply because it was easy to get them in that part of the country. On top of that I can add visits to my grandparents in Central part of the country, where I could get in touch with a more traditional Russian cuisine, like dumplings and pies etc. So in some way it was always about eating really well and enjoying it, and I was fairly open minded to try and eat almost anything.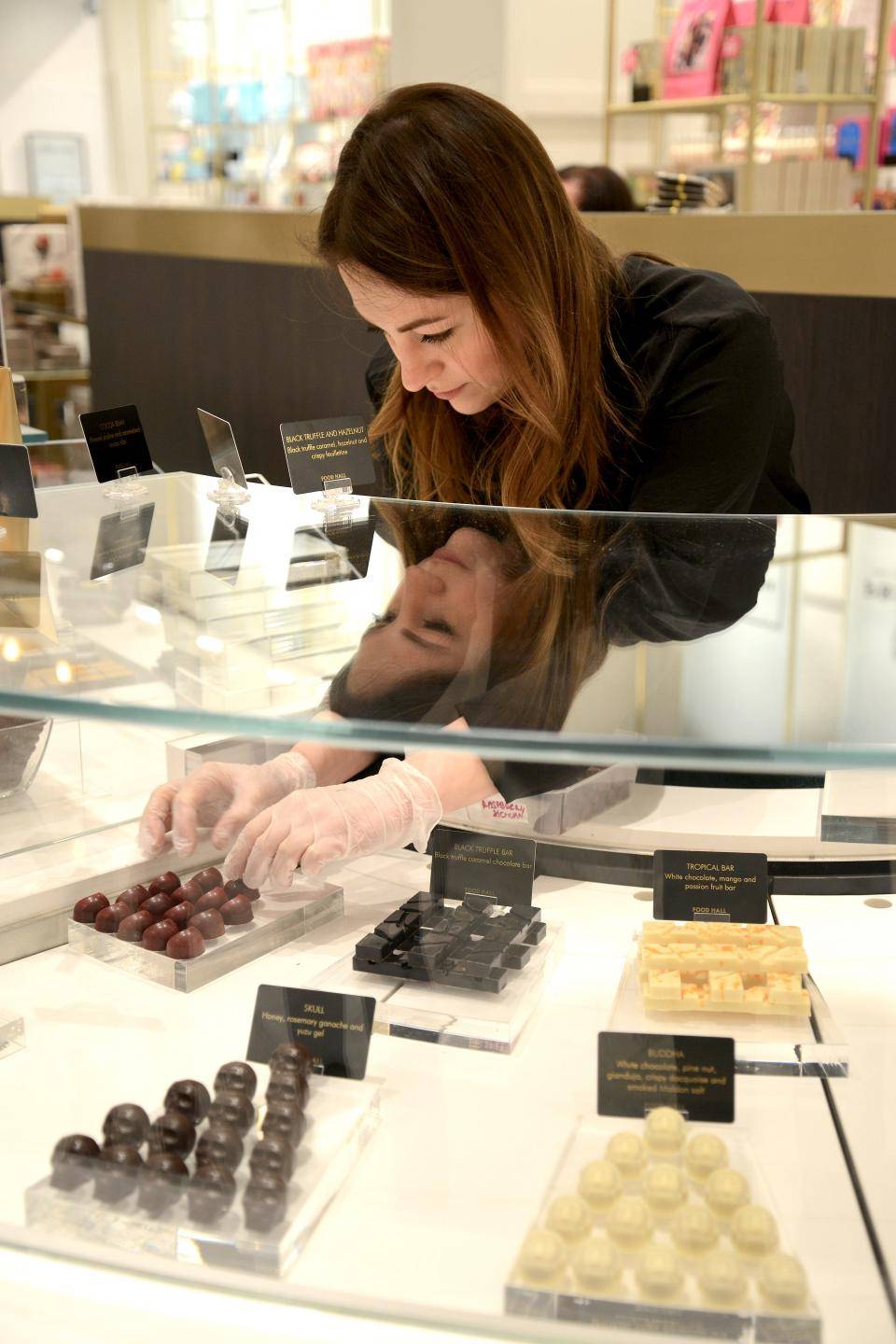 What was your educational journey? Who were your best mentors and what was the best lecture you've got?
When it came to choosing a culinary school, I thought of Cordon Bleu straight away as the best possible option. It was fairly expensive, and I wasn't able to afford the whole diploma, so I had to choose which Basic level I would attend. And despite my massive love and obsession with cakes and pastries, I decided to go safe and opted for Basic cuisine. I simply thought it would be easier to find a job after that. For me it was like a survival course to adapt myself to an actual kitchen, to understand the language and learn the culinary terms - to be prepared for a real job. You do learn a lot of classical French cuisine basics, and it is really useful, however for me the main thing was to understand that whatever you do, you have to do exceptionally, you have to work up to a higher standard every day, and to achieve that, you have to work clean and need to be organised.
Luckily I got one more lesson outside the school. I was living in London for 3 months while studying at Cordon Bleu, and best treat for myself after a week of studying was visiting food markets. I have my all time favourite one - Maltby street - which I used to enjoy going on my own on Saturdays and try anything I could see. That's how I met my very good friend and my very best teacher - Grant Hawthorne. He just spotted a shy girl in the queue for his (most amazing) burgers and decided to have small talk about things. As soon as he realised I was a culinary school student, we exchanged our contacts, and somehow he was the best guide for me into the real kitchen world. He was the first one who honestly explained that restaurant industry (especially kitchen) isn't an easy one (especially for a girl). That it does take a lot of sacrifice including your free time and your family, it costs you your relationship, and you can't really do it for too long unless you are absolutely totally in love with it. He was also the one who told me that I have to start working in a Michelin starred kitchen if I want to achieve something. So in a way school prepared me technically, but Grant prepared me mentally. He made me question whether I was ready for it, and also helped me to find the answer - yes, I was.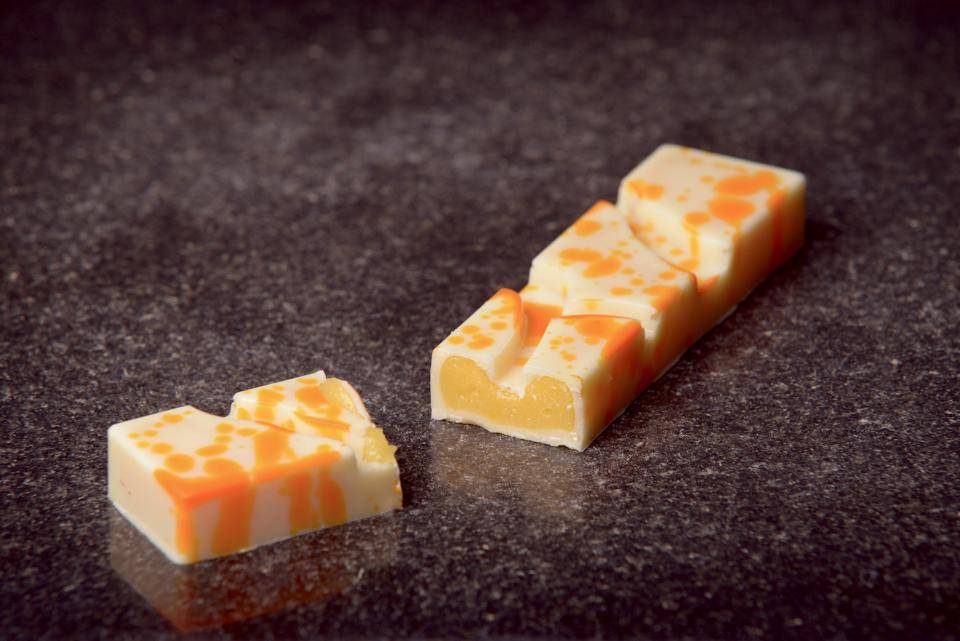 What do you like best about your work?
That amazing feeling on Saturday after a very busy week, when you look back at it and think it was all worth it. Customers saying how much they loved their experience and enjoyed the food, makes it all absolutely worth it. In some way I don't feel it is like work. It's just a lifestyle, something I enjoy a lot, it occupies my mind far beyond my actual working hours.

What do you find most challenging?
Probably, the fact that there aren't any still moments. It doesn't matter how quick and efficient you worked one week and how many things you have accomplished, you have to do the same next week, and then again, and again. By that I don't just mean repetitiveness (as any job would have its own routine moments), but the actual fact that the perfection we all are looking for is something that you always keep chasing. And every next week you have to be better as this industry evolves so quickly, new techniques appear every day, and you need to be able to keep up.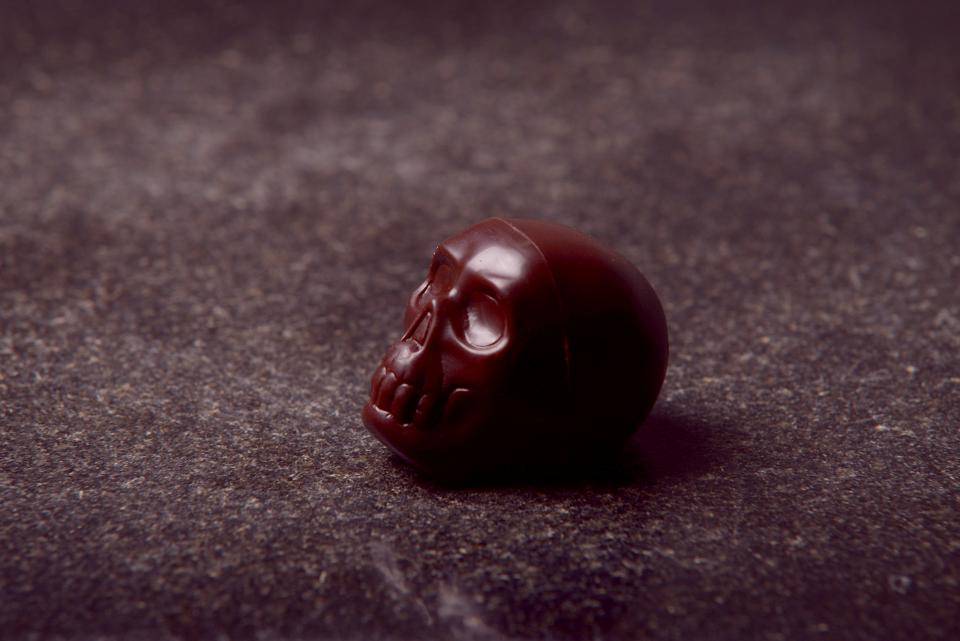 How did you get to work at Raby Hunt? And how did you get involved with pastry?
After I finished Cordon Bleu course, I went back to Newcastle where we lived, and I was looking for a job nearby, but my confidence wasn't great, and there weren't any Michelin starred restaurants (or at least I didn't find any jobs around), so I applied for work at a restaurant down South in a 5 star hotel and got the job. Three days before moving there, me and my ex-partner came to Raby Hunt to celebrate his birthday. Every article about Raby Hunt we would come across, would make James Close, the chef of Raby Hunt, look like some sort of crazy person working in a small kitchen with only one more chef. I thought it would be great to work there and learn everything myself like he did, but couldn't believe my dreams could become true.
So we came for a meal, loved it very much, had a chance to have a look into the kitchen and to speak to James. He said we should keep in touch, and so we left. I moved down South and started working in a big hotel kitchen, it was super hard, but I was really enjoying it and loving my freedom. Two months later I came back to Newcastle for a week for holiday and saw on twitter that James was looking for a commis chef.  I went for an interview and got a job trial for three months and an actual job offer just a few weeks after I started. The rest is history.
To be fair, I was lucky in so many ways, right time and right place, and they were desperate for chefs as it was first year they had a star (2013), and I was really eager to learn, so we had to scrape through language misunderstandings, but eventually it was great. At the beginning I wasn't really allowed to touch the desserts nor did I have any practical knowledge. But that was an area of work I was really passionate about. So I started making chocolates and through this I finally got some responsibilities in pastry team along with my main preparation work. Being eager to learn one day I opted for a Japanese bursary program and left for Japan. It was one of the most amazing experiences ever! But then the sous chef of Raby Hunt decided to leave, leaving James in real trouble being very busy after getting two Michelin stars, so he asked me to come back from Japan earlier, as he couldn't trust dessert section to anybody else in terms of development. I am now working hard on learning and improving the dessert section at our restaurant. I am really happy to do what I love best and we really have high ambitions for the future.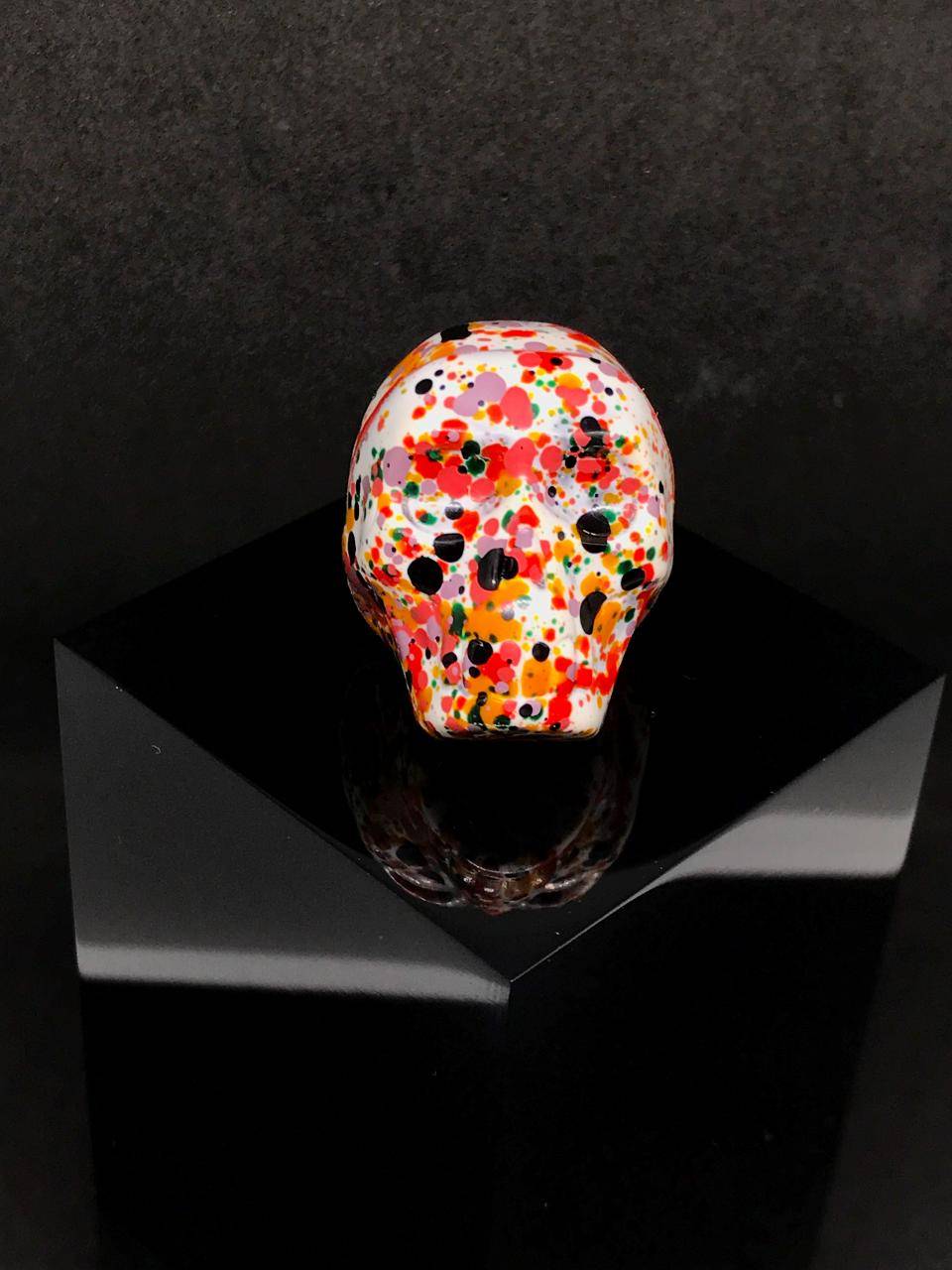 What about your relation to chocolate?  
Chocolate passion was a byproduct of my unsettled love for pastry and baking. When I started working at the Raby Hunt, the pastry chef position was taken, so I found my way around and one day attempted to make chocolates. To be honest, they were deeped chocolates with transfer sheet that I used for the top design, and they looked horrific and tasted very average, but I was absolutely charmed by tempering and working with the chocolate as a product. I think, James saw my disappointment with the end result yet realised I was very much enjoying the process, so we came up with the idea to make moulded chocolate for the menu. And skull was the very first one. It was a magical moment to get first shiny skull out of the mould.
You also created a special collection of chocolates for Ferwick: How did it come to this collaboration and can you tell us more about that collection?
From the moment when chocolates became a part of our menu, we felt a bit restricted. It doesn't matter how good they are, it's only a certain amount of sweets/chocolates you can consume after your meal. Yet I always felt that creative urge, wanted to try different shapes, colours and flavours. So we kept thinking that we could sell chocolates from the restaurant, and then Fenwick invited us to participate in their Meet the Artisans event. It was a perfect opportunity to practice selling chocolates in one of the greatest department stores in the North East for a month, to put our name out there and to see how public will react. Our chocolates do look different, and we understand that most people seeing a classic praline and a skull on display would probably go for the classic praline. Yet we got fantastic support from our customers, and chocolates were sold out in two weeks instead of four. And that event echoed for many months after, as even new customers would be coming to the restaurant, saying they heard about it but didn't get the chance to buy any, and they wish they could. That powered me right and so finally in the autumn I started looking for a display. I had perfect vision of a stand with chocolates, presented more like diamonds in a jewelry shop, each on individual stand, perfectly polished glass, dark background. Yet I kept looking for a standard chocolate display and felt like I just didn't like any of them nor seen them fitting in with the restaurant.  It took me nearly two months to understand I wasn't ready to compromise my own vision. So I found what I wanted, ordered it and got on with making 6 different types of chocolates as well as making enough of them for the menu. It were tough 3 weeks, as response we got was absolutely unbelievable. People were pre-ordering ten boxes of six, six boxes of  twelve, restaurant customers were trying to buy some to take home, certainly festive period helped. So I just had to deal with the demand, and then we stopped few days before Christmas just to have enough to hand out the pre-orders.  But looking back to the moment when the actual display arrived, and I had the chance to put all chocolates inside it, arrange few boxes, put some business cards out, that was best feeling ever. That helped me to go through those weeks, feeling very content.
We will resume restaurant chocolate sales at the end of January and hopefully will keep it going on a constant basis.
How do you like to enjoy chocolate?
I mostly enjoy working with it as an ingredient, as it can be quite unpredictable if you don't know it's qualities, yet it also very pliable once you've learnt a bit. When it gets to eating it, my one and only very guilty pleasure is milk chocolate with hazelnuts.

Which is your favourite Cacao Barry chocolate? Why? What do you like to pair it with?
At the moment I'm very much in love with Alunga milk chocolate 41%. I was a big fan of dark chocolates in general in the past, as due to my fairly small experience I kept thinking about milk chocolate as a sickly sweet commercial taste and wasn't brave enough to use a lot of it for our chocolates. Alunga changed my mind, it has a fantastic depth of flavour, it's not overly sweet, big on cocoa taste, but still very milky. At the moment we have Mexican skull on the menu with habanero chili, salted corn and lime. So I chose to infuse Alunga with habanero chilies just to give it a bit of warmth in the end and mix it with crunchy salted corn, lime gel instead gives the chocolate some acidity.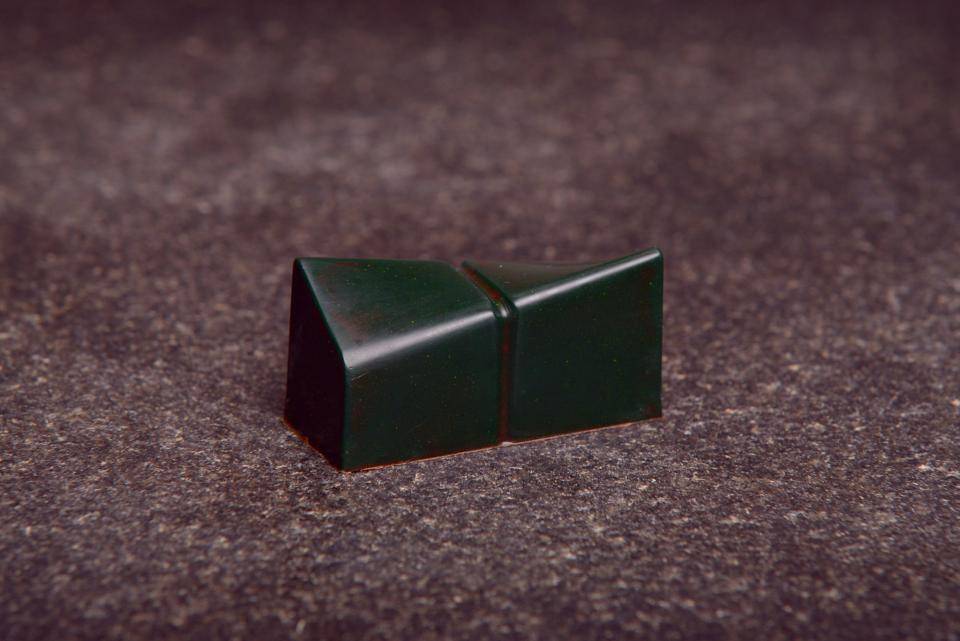 Where do you find the inspiration for your work?
My passion for patisserie started when Instagram was only becoming popular, so many pastry chefs started posting their creations. So I would follow them, find the recipes, look at hundreds and hundreds of pictures and slowly understand what sort of works I like and which ones leave me neutral. Fair to say, it is still very similar, as I am only learning, the best way for me is to find the creation I admire and then turn it into a flavour combination that I would enjoy eating. Knowing what I personally like helps the most, as I am not a fan of overly sweet wether it's a chocolate or a dessert, so that actually always affects my choice of flavours, most likely there will be freshness in some way. I also like using salt, as it balances out sweetness and enhances the flavour.

How would your ideal dessert look like?
Most likely very simple, but with unexpected mind-blowing freshness. I'm a big fan of Japanese ingredients when it gets to desserts, so something with yuzu, sake and shiso would be ideal.
And which is the best dessert you ever had and what was so great about it?
My favourite one was the Japanese kakigori. The very first one I ever tried was with kinako (toasted soy bean powder), Japanese molasses and adzuki beans, now they might not be the freshest flavour combination you could think of, but since it's a shaved ice dessert, it was just perfect, with right amount of flavour, yet extremely refreshing and light.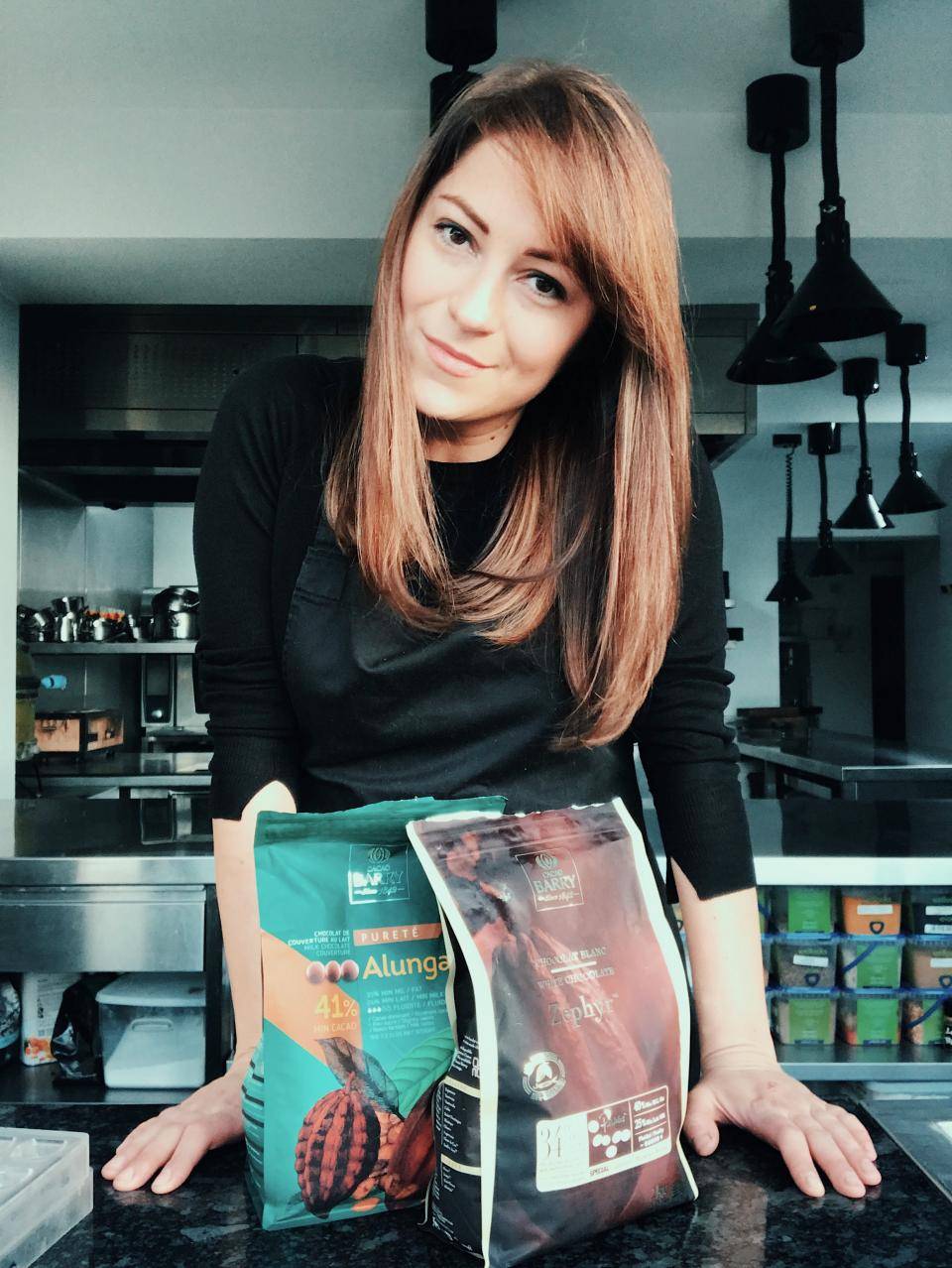 In 2018 will in Paris take place World Chocolate Masters. The theme will be Futropolis. How do you see the desserts of the future?
Recently I came across many desserts that look fantastic but were missing out on a flavour, yet simpler looking ones with good flavour profile would be more memorable. I am sure it is possible to use great technique yet keeping in mind that it still has to taste good, especially with the chocolate when in most cases it has it's own strong flavour and the aim would be to compliment that in a smart way.

Do you have any golden dream?
To be honest, dreams are what I live for. Many things that I reached in life were dreamt many years ago, so I most certainly have quite a few. In the future I want to have my own chocolate boutique in London. But at the moment my main focus is to learn more about chocolate, gain more experience and one day become Cacao Barry Ambassador.