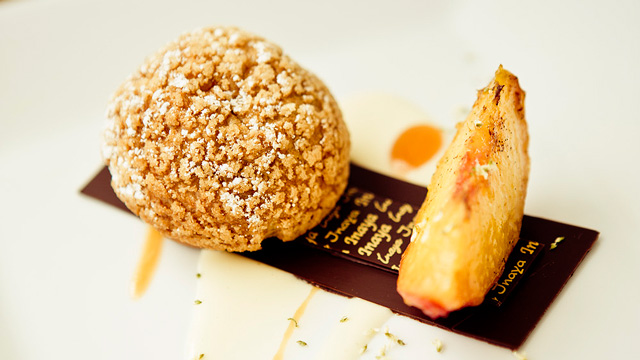 Used Cacao Barry products
Spring / Summer
Alunga™ Profiterole, butterscotch, roasted peach, wild clover blossom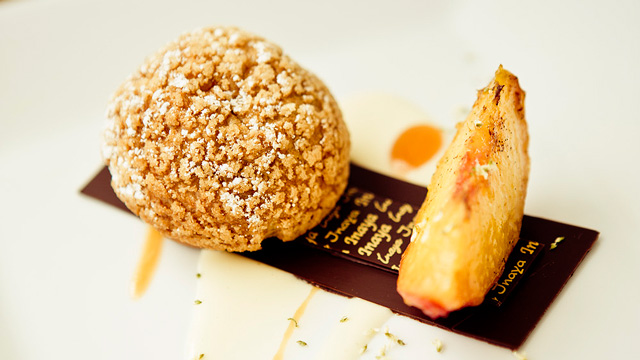 Used Cacao Barry products
Recipe components
Sugar dough
Ingredients
Preparation

Mix everything together until a smooth paste is formed.
Roll 2 mm thick and cut the desired size.
Pate à choux
Ingredients
Preparation

Boil together the milk, water and butter.
Add sifted flour and salt. Return to the stove and cook until dry.
Add eggs in thirds.
Pipe into desired size. Top with sugar dough and bake at 325°F for 20-25 minutes.
Alunga™ cream
Ingredients
Preparation

Boil the milk and vanilla bean together and pour over the Alunga™ and gelatin.
Emulsify.
When the ganache reaches 40°C fold in lightly whipped cream and reserve.
Fill profiterole shell with Alunga™ cream.
Butterscotch sauce
Ingredients
Preparation

Warm the milk and first cream together.
Pour over the egg yolks, brown sugar and milk powder and return to the stove.
Cook until 85°C. Add gelatin and cool.
Add remaining cream and whip until fluffy, reserve.
Oven roasted peaches
Ingredients
Preparation

Lightly sauté peaches in melted butter. Add sugar and bake for 10 min at 400°F.
Allow peaches to cool and coat liberally with clover blossom flowers.