Presenting guests stars of the Cacao Collective Event (part 1): Cherish Finden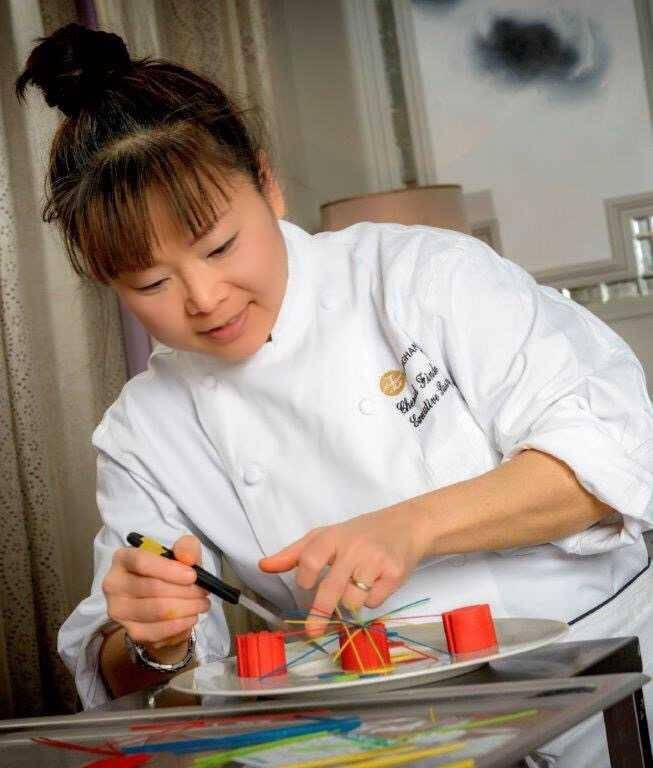 The Cacao Collective Event on the 15th of February is fast approaching, but we can't yet reveal all the surprises of the event... 
One of the surprises will be a fantastic presentation and recipe by one of the most talented pastry chefs in London. We can't reveal you the recipe and the presentation, but we can reveal you the chef. 
Cherish Finden has over 20 years of international experience, Her work has ranged from creating irresistible menu items inspired by the collections of top designers and brands to developing magnificent showpieces. The pastry chef's inventive edge has kept the Langham where she works at the forefront of London's culinary scene.
Growing up in Singapore as the youngest daughter in a family of five, she began her working life in a different field altogether but after endless encouragement and a steady stream of compliments from her family and friends, she was eventually inspired to further develop her talent at Shatect Culinary School where she discovered a natural talent for making pastries.   
Cherish Finden has challenged herself through training courses and culinary competitions that have resulted in over 25 medals from international events around the world, of which 18 were Gold. Furthermore, her work at the Langham earned the hotel the prestigious Tea Guild's 'Top London Afternoon Tea' award in 2010 and 'Service of Excellence 2013' for three consecutive years. 
With each and every creation, she aims to capture the attention of her subjects, be they judges in a competition or guests of a hotel and she constantly strives to push boundaries. Many of her desserts involve use of more exotic Asian ingredients such as dashi, wasabi, pandan leaves and incorporating the Umami taste.
Her enthusiasm and passion for her work has also resulted in invitations to appear on popular TV programmes among notable culinary peers including An Extra Slice for British Bake Off ,Hesthon's Great British Food on Channel 4, BBC's Masterchef, Australian Masterchef and BBC 2's Junior Bake-off. 
We are really looking forward to discovering Cherish special creation for the Cacao Collective Event!
If you would like to know more about the event, and notify us of your interest in attending, please register here.