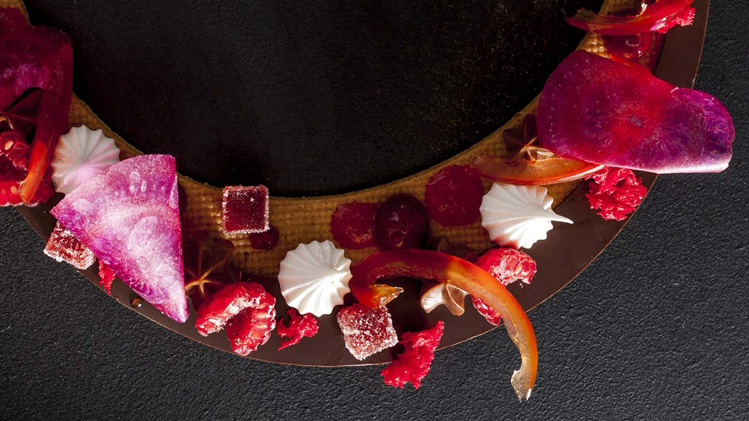 Used Cacao Barry products
Recipe components
Short crust pastry
Ingredients
Preparation

Mix together

Add

Then

Leave to chill.
Roll out pastry (2 mm), cut using a stencil and cook at 165°C.
Sprinkle with Mycryo™ butter after removing the pastry from the oven to protect the short crust pastry from any moisture.
Creamy Alunga™
Ingredients
Preparation

Boil

Blanch

Make a light custard sauce at 85°C, sieve through a fine strainer and pour onto

Leave to set for 12h at 4°C.
Stewed raspberries & pepper
Ingredients
Preparation

Chauffer à 40°C

Add

Cook at 100°C .
Cool at 4°C.
Fruit paste with peppers and raspberries
Ingredients
Preparation

Heat at 40°C

Add the mixture

Add in gradually, 1/3 at a time

Cook at 70°Brix.

Remover from heat and add

Pour into the Flexipan 5 mm thick.
Roll in granulated sugar then cut out 0.5 cm cubes (side).
Mini meringues à la française
Ingredients
Preparation

Beat

Add and stiffen with

Arrange the meringues onto the Silpat using a fluted piping bag and cook at 90°C for 5 hours.
Sponge cake
Ingredients
Preparation

raspberry-flavoured red food colouring

Set aside for 12h at 4°C.
Fill the siphon, add the gas and shake.
Remove and cook in microwave for 50 secs at 1000 Watts.
Candied peppers
Ingredients
Preparation

Cut the peppers into 0.5 cm strips.

Make a syrup with

Leave to candy for 72 hours.