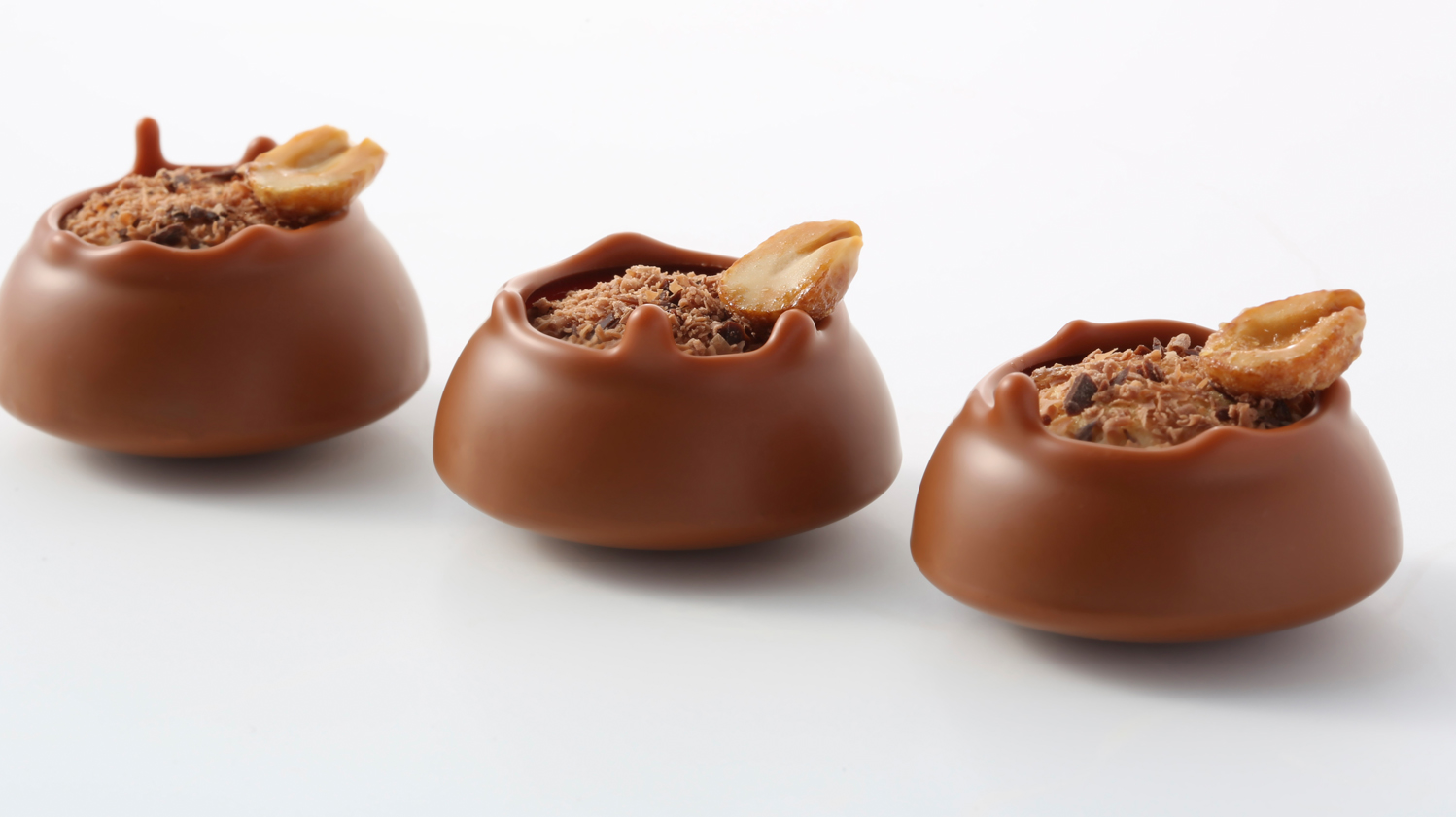 Used Cacao Barry products
Moulded bonbons
Peanut Banana Caramel Bouchée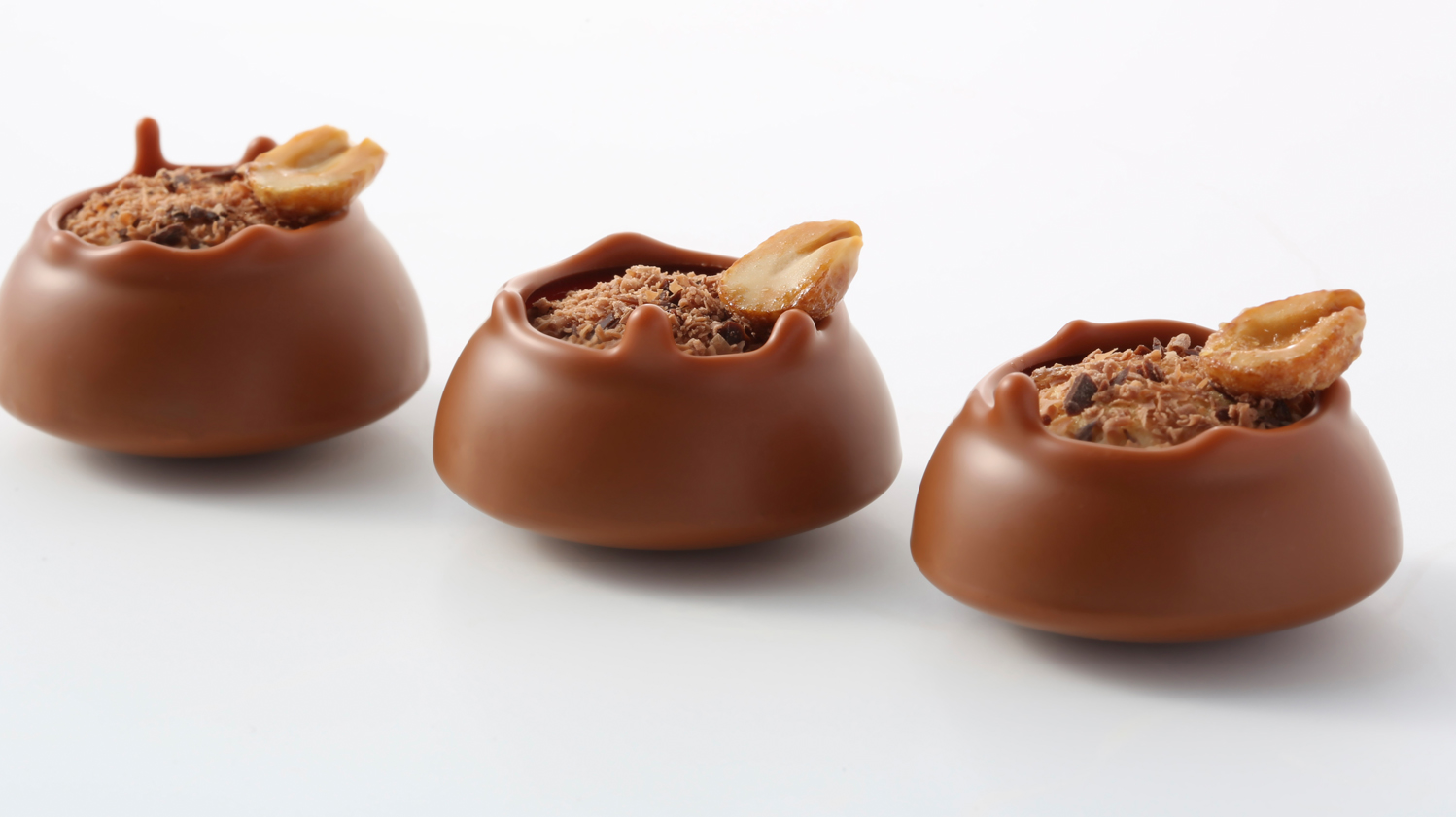 Inspirations:
I wanted to take something very common and popular with the general public and put a modern twist on it. The marshmallow is recognized as an unpolished treat accessible to everyone, to through into a warm drink or put across a fire. I made the marshmallow into a sophisticated bouche with an intriguing shape that has inviting flavours. 
Used Cacao Barry products
Recipe components
Banana Soft Caramel
Ingredients
Preparation

Dry caramelize the sugar and glucose, and deglaze with the cream, vanilla bean, banana puree, and salt.
Add the butter and cook to 108°C.
Pour over the milk chocolate and emulsify.
Caramel Marshmallow for piping
Ingredients
Preparation

Make a dry caramel with sugar and glucose.
Deglaze with hot water, sea salt, and lower amount of invert sugar Cook to 113°C.
Pour caramel over larger amount of invert sugar and then add in the melted gelatine mass, and the vanilla paste.
Add 10 drops of Sosa caramel extract, and start whipping.
Pipe.
Peanuts-Hazelnuts Feuilletine
Ingredients
Preparation

Melt the chocolate and pour into the pastes.
Crystalize at 23/24°C.
Add the feuilletine and cast.
Coloured chocolate for lining shells
Ingredients
Preparation

Melt the chocolate and cocoa butter together.
Blend in the colour powder.
Crystalize and use.
Assembly
Mould with :
- Lactée Barry
- 1 x Elegant Pistole™ mould,
- 1 x 2cm 1/2 sphere and
- 1 x 4cm 1/2 sphere moulds.
Pipe the cold caramel into the 2 cm cavities, and add some roasted peanuts. Let set.
Spread some Peanuts Hazelnuts feuilletine in the Elegant Pistole™ shell.
Whisk the caramel marshmallow
Lightly spray a 4 cm polycarbonate mould with oil and then pipe in the marshmallow
Push the 1/2 sphere caramel shell into the marshmallow. Let set.
Grate some milk and dark chocolate with a microplane, and dip the base of the marshmallow in it.
Stick the marshmallow onto the feuilletine filled Elegant Pistole™.
Melt the top of the chocolate 4 cm 1/2 spheres, to create a hole and then place it upside down over the marshmallow and attach it to Elegant Pistole™ shell.
Put a toothpick in the marshmallow, and place upside down on Styrofoam.
Crystalize the caramel coloured chocolate and pour some over the shells.
Let set and decorate with a caramelized peanut.