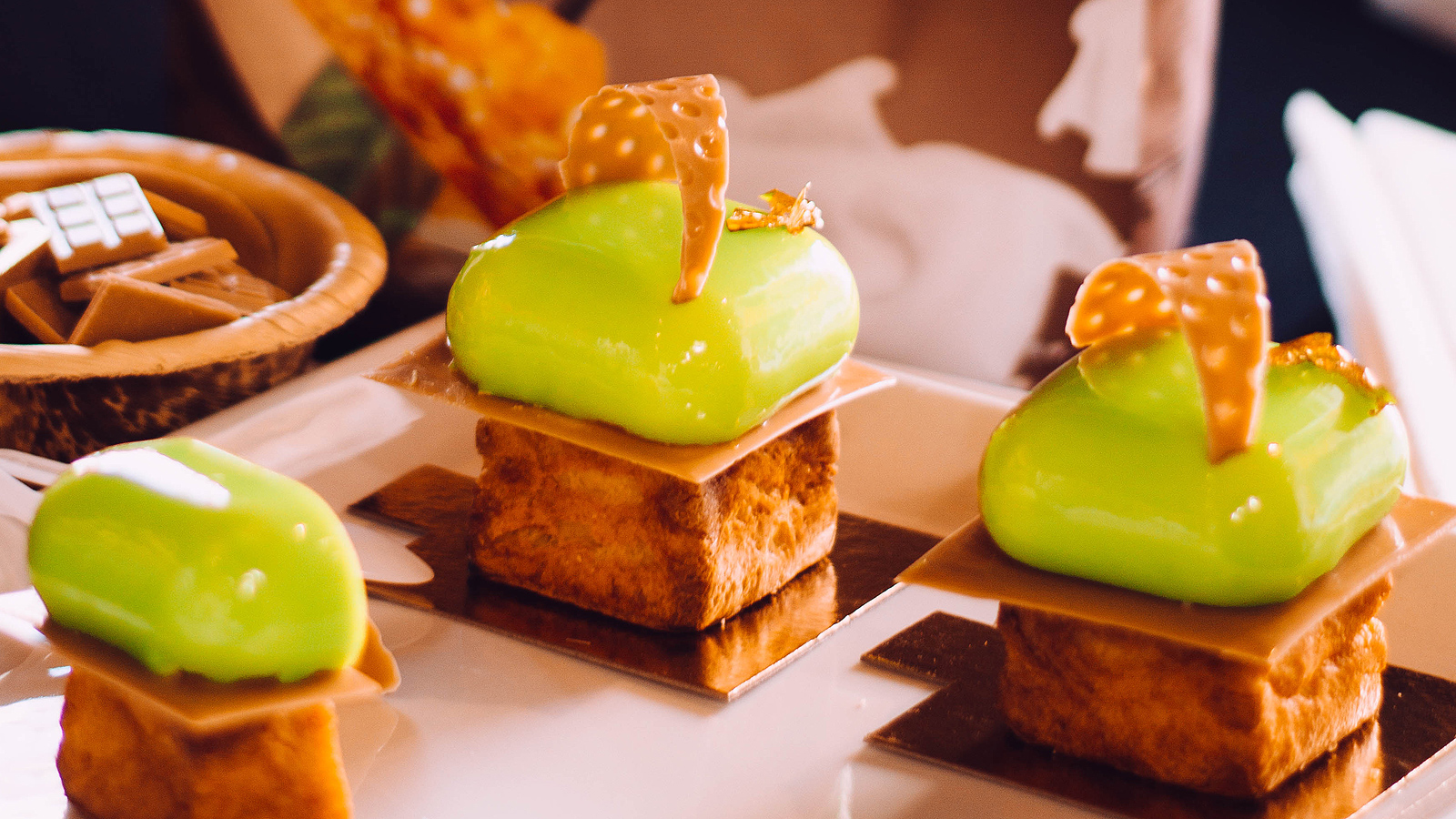 Used Cacao Barry products
Recipe components
Choux pastry
Ingredients
Preparation

In a saucepan combine and bring to a boil

Remove from heat and add

Put the saucepan back on medium heat and cook the dough until dry.

Transfer dough into the bowl of a stand mixer.

Incorporate one by one

The pastry can be used straight away or left to rest for up to 40 minutes, covered with plastic wrap.
To shape the dough, put pastry into a piping bag (do not overfill) with a large round tip.
Pipe into sphere shape in a 2" square shaped metal mold onto an oven tray lined with parchment paper.
Bake at 330°F for 32 minutes. Rotate and reduce heat to 280°F and bake for another 8 minutes.
Zéphyr™ Caramel Cremeux
Ingredients
Preparation

Boil

Pour over

Add

Emulsify

At 35°C add the cold cream

Emulsify.

Pour into 2" square mold and freeze.
Cinnamon Crumble
Ingredients
Preparation

Combine all ingredients together in a stand mixer with paddle attachment

Once everything is combined spread on a sheet pan lined with parchment paper. Bake at 320°F for approximately 20 minutes.
Green Apple Mousse
Ingredients
Preparation

Heat

Remove from heat.

Wisk and add to the apple puree

Return to heat and bring mixture to 85°C and strain onto softened gelatin

Combine with

Let cool.

In a medium-sized saucepan, combine

Once the sugar has dissolved, turn the heat to medium-high and allow the syrup to come to a boil.

Whisk egg whites until foamy

Pour the cooked syrup (115°C) slowly over the mixture while mixing.

Once all the syrup has been added, keep mixing until the bottom of the bowl feels cool to the touch and the meringue has cooled down to body temperature.

Fold in meringue.

Fold in soft cream

Pour into Silikomart Gem100 mold. Top each mold with 1 tsp of caramelized green apple.
Caramelized Green Apples
Ingredients
Preparation

Peel and dice

Make a dry caramel with

Add the apples and cook until soften but still crunchy in the centre, about 3-4 minutes. Stop the cooking process by pouring apples onto a sheet pan and place in the refrigerator immediately.
Glaze
Ingredients
Preparation

Boil

Melt

Pour over

Emulsify.

Add

Emulsify.
Assembly
Cut choux cube in ½. Fill centre with Zéphyr™ Caramel cremeux and sprinkle with cinnamon crumble.
Cover with a 2.5" square of Zephyr Caramel décor.
Add the glazed Gem shaped apple mousse.
Decorate with a gold leaf and Zéphyr™ Caramel chocolate décor.