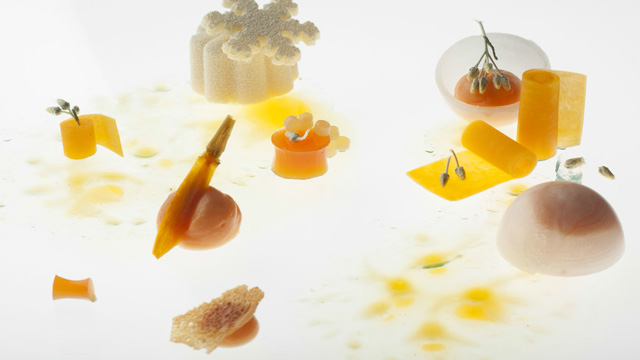 Used Cacao Barry products
Spring / Summer
Carrot, pumpkin, mascarpone and blood orange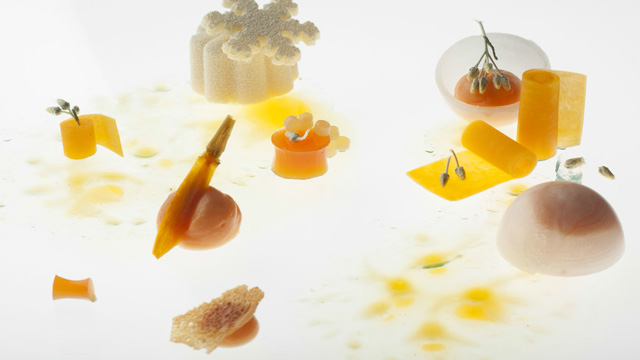 Used Cacao Barry products
Recipe components
Mascarpone Inaya™ creme
Ingredients
Preparation

finely grated orange zest

Mix the melted chocolate, mascapone gingersirope, peel, cinnamon and icing sugar gently.
Spatle the merengue gentle in the base.
Pipe the base in the small cake moulds.
Sweet and sour pumpkin rolls
Ingredients
Preparation

Cook the marinade.
Cut the slices in squares and add to the boiling marinade. Leave at least 24 hours.
When needed, take out of the marinade and roll in tubes.
Crispy make with chickenstock and curry spices
Ingredients
Preparation

Put the ingredients into the themoblender and put it on 70°C for 6 minutes on speed 3.
After three minutes, blend it on speed 10. Leave to cool for at least 4 hours.
Put a very thin layer on a silicon baking tray and leave it to dry on 90°C for 3 hours. Store dry.
Carrot, ginger and blood orange gelly
Ingredients
Preparation

Dissolve the gelespessa in the juices together with the ginger.
Stirr and bring it gently to 85°C. Put in a container and cool.
When it's set, cut it into cubes.
Semisphere of manitol
Ingredients
Preparation

Melt the manitol until it's clear like water.
Mould a semisphere praline mould and leave to set.
Dried baby carrots
Ingredients
Preparation

Brush the carrot for cleaning.
Slice as thin as possible on the foodslicer.
Blanch the very shot in the sugar sirope.
Leave to dry between to silcone trays at 60°C until crispy.
Marinaded Kus Kus
Ingredients
Preparation

Boil water at the cuscus, cook until it's al dente. Cool with cold water. Put through a siff.
Mix with a bit of the vinaigre-lemon-ginger-olive oil.
Vinaigre of lemon, ginger and olive oil
| Ingredients | Preparation |
| --- | --- |
| | Make a vinegar. |
Cremeux carrot - blood orange
Ingredients
Preparation

finely grated orange zest

Make an anglaise with juice, yolks, eggs, sugar and gelatin.
Leave to cool to about 35°C, add the chocolate and blend it in well.
Cool down and put in a piping bag.
Dacquoise pistachio
Ingredients
Preparation

Beat the egg whites, salt and sugar till it peaks.
Add broyage then pistachio, then icing sugar, then pistachio paste.
Use a sheetpan, make a layer of 0,3 cm high and bake it on 200°C about 7 minutes.
Cut out round diameter 1 cm with using a cookie dough cutter.
Press the dacquoise into the mascapone cake en freeze it. Demould the cake and put it on a tray.
Spray the cakes white with chocolate spray. Spray it with pearlspray.
Salty spicy Inaya™ snowflake
Ingredients
Preparation

Mould the chocolate in a snowflake mould and sparkel some peper & salt onto it.
Leave to set and demould the flake.
Put the flake on top of a wooden pick and spray it with the same spray chocolate we sprayed the small cake with.
Leave to set and place on top of the cake.