Bailey's lollipop with salted caramel, by Sarah Barber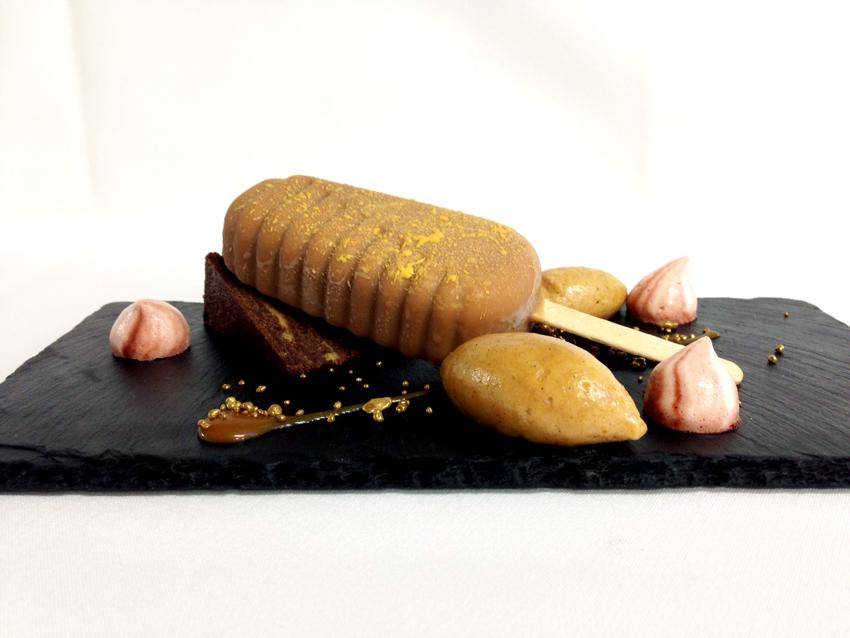 SACHER SHEETS
120g Cacao Barry dark chocolate 70%
108g Butter
108g Ground almonds
64g Egg yolks
28g Soft flour
96g Egg whites
108g Castor sugar
Melt the chocolate & butter separately and then mix together. Make a French meringue with the whites and the sugar, add sugar in 3 stages. Then add the yolks to the warm chocolate and butter mix and add to the meringue on a slow speed, fold through all dry ingredients by hand. Weigh at 800g per sheet bake at 165C, 80% humidity, full fan for 6 minutes.
WHIPPING CARAMEL
200g whipping cream
1 vanilla pod
5g salt
150g glucose
150g castor sugar
100g butter
120g whole milk
Bring the cream, vanilla and salt to the boil and leave to the side.
Place the glucose, castor sugar, butter and whole milk to the boil, whisk constantly for about 15 mins. Once smoking and of golden colour, gradually add vanilla cream mix , emulsifying with the caramel, bring back to the boil. Once boiling pass through a fine chinois, leave to cool in flat tray with clingflim on touch to prevent formation of a skin.
The next day place in mixing machine and whisk to airate, spread on sacher sheets with popping candy to sandwich.
BAILEYS MOUSSE: X 60 PORTIONS
50g Whole Milk
50g whipping cream
25g castor sugar
40g egg yolks
6g gelatine
70g Baileys
185g whipping cream – whipped fold in last
Make a crème Anglaise with the whole milk and whipping cream, cook to 80c, add the soaked gelatine to this mix, then add the Baileys, cool the base to 25C. At 25C fold in the very soft peak cream and pipe into lollipop moulds and freeze.
CHOCOLATE DIPPING MIX: X 100 PORTIONS
100g Milk chocolate Cacao Barry Lactée Supérieure
70g cocoa butter
Melt separately, mix together, pass through a fine chinois, use at 30C to dip the lollipops.
BUTTERSCOTCH MERINGUES X 100 PORTIONS
40g castor sugar
36g egg whites
2g cornflour
2 drops of butterscotch essence
Brown Colour to ripple
Make a French meringue, add the essence last, ripple colour through. Pipe into dome using nozzle no.10, place in dehydrator over night.