The big chocolate truffle by Elena Arzak (Arzak, San Sebastian, Spain)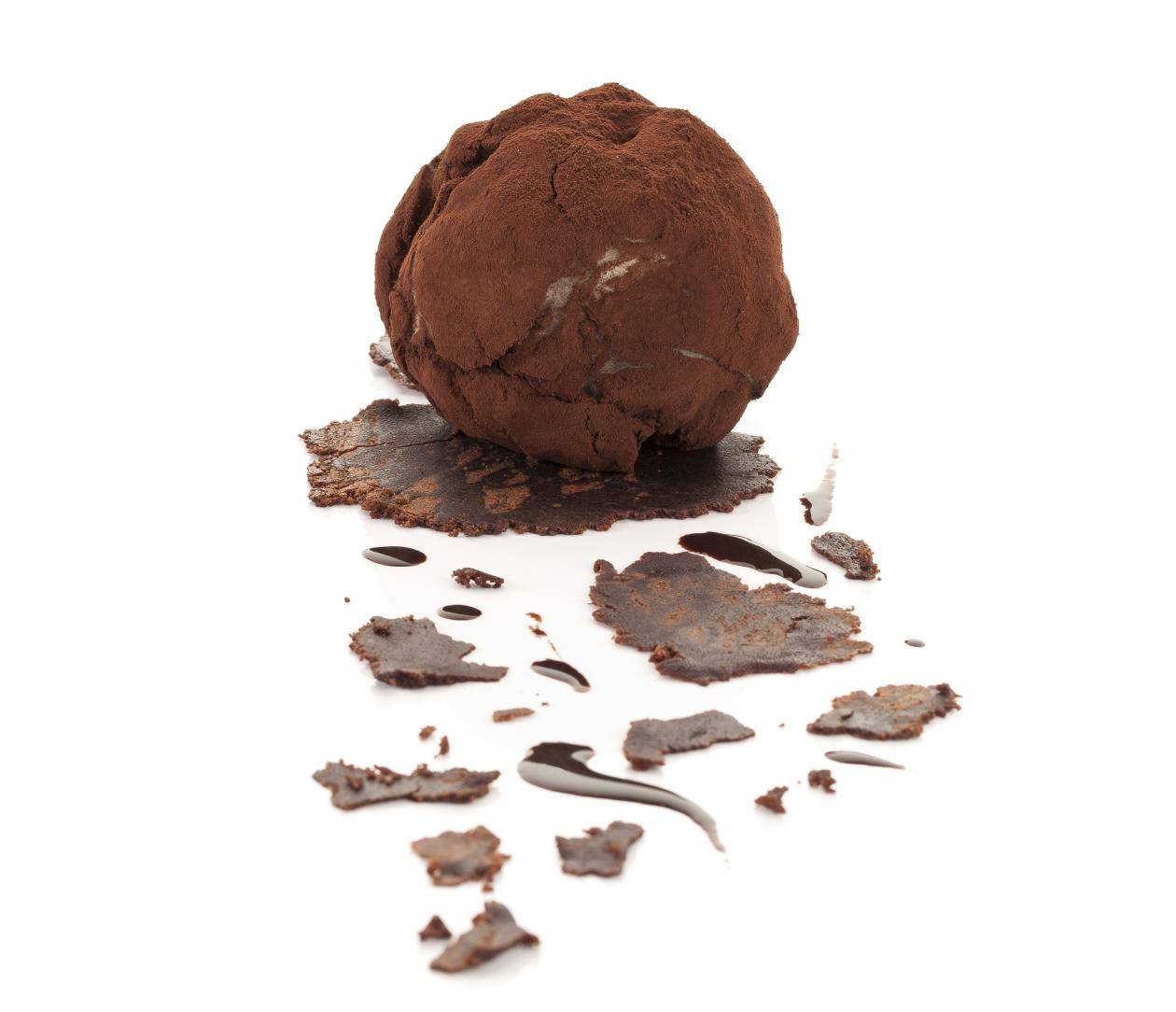 INGREDIENTS (for 4 pax.):
For the chocolate mousse:
150 gr. lightly whipped cream
50 gr. milk
100 gr. dark chocolate
½ gelatin sheet (2 gr.)
For the bread cubes:
12 cubes of soft white bread (1×1 cm.)
1 c.c. sugar
1 c.c. olive oil
1 c.c. cocoa powder
For the big truffle:
40 gr. cola sugar
5 gr. cocoa powder
2 gr. carob power
1 gr. petit cola (cola acuminata)
For the cocoa sauce:
100 gr. Karpy liquor (orange liquor)
30 gr. sugar
15 gr. cocoa
100 gr. water
For the chocolate cake:
110 gr. sugar
2 eggs
75 gr. butter
75 gr. dark chocolate
45 gr. flour
8 gr. cocoa
¼ de vanilla bean
½ gr. salt
PROCESS:
For the chocolate mousse:
Bring the milk to a boil and add the previously hydrated gelatin. Pour it over the finely chopped chocolate. Melt and let sit until it cools a bit. Mix with the whipped cream. Beat the mixture gently so that the mousse doesn't deflate. Keep cold.
For the bread cubes:
Sautee the bread cubes together with the sugar and oil. When they are crisp remove from heat and let cool. Coat with cocoa and set aside.
For the big truffle:
Pour the sugar into a cotton candy machine until it makes a thread. Wrap it around the chocolate mousse, bread cubes and petit cola and form a ball shape. Coat with cocoa and carob powder. Set aside.
For the chocolate cake:
Melt the chocolate with the butter. Add the eggs, the sugar and the interior of the vanilla bean (save the rest for other uses) and the salt. Mix well. Add the flour, which has been previously mixed with the cocoa. Mix well. Spread on a baking sheet and bake for 25 minutes at 160 Cº. Set aside.
For the cocoa sauce:
Mix all ingredients and boil for two minutes over a medium heat. Let cool.
FINAL DETAILS AND PRESENTATION:
Roll out a piece of the cake between two pieces of parchment paper until quite thin. Set it on the plate with the truffle on top. In the dining room in front of the guest pour the sauce over the truffle so that it opens up a crater in the top and leaves the interior visible.