COCO LIMA DE COCKSPUR "EL COCOTERO" by Ramon Morató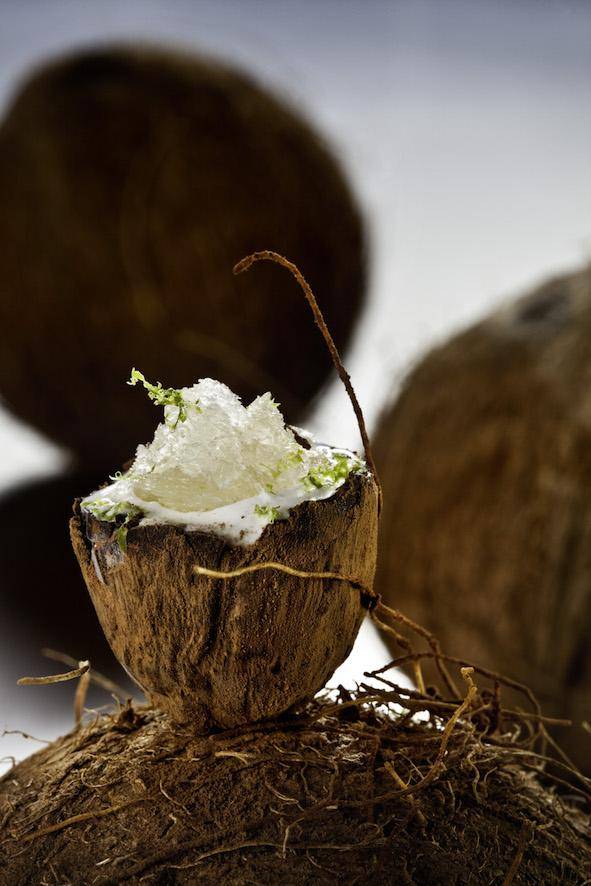 Photo: Ivan Raga
CHOCOLATE COCONUT
q.s. Fleur de Cao™ 70% cocoa dark couverture
Temper the dark couverture to 30º or 31ºC approximately.
Line silicone hemisphere molds with a very thin layer.
Keep aside until filled with the coconut cream.
LIME JELLY
300g Fresh lime juice
10g lime zest
70g zest
7g NH pectin
2 galginate
Combine the lime juice and zest and place over a heat.
Sprinkle with the sucrose mixed with the NH pectin and alginate.
Bring to a boil, leave to cool and store in refrigerator.
ICED COCKSPUR RUM
120g Cockspur rum
120g water
38gsyrup (water and sugar in equal ratio)
Combine the water and rum, add the syrup and store in the freezer.
Cut into flakes to be used with the dessert.
COCONUT CREAM
500g coconut purée, thawed
40g coconut, grated
7g gelatin sheets
1g xanthan gum
175g semi-whipped cream
Dissolve the xanthan gum with the coconut purée and process with a hand blender.
Add the grated coconut and make sure the mixture has a temperature of 20ºC.
Dissolve the gelatin sheet, previously hydrated in a small quantity of the base coconut.
Fold in the semi-whipped cream and fill the chocolate hemispheres.
Once jellied, scoop out the core as if it was a coconut. Store in the freezer.
OTHER
S/Q Kataifi pasta
ASSEMBLY
Unmold the coconut hemisphere and coat the outside with the chocolate, dust with cocoa powder to give a coconut-shell effect.
Pipe a lime jelly button in the middle.
Finish with the iced rum and some grated lime. Serve immediately.