Daniel Pearse, the head pastry chef at Hakkasan London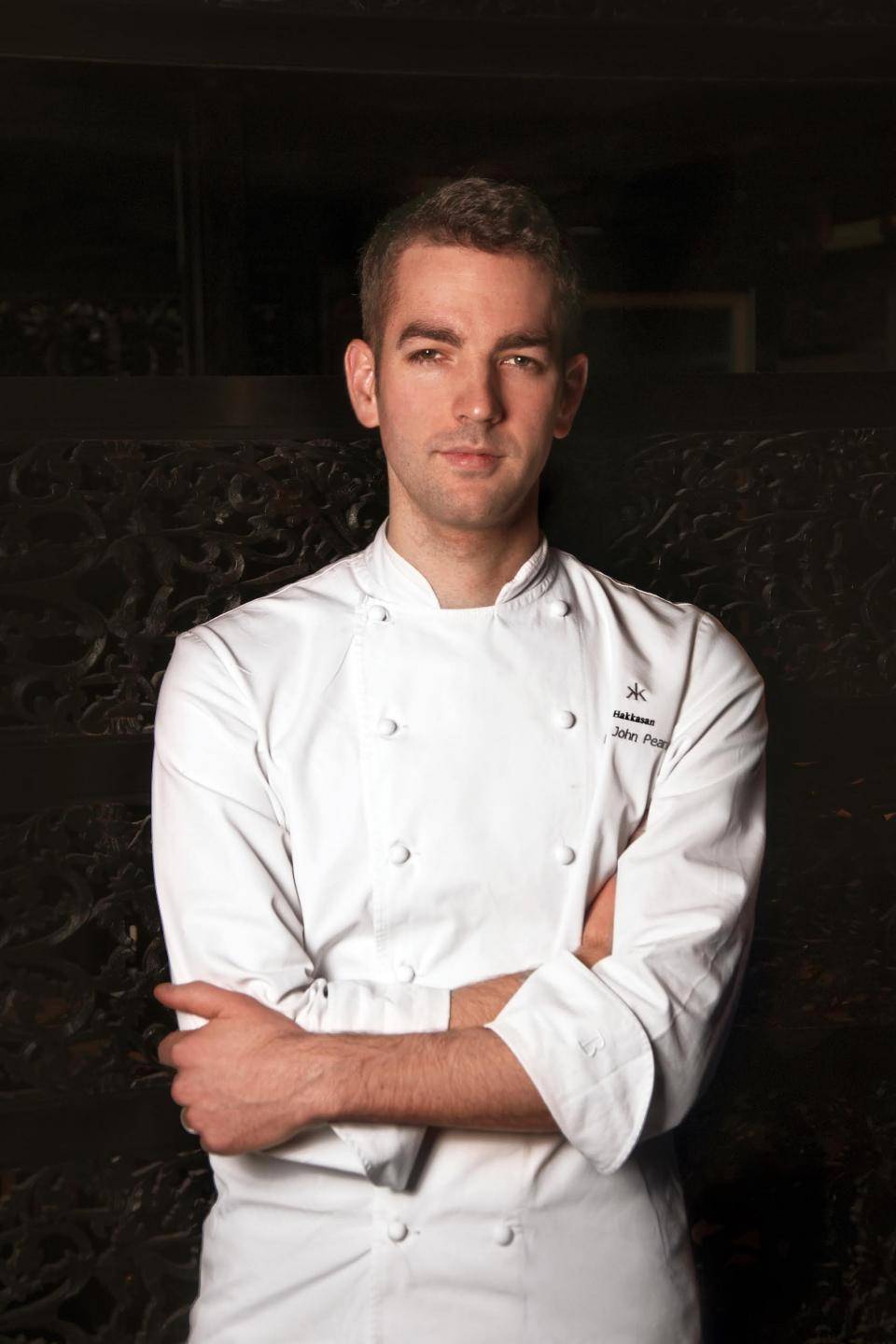 Daniel Pearse. Photo: Laura Lajh Prijatelj
When you meet Daniel you immediately see his dedication and his passion. He is nicely incorporating the mind of an artist deeply emerged in creating new combinations of flavours and forms with a precision of a pharmacist. A perfect combination for a great pastry chef. Hakkasan is lucky to have him and Daniel is lucky that he was able to develop his character and expressiveness in Hakkasan.
When and how did you fall in love with cuisine/pastry and how did you decide to become a pastry chef?
The catering world got its hooks into me at a very young age – I think I was eight years old when I was saying to my parents I was going to be a cook. I was fascinated by the idea that you can mix different ingredients together in different ways to create something completely new.
As for my decision of becoming a pastry chef that came a little later.  I was working in a small hotel in the West Country after I finished catering college when the existing pastry chef decided that he was going to leave suddenly. I think out of pure desperation rather than anything else my head chef turned to me and said: "Do you know any pastry chefs?" I replied that I knew the basics from college. That was it – I became the new pastry chef. I was given a file of old recipes and was left to it. I LOVED IT!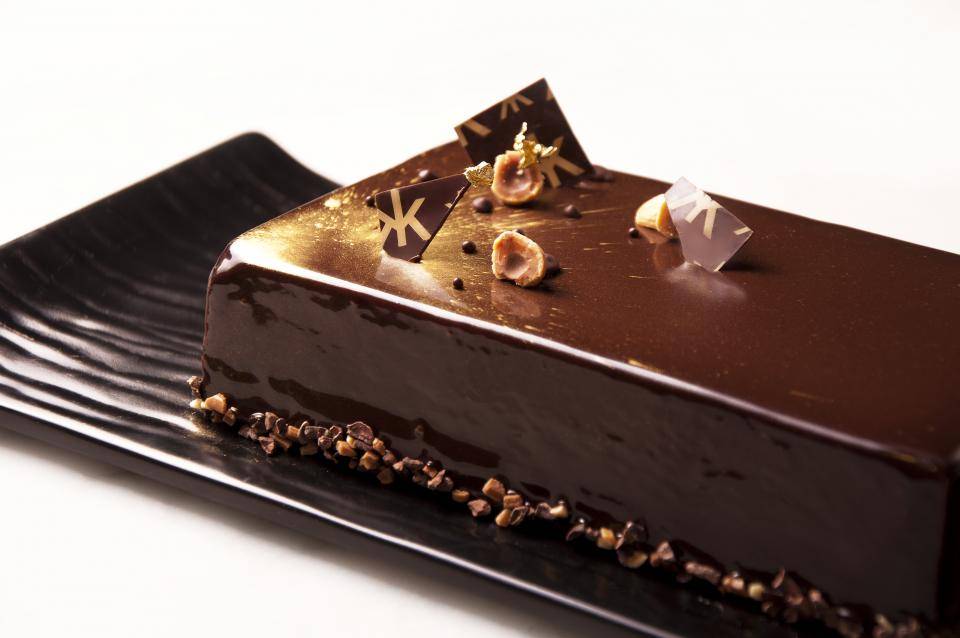 Milk Chocolate and Hazelnut Praline Cake. Photo: Laura Lajh Prijatelj
I soon realised that this was where I was supposed to be. I used to sit up all night reading books (this is before the internet took off), trying to come up with new ideas for the next menu. I found out that with pastry I had much more freedom to create. At that point I made my mind up that I was going to commit and train myself to be a pastry chef.
Is there any particular memory from your childhood related to food?
In many different ways I have always been around food in one way or another.  My auntie and uncle have a farm close to where I grew up and I remember being very young watching the cows being milked and the eggs being collected from the hens. We always had a lot of fruit and vegetables growing in our garden all year round thanks to my grandfather and my father's hard work and expertise.
I think having a good understanding of where things came from and understanding the hard work that goes into producing them made me appreciate food a lot more from a very young age.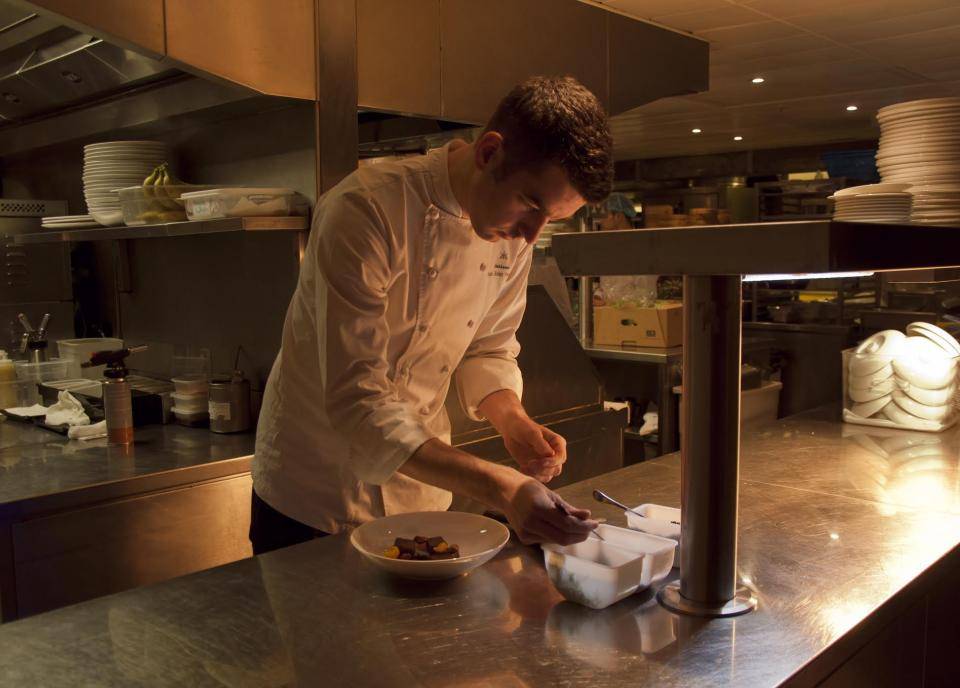 Daniel Pearse at work. Photo: Laura Lajh Prijatelj
Who was your greatest teacher?
It would be very difficult to say who has been my greatest teacher throughout my career. I feel that I have been lucky enough to of worked alongside many great head chefs and head pastry chefs in my career. Graham Hornigold and Claire Clark are just two of them.
I must say that I am eternally grateful for the opportunities that I received whilst working under Chris Stain's head chef of the Foliage restaurant at the Mandarin Oriental. He gave me my first real pastry job in London. My learning curve accelerated working in a brigade of 15 other young talented chefs all excited and keen to learn and to impress. I was making new desserts and learning new skills that I probably wouldn't of achieved elsewhere.
All of my teachers and experiences have taught me many valuable lessons about cooking and have inspired me immensely to go forward and to teach and train others the way that they taught me.
Now having two brigades of my own I have the chance to inspire another generation of young keen pastry chefs for the future.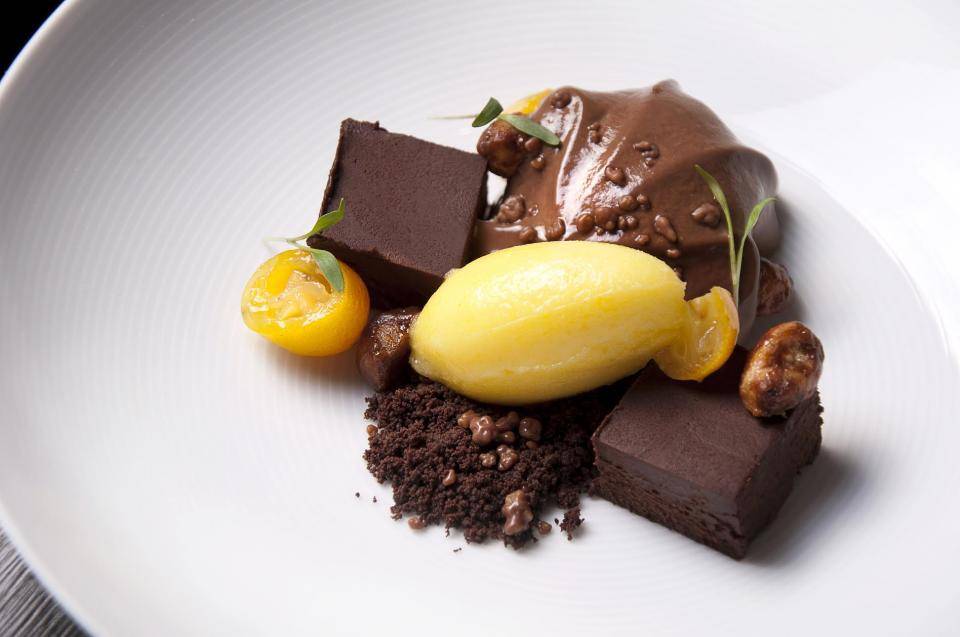 Chocolate marquise with poached kumquats and salted caramelised macadamias. Photo: Laura Lajh Prijatej
What was your biggest challenge ever?
Whilst working at the Mandarin oriental in 2011 we had the honour to cater for over 200 Royals from different Royal families from around the world who were attending the Royal wedding.
There was a huge banquet the night before the wedding which everybody would attend.  I remember thinking to myself that this was a once in a life time opportunity and what an honour it was to be a part of it. We had worked for weeks and weeks designing, tasting, re-tasting and perfecting the best menu that we possible could for such a prestigious event.
Working closely with my Head Pastry Chef Graham Hornigold we created a whole room of desserts where the guests could walk through helping themselves to a selection of Classical British desserts from throughout history.
What was your most valuable experience?
My most valuable experience would be being given at age of 26 the head pastry chef job and the opportunity to run the pastry teams at two one Michelin star restaurants of the Hakkasan Group. It was a huge responsibility and a great challenge learning how to run two six hundred cover restaurants sites at the same time. It has been a great learning curve for me, one that I have enjoyed very much doing. It has given me the chance to build two new pastry teams from scratch and to design new seasonal menus not only for my two London based restaurants but also assist for all new Hakkasan projects that have opened around the globe.
My teams are more like family to me these days. I spend a lot of time working very closely with them especially with my sous chefs Francesco, Mike and Juan. It brings me great pleasure to see them doing so well within our company.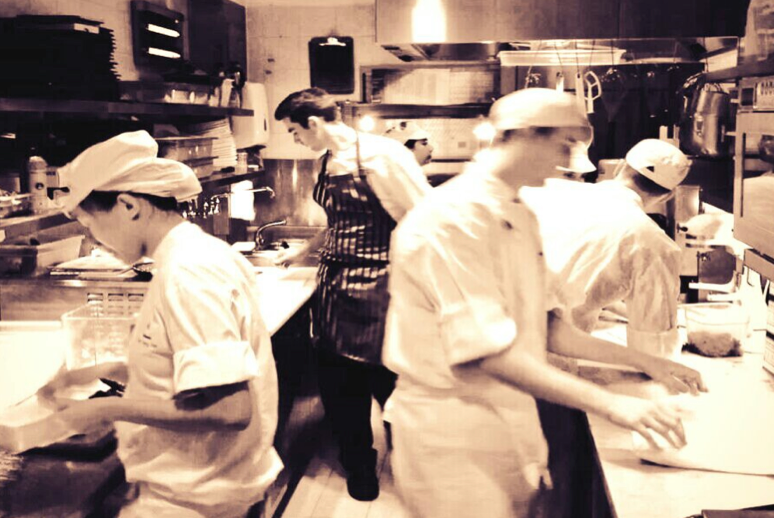 Daniel is proud of his team. Photo: courtesy of Hakkasan.
What is inspiring you today?
Working with seasonal produce and working closely with my teams in developing their ideas and helping them to put dishes on the menu. I feel that there is no better way to inspire a young chef than to have one of their dishes on the menu. When they get that first positive feedback from the customers it really drives them to do better and to create more.
How does your typical working day look like?
I start my day early with a strong cup of coffee! I then read through the handovers sent through from the restaurants from the night before and answer any emails that need my attention. Then I head into work. I try to divide my time evenly between both of my restaurants working where I'm needed.
When I arrive in the kitchen I get a handover from the chef running the section check through all of the preparation and check how many bookings we have for that day. Then I will start working with the teams either on day to day preparation or developing new ideas for new menus.
During the service I will work on the pass putting on final touches and making sure that the plates are all up to standard. Late in the evening I try and sit down to go through any paperwork that needs to be done and send a report to my chef letting him know how the day has gone.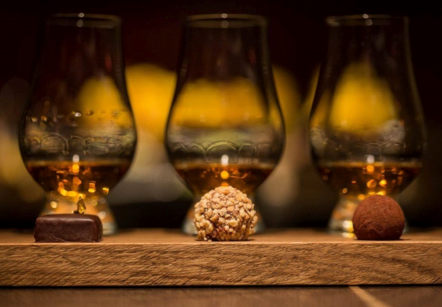 Whisky and chocolate flight. Photo: Courtesy of Hakkasan
Which are your favourite flavours and why?
I love using contrasting flavours like bitter and sweet or fatty and acidic. My favourite flavours are Raspberry, bitter chocolate (Cacao Barry Madirofolo for example), lemon, white chocolate and sesame.
I like using contrasting flavours because they bring your food alive. With every mouthful you get a different experience. You could have a lemon tart beautifully perfumed and acidic with a rich sesame paste which gives you a nutty taste and texture and then a Bergamot meringue with just enough sweetness to balance the whole thing together.
How would you describe your philosophy of cuisine?
Fresh is best and Taste is everything.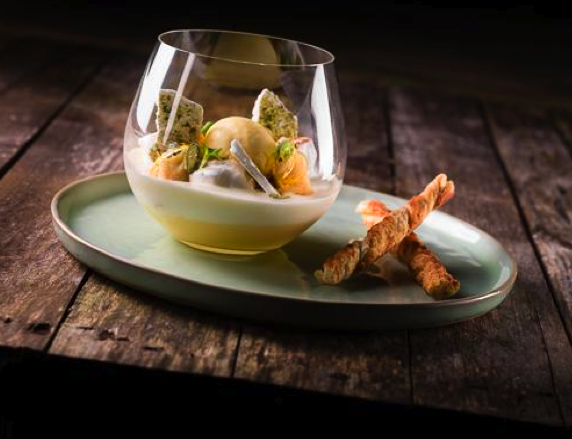 Lemon pot. Photo: Courtesy of Hakkasan
What does chocolate as ingredient mean to you?
To me chocolate is a consistent product that can be used all year around in many different ways in many different dishes ranging from savoury to sweet being used as a main element to a dish or as a garnish.
The different notes of bitter, sweet, cocoa, roasted, sour, spicy, earthy and floral that you get from chocolate mean that there is a huge range of other ingredients that you can pair it with. All you have to do is experiment.
How do you personally like to enjoy chocolate?
Straight out of the bag when nobody is looking.
The best chocolate or chocolate dessert you have ever eaten?
I can't remember the restaurant but I remember the dessert: it was a bitter chocolate soufflé with salted caramel sauce and hazelnut ice cream. A perfect combination.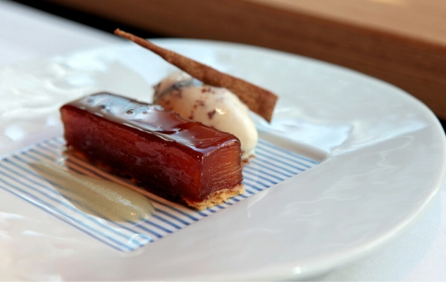 Soy Caramel Tatin. Photo: Courtesy of Hakkasan
If you could choose any place in the world to go and try the cuisine or pastry or chocolate, where would you go and why?
I think for me it would have to be Asia; there is an amazing amount of skill and knowledge. I went to watch the pastry coupe du monde two years ago in Lyon with some friends and I remember being amazed by the pieces that were produced by Japanese team that year.
What is your greatest achievement?
What I do now is my greatest achievement to date. To work in a fast moving company like Hakkasan which is constantly growing and developing and to work in two very successful restaurants with 13 fantastic young talented pastry chefs who work for me, makes me very proud of what I do.
And your ultimate dream?
I would love to be able to open my own pastry shop in the future with a school on the side to continue to teach others.
What would be your final message to our readers?
Be Happy! Enjoy what you are doing and never stop learning.