Gert de Mangeleer, chef patron at Hertog Jan (Zedelgem, Belgium)
Gert de Mangeleer has seduced the hearts of food lovers in Belgium and around the world when he, in  2005, took over the restaurant Hertog Jan in Bruges. He did it with his exceptional care for the ingredients (mostly grown by him on his farm in Zedelgem), his perfectionism in cooking and a great passion for his work. In the ten years that have passed, he has won 3 Michelin stars and moved his restaurant right to Zedelgem to his farm where he continues with the same passion with which he started this wonderful venture. He states:  "I combine only natural ingredients with an impeccable sense of flavor, and refine these products´profiles to their essences. Furthermore, my cooking visually appears extraordinarily innovative and avantgarde, however, it is actually very simple and natural."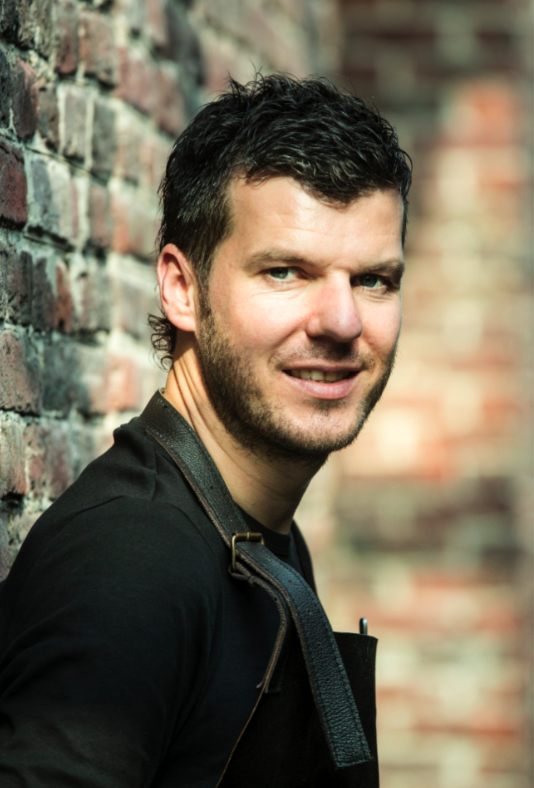 Gert de Mangeleer. Photo: Kristof Vrancken
How would you describe yourself and your cuisine?
I'm a passionate and detail minded extreme control freak working around a contemporary cooking style with respect for the products, preferably those that we grow here on our own farm.
What is most important for you?
The research with respect for the original taste and flavor of the product itself and its combination with other influences.
What does chocolate mean for you?
I'm in love with chocolate since my childhood, but today I try to understand and recognize the different influences of the origin – chocolate terroir in taste and flavor.
A sweet walk through the garden. Photo: Kristof Vrancken
Why have you chosen this dessert? What is in your opinion so special about it? What has inspired you to create it? How was it born?
This dessert was a big challenge for me, because for months I was trying to link the sweet side of my menu to our farm products, but it was much more difficult than I thought. With this creation I finally found the way to combine natural fresh products to chocolate
Tell us please about the flavors, temperatures and textures that describe your dessert.
I wanted to create a dessert with all the different sweet flavors of the garden, the idea was that when people eat it with their eyes closed, they feel like walking in the garden, every spoon they take is another flavor or texture (just like with every step that you take in the garden you see another flower or herb), the chocolate stones refer to the soil..
Does it require any special technique?
It is very important when you work with fresh herbs and flowers in combination with chocolate that you have a lot of knowledge about the different tastes and flavors of the products, so nothing would stand out too much. At the end you have to taste everything, also the different types of chocolates. You have to respect the product.
What was the special challenge with it?
The whole dessert was a challenge because we already have a dish "walk through the garden",  a savoury version, a kind of salad that we make with the harvest of the day (vegetables, herbs and flowers). The challenge was to serve the guests with almost the same dish but in a sweet version.
Any final message for our readers?
Chocolate is so much more than a sweet for children …
Do you want to know better Gert's cuisine and his walk in the garden? Visit www.hertog-jan.com and have a look at the recipe.