Milky heart from Ghana, by Chef Laurent Jeannin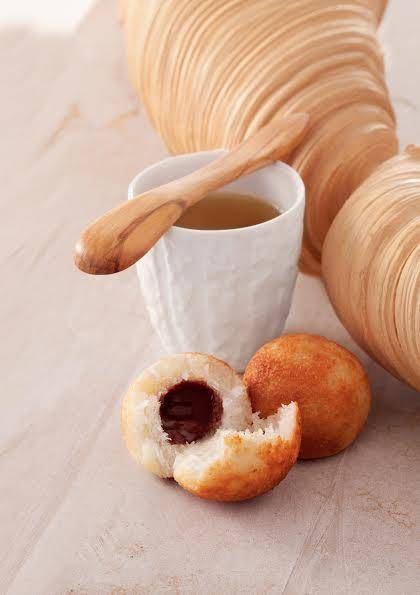 Cacao Barry Ingredients
Servings
For 40 coconut pearls
COCONUT PEARLS
Mix 600 g of grated coconut, 500g of caster sugar, 240g of white eggs and 60g of applesauce in a mixing bowl and cook at 50°C in a bain-marie. Spread the mix between two guitar sheets (width 1cm) and store in a freezer.
FILLING CHOCOLATE-COCO
Heat 250g of Boiron coconut pulp with vanilla pod previously open and scraped, bring to the boil. Add 50g egg yolks and cook at 82 ° C, pour several times on the Milk chocolate couverture Origin Ghana 40.5% to make a ganache then add 15g of Malibu. Emulsify and refrigerate.
MONTAGE
Remove the coconut pearls preparation from the freezer and cut into 5.5cm diameter rounds. Using a piping bag, fill the center of the round of 10 g of coconut ganache then enclose the ganache in the center of the rocks making sure it stays in the center. Roll to make balls and then store in the freezer in sealed box container until ready to use.
Baking: in a convection oven preheated to 230 ° C for 2 x 3 minutes by turning the plate halfway. Let it cool and enjoy when temperate.
STAGING
For these coconut balls with melting chocolate inside, choose a staging inspired from natural materials: wood, porcelain or handmade accessories.