Paul Cunningham, head chef at Henne Kirkeby Kro (Henne, Denmark)
I'm used to presenting each chef with a few words before publishing their views on chocolate, but with Paul Cunningham, one of the top British chefs who left the country because he fell in love with a beautiful Danish girl, it's different. I think he has revealed his soul really deeply with his own words. So deeply that I hardly can add anything else than my deep respect for this great man who could win all the accolades a chef can win, but has understood that what really counts is not fame and glamour but honesty, passion and love. I think you will feel this reading his lovely story about himself and chocolate. Enjoy!

"I've used this chocolate cream in different guises for the past 20 years. We've prepared the cream every day, from our very first day here at Henne. My dishes are rather simple. Well-sourced ingredients, complex in the making, but simple in execution. I feel that if one is to sit through a long tasting menu, I don't really feel it's fair to expect my guests to analyse everything that's put in front of them. A dining experience should be pleasurable & relaxed. Obviously interesting and sometimes thought-provoking, yet never hard work.

Chocolate, for me, has always played a most important part in my life, culinary speaking. From childhood, all things sweet appealed to me, chocolate in particular. I have no gastronomic childhood to speak of. Growing up in Essex throughout the 70's, chocolate for me was I suppose Cadbury's at best. Things have gladly changed since then, organic & fair trade dark chocolates adorn all supermarket shelves …. I still have a rather naughty addiction to Creme Eggs though!

Chocolate, for me, represents perfectly the motto of my career as a chef & restaurateur, 'tradition over trend'. Chocolate for me evokes family, friendship & happiness, warmth, and a product with soul.

My Henne project started four years ago now. I ran 'The Paul', a restaurant in the centre of Copenhagen for almost ten years, we received a star from the Michelin Guide after just seven months, retaining it from year to year. I closed the restaurant in September of 2011, after a rather nasty bout of stress, realising there was more to life. After months of contemplation, I overtook the helm, here at Henne – I've not yet looked back.
.
Henne Kirkeby Kro is a wonderful thatched coaching inn, over 200 years old. Poised on Denmark's very west coast, three hours from the Capital. We have only twelve rooms at Henne, with just twelve tables throughout three tiny dining rooms. On a busy night, we'll cook for around 34 guests, most of whom will sleep and enjoy breakfast the following morning. I have a kitchen garden project of 4000 sqm, a forest & access to Denmark's largest, privately owned island from which I collect herbs, mushrooms, fruits & all manner of game throughout the season. We tend our own lamb & make our own honey. Almost everything is made in-house. Meats are cured, butter churned & cheese made.
'SB62' is a mousse/creme made with dark chocolate. A very simple meringue-based creme, scraped onto the corner of a white plate, finely shaved chocolate covering together with a few sea salt crystals. The candied kumquats add an extra dimension to a most simple creation, complimenting the very strong fruit & black olive notes found in the chocolate. The salt cuts the richness of the creme, the olive oil adding an adult feel …. by the way, the olive oil that I use for this dish comes from my friend Mikkel's family house in Tuscany. It is to be eaten with a flat gourmet spoon at the very end of a meal, no need to think, just enjoy.

The dish was originally thought up during a chocolate tasting. The fruity olive notes of both the chocolate and the olive oil made perfect sense to me. I just introduced the products to each other, they seemed to enjoy each other's company."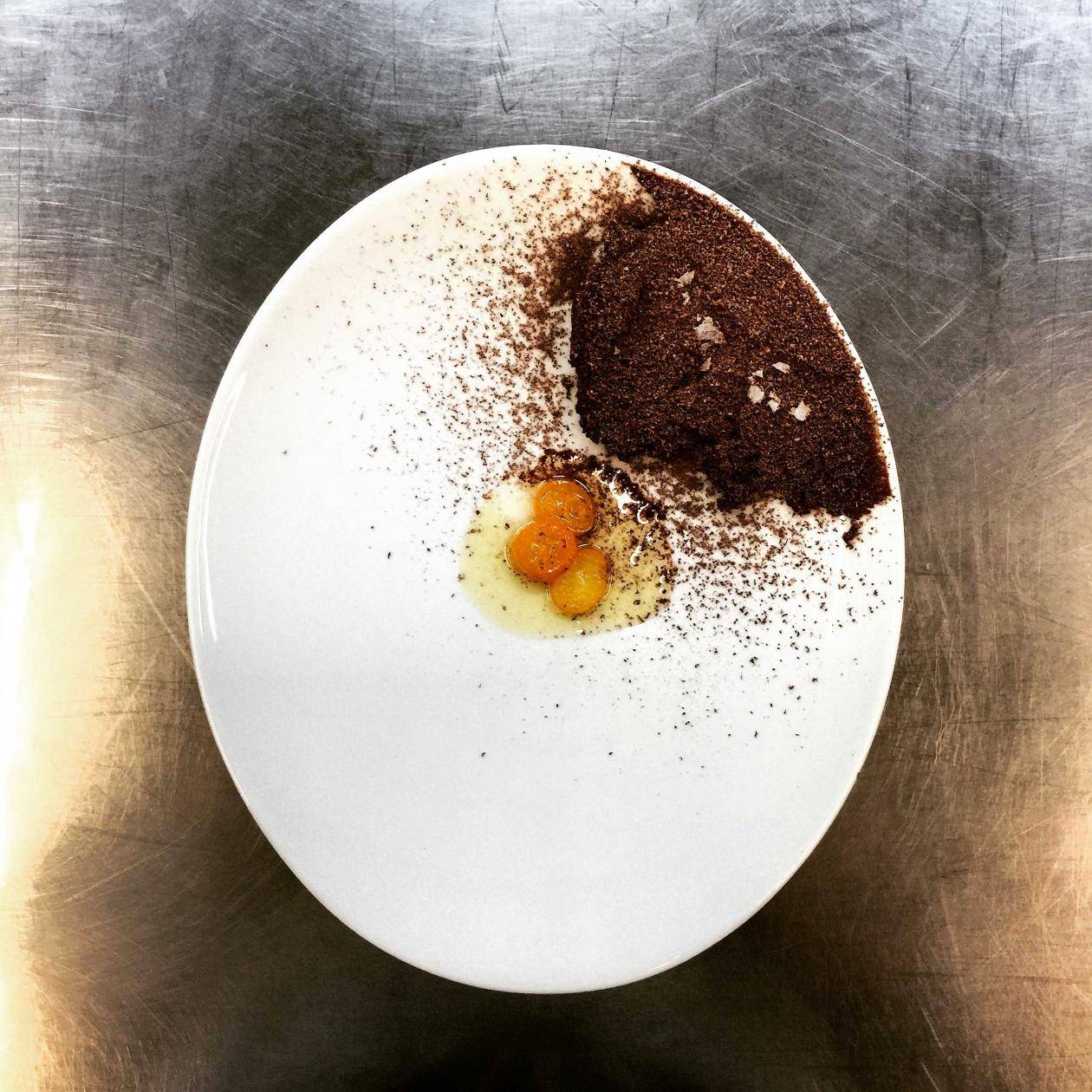 Discover Cacao Barry Products
Discover Cacao Barry Recipes