Ten minutes with Rubén Aguilar Bel and Gabriella Fogarasi, Canvas London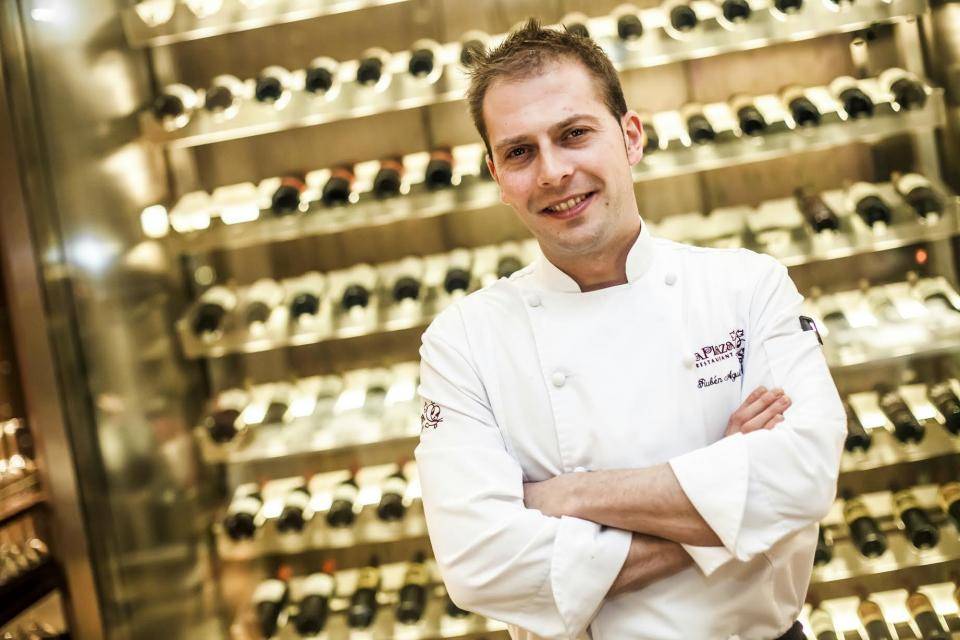 Rubén Aguilar Bel and Gabriella Fogarasi met in Hungary where they have been working together in a restaurant of an ex Ferran Adria's chef. They felt in love not just with food, but also with each other and decided to move together somewhere where they can face greater professional challenges. They moved to London and are now spoiling the guests with their delights at the Canvas restaurant in Chelsea. Rubén is the head chef, Gabriella instead is the pastry chef. Since they are partners in all aspects of life, here is a double interview.
How would you introduce yourself?
R: I am Ruben, I am 35 years old, I was born in a little Spanish town, named Teruel, where I love to return for vacation. It is there where my passion for cooking started, and where I attended the hospitality college. Teruel is a little town on the hills, where we have a great range of products – different kind of mushrooms, lovely meat, chees, truffles and all kind of game. However, I left my town pretty soon to start working in some of the best Spanish restaurants, as well as later in some other countries – China, Hungary and UK.
G: I am Gabriella Fogarasi, 32 years old, born in Transilvania. In 1990 we moved to Hungary and I grew up there. I'm happy that my parents took this decision because we had better life conditions and more openness to the world. When I finished hospitality college I wanted to continue studies, I didn't really desire to work in a kitchen. Gastronomy was not yet on high level at that time in Hungary – we almost didn't know what is a Michelin star, so I finished at Business University. I came for the first time to London when I was twenty-two to learn the language. I needed it for my degree, and to support myself here I had to start working. I sent my CV to some restaurants and I started to work. I was surprised because I fell in love with the culinary world here in London. I didn't care anymore about my degree – I decided to stay in the kitchen.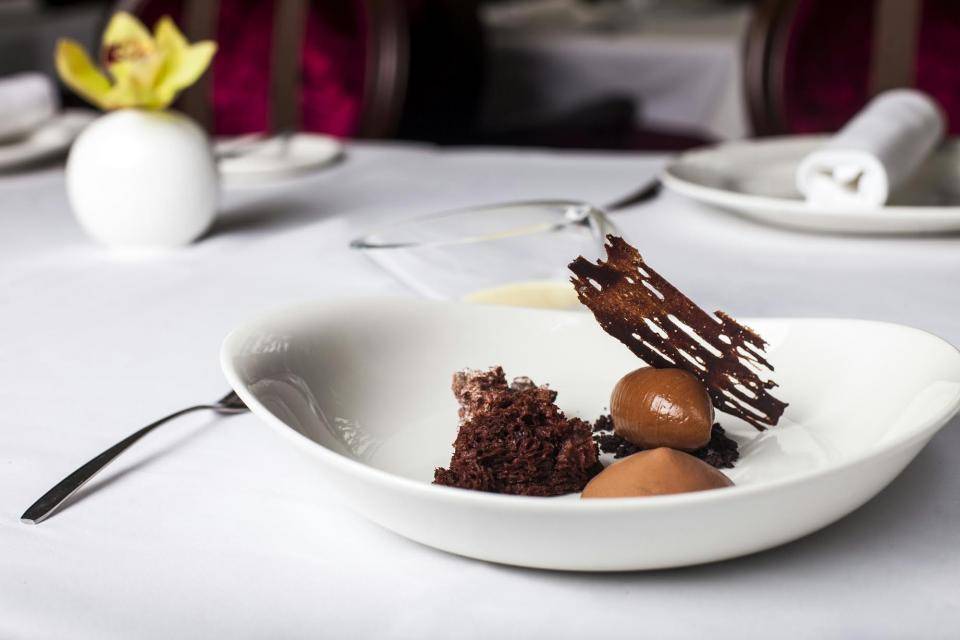 What is your secret desire/ambition?
R: To get married to Gabriella. :) I can imagine we are talking here about professional ambitions, so my wish is to make our guests happy.
G: I want happy guests! The dessert is the last in the meal, so I want to make it memorable in a positive way!
What is your ultimate dream?
R: My dream is to gain a Michelin star.
G: I have heard that Ferran Adria is opening a culinary school. I would love to study there. I don't know if there is any chance this would happen, but I would love it!
What is your greatest achievement?
R: My greatest achievement was the opportunity to work with some really great chefs like Pedro Subijana, Andoni Luis Aduriz, Santi Santamaria or Rafa Morales and to learn from them. On the other side, my probably greatest achievement was the acknowledgement as the best young chef in Valencia, Spain, as well as the appreciation of different guides.
G: When El Bulli closed one of the chefs, Juan Carlos Gonzales came to Budapest to open a restaurant. I went for an interview and he offered me the pastry position. Before that, I have never been in the pastry section so I was absolutely afraid but he wanted women and in Hungary, there are not many female chefs so I took the job and with a lot of passion I have kept it!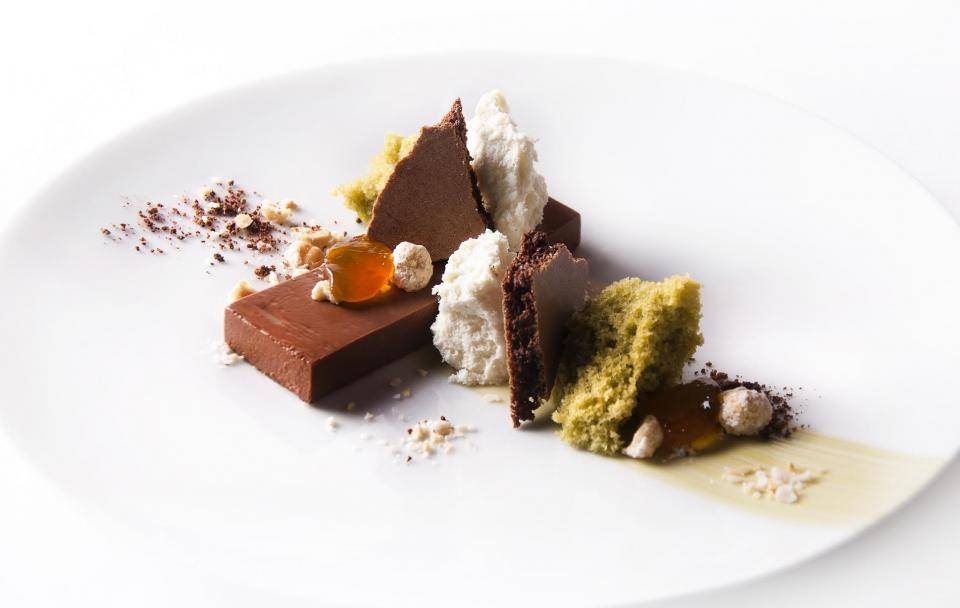 What/who is inspiring you?
R: I was inspired by every chef with who I had the opportunity to work. I really learned a lot from them. They were challenging me and changing my point of view of the kitchen. But the most important thing is to create at the end your own personality in cuisine.
G: Complaints! I don't want to do mistakes –  I really want to do my best. I am still learning and I can not correct my mistakes if I do not know them! On the other side – if I see people happy, it gives me good energy for the day!
What do you love most about your work?
R: Without any doubt, I enjoy cooking and I love to create new dishes which will satisfy my guests.
G: I love the challenges.  It can be a recipe, an idea that I want to create on a plate or a busy service.
What are your favourite flavours?
R: Mediterranean flavours, Spanish flavours. I was born there, and I was always tasting those kinds of flavours, in fact, I am using a lot of Spanish products in my work.
G: I love the aromatic herbs and the smell of the fresh mushrooms! I close my eyes and I feel like I am in a forest after rain! Nature is the most amazing creation!
What is your relationship with chocolate?
R: Complicated, because I have a little allergy and it makes me sneeze. :)
G: Chocolate is like a very nice boyfriend. It often surprises me! Once I burned the white chocolate and on one side of the bowl it was like a caramel. I tasted it and loved it! So I tried to find out how can I use it in a dessert. I caramelise it in the oven and then I do an aero in a vacuum machine. Please keep me away from the freezer from that moment on, or I will eat it all! :)
Which chocolate desserts are on your menu, which of them is your favourite and why?
G:  We don't have so many dishes on our menu so I have just one chocolate dessert as an option. It is a creamy dark chocolate jelly, pistachio sponge, olive oil white chocolate frozen foam and lime caramel.
What was the best chocolate dessert that you have eaten and where?
R: The most amazing dessert was in Paris, made by Alain Ducasse. It was a chocolate coulant.
G: It was in Croatia … I went 3 times to the restaurant just to have that dessert. It was not a Michelin-star restaurant and the other dessert were not so nice but this chocolate mousse with a sponge and cherries in Kirsch … wow!  And I have to mention also the chocolate coulant at Greenhouse here in London! Excellent!
What would be your final message for our readers?
R: Come to meet me at Canvas. Our doors are open and I will be glad to welcome you to enjoy great food and wine.
G: Try to find enough time to have a relaxed dinner, not just when you are celebrating something, it is important to eat well every single day to stay healthy! And you even don't have to cook – just come to Canvas and we will take care of you!