Smoked sponge with crunchy cocoa, whisky ice cream, slush, mint and green bean - by Martin Berasategui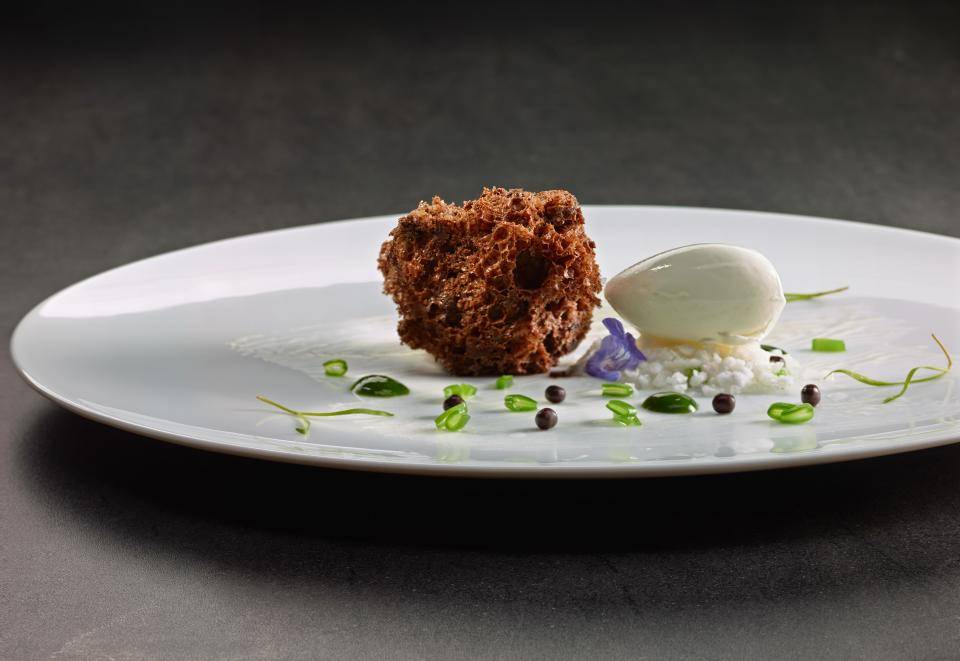 Photo: Courtesy of Martin Berasategui
Mint Water
200 g mint – 300 g water – 20 g  sugar
Blanch mint in boiling water for 10 seconds. Cool down in ice water, crush with 300 g water in Thermomix. Pass through a fine sieve and mix with sugar. To prevent oxidation close and store in a cold place.
Almond foam
150 g whole UHT milk – 150 g raw almond paste (Sosa) – 220 g cream – 60 g sugar – 1.5 g xanthan.
Mix the milk and almond paste. Warm the cream and dissolve the sugar. Mix both ingredients and pass through a fine sieve. Add xanthan using a blender. Put in a charged soda siphon and keep it for 2 hours upside down. Store at room temperature.
Raw Pod = 5g per plate
Young Pod
Blanch young pod for 10 seconds. Cool down in ice water. Dry with paper towels and cut in form of a long rice-grain. Put it into syrup and store at room temperature.
Syrup ts
100g sugar – 100g water
For the syrup mix the sugar and water and boil.  Store at room temperature
Whisky Ice Cream (1 pack)
7.5 g Whisky, 450 g whole milk. – 60 g liquid cream 35% M. G. – 20 g milk powder – 20 g dextrose – 60 g sugar – 2.5 g ice cream stabilizer
Heat the milk and cream in a saucepan. When the mixture reaches 35º add the premixed mass of stabilizer, powdered milk, sugar and dextrose. Keep stirring with a whisk until the temperature reaches 85º, immediately remove from the heat and put in a cold water bath, add Whiskey when it cools down. Put in a jet- glass and freeze.
For the frozen sponge (20 pcs)
120 g SURA Chocolate/ ILE DE JAVA 70% SMOKED – 45g butter – 35g yolk – 15g sugar – 120g egg-whites – 20g sugar – 140 g chocolate pearls
Melt chocolate and butter in a bowl in a hot bath. When it is liquid and well blended, remove it from the bath and store at room temperature.
Beat the egg whites into stiff peaks of snow together with 20g of sugar.
Mix yolks with 15 g of sugar and add it to the egg whites whilst beating.
Add finely grated chocolate and keep turning it until it gets a fine mousse texture.
Add chocolate pearls.
Mix 300 g of the mass in a Vac-Norm 1 \ 2 150mm container
Cover and create a vacuum until the mass rises to the top.
Put it very carefully in a freezer for 2 hours.
Keep it in the freezer as long as required.