Jordi Roca - the pastry genius of El Celler de Can Roca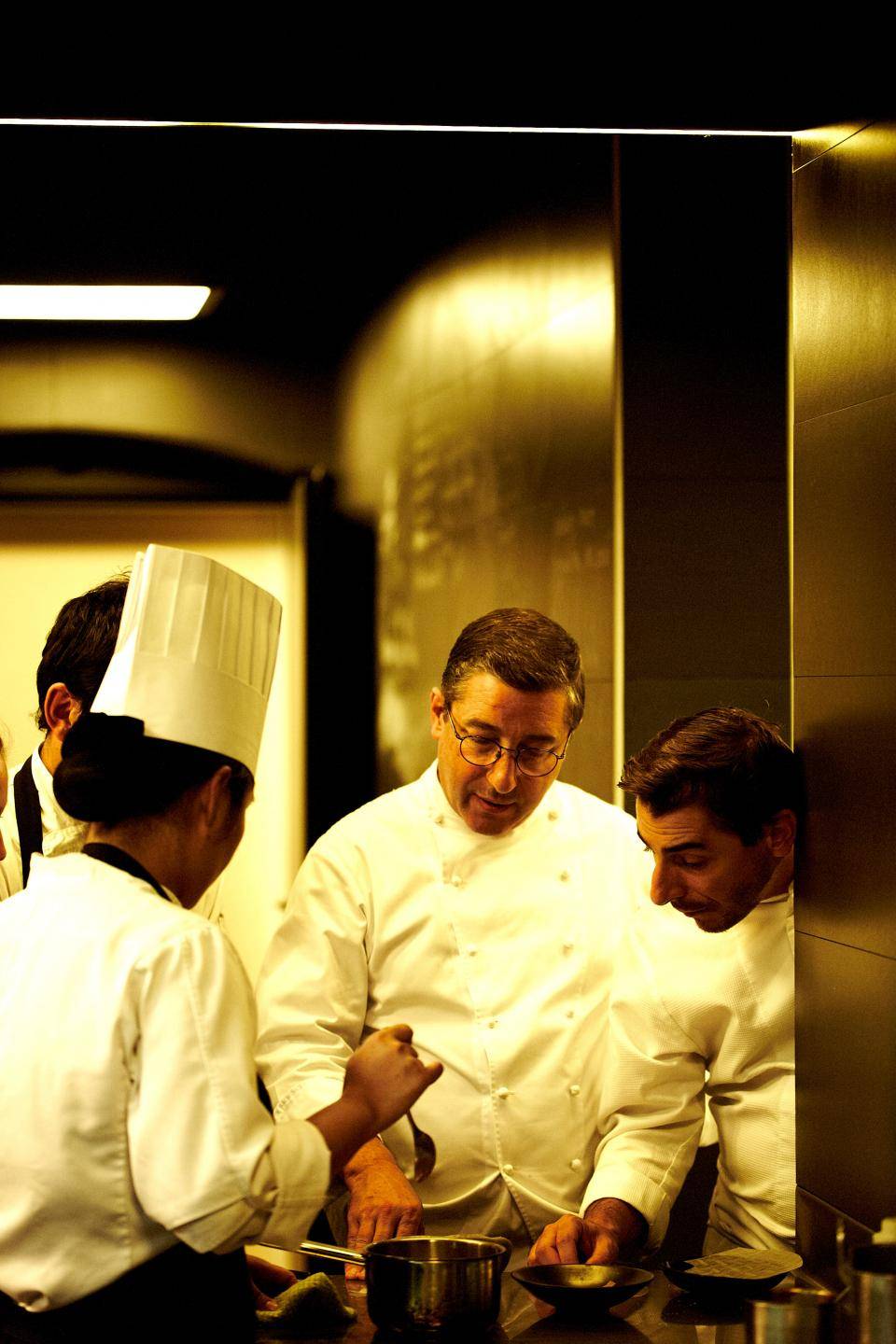 Three brothers - Joan as the chef, Jordi as a pastry chef and Josep as a sommelier, have created one of the world's most exciting and inventive restaurants, El Celler de Can Roca, located in Girona in Catalonia, Spain. From the start, it has been one of the World's 50 best restaurants and in 2013 it was crowned number one. Jordi, the youngest brother, known as the 'magician of pastry', was in 2014 named as the world's best pastry chef. His creativity knows no limits and his sweet creations are a real work of art, so we are immensely proud to have him as a Cacao Barry Ambassador. In August the El Celler de Can Roca will visit London to create a pop-up restaurant in the Cafe Royal. The visit is part of their World Tour with BBVA. We had a quick chat with Jordi.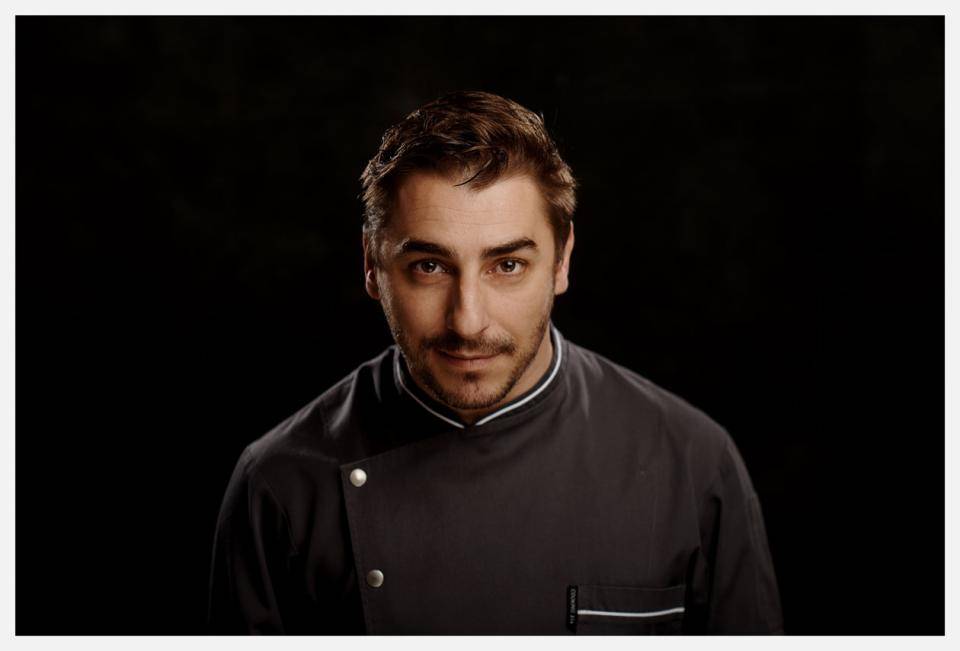 El Celler de Can Roca is an amazing project. Did you always want to become a pastry chef since you were a child? When and how did this love start?
No, as a child I had no idea about my profession. What I knew was that I loved the family business - my parents' bar and restaurant - and I felt very comfortable in this environment. But I didn't discover my talent until nine years ago when Damian Allsop, the great pastry chef, came to El Celler de Can Roca. He didn't only train me but also infected me with his passion for pastry in a way which changed my life.
What do you love best about your work?
Imagining a new dessert.

You have been called a magician of pastry. Is there any challenge that seems impossible to you?
I never think of anything as impossible. We always try to find new ways of approaching what might seem impossible. In fact, I'm very much seduced by the idea of dealing with the impossible.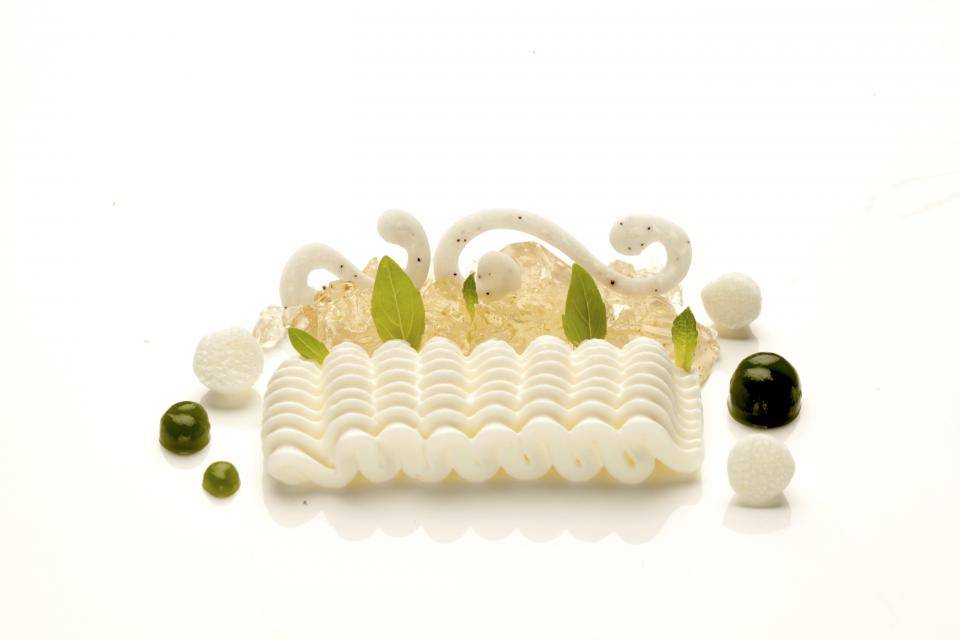 You went through a phase analyzing famous perfumes and using their natural substances in your creations. How did you get this idea and how did this work?
This is an evolution of the wine pairing concept. My brother Josep helps us to create dishes according to or starting from wine notes. From here we just took a step further considering the notes of perfumes, trying to find a way of eating and tasting what you are smelling.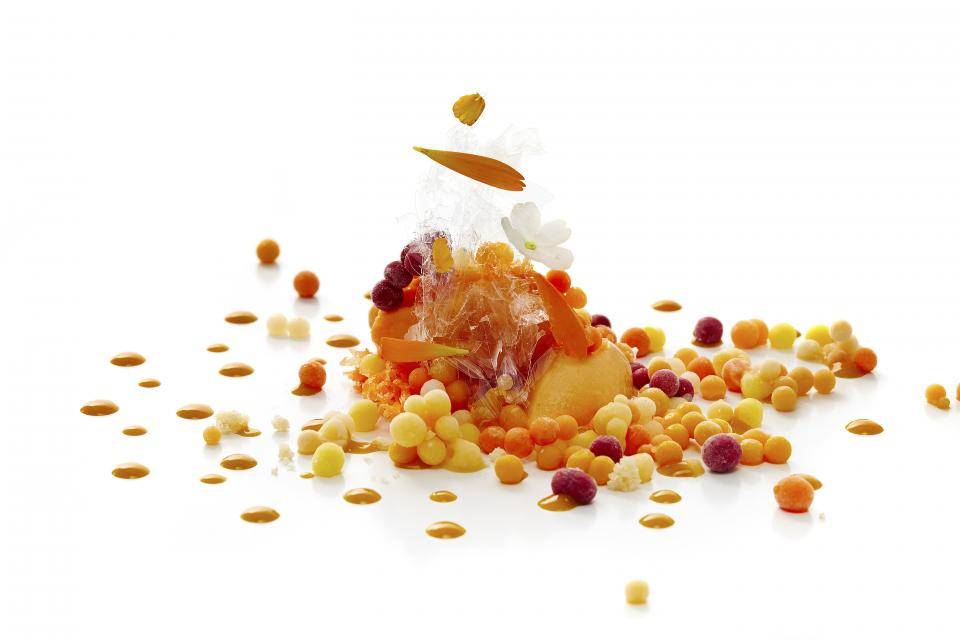 Your next phase was researching colours - you were reflecting the light, intensity, flavours and aromas conveyed by certain colours in a dessert. Can you give an example? And what was the highlight of this experience?
It's all about ways of communicating the sense of colour at an emotional level with the flavours of ingredients that have a particular colour - like green for example, which is considered to mean regeneration, cleaning up, youth, and freshness … I brought it to life through fresh mint, basil, eucalyptus, green apple ... in a dessert that reflects the symbolism of this colour.
Now you are thinking about musical dishes? How will this work?
In a similar way as with perfumes by connecting two senses (smell and taste), here we are connecting the sense of hearing with the sense of tasting through a sonochromatic scale that correlates colour with sound. This scale was created by the cyborg Neil Harbisson who is also involved in our project as a consultant. We choose the ingredient according to its colour in a way that its frequency correlates to a particular musical note and of course also according to its taste. It has to taste and sound good.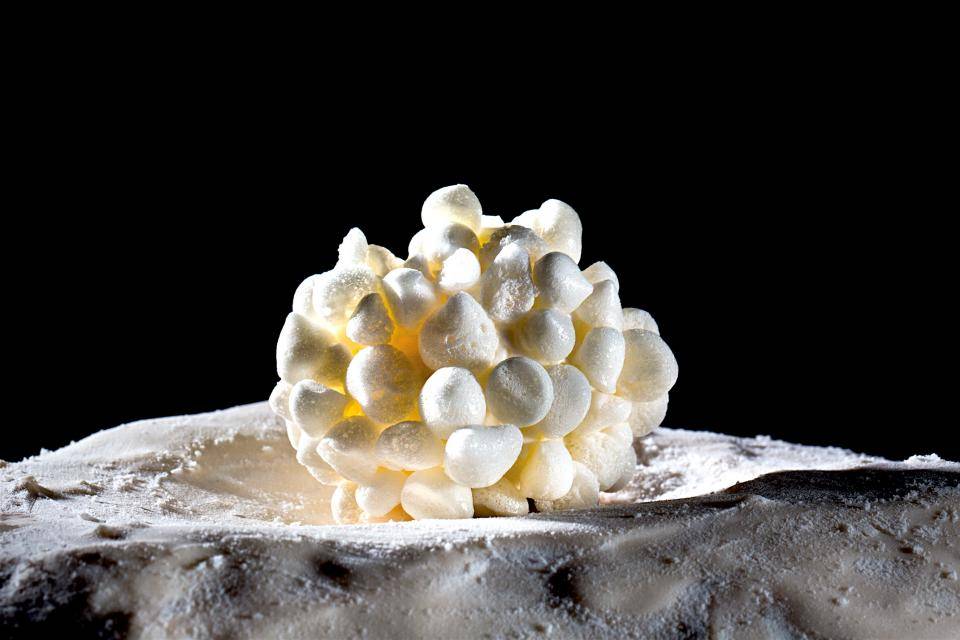 Desserts and magic. What would you call your most magical creation?
The breathing plate was created in collaboration with Andreu Carulla, an industrial designer we work with. It is a plate with a mechanism that makes it move in a way that looks like breathing and being alive. It's perfect for the dessert I created -  it was a sourdough ice cream, and sourdough is about fermentation so we are bringing its life to reality.
What about ingredients? Do you have any favourites? And a favourite combination?
Chocolate is a totem ingredient for me, an imperative in my cuisine. A combination I love is chocolate and mezcal.
The borders between sweet and savoury are melting. Desserts are becoming less sweet and often they are created using ingredients which were in the past not used for creating desserts. What is your most unusual combination?
I don't really know what unusual is… :)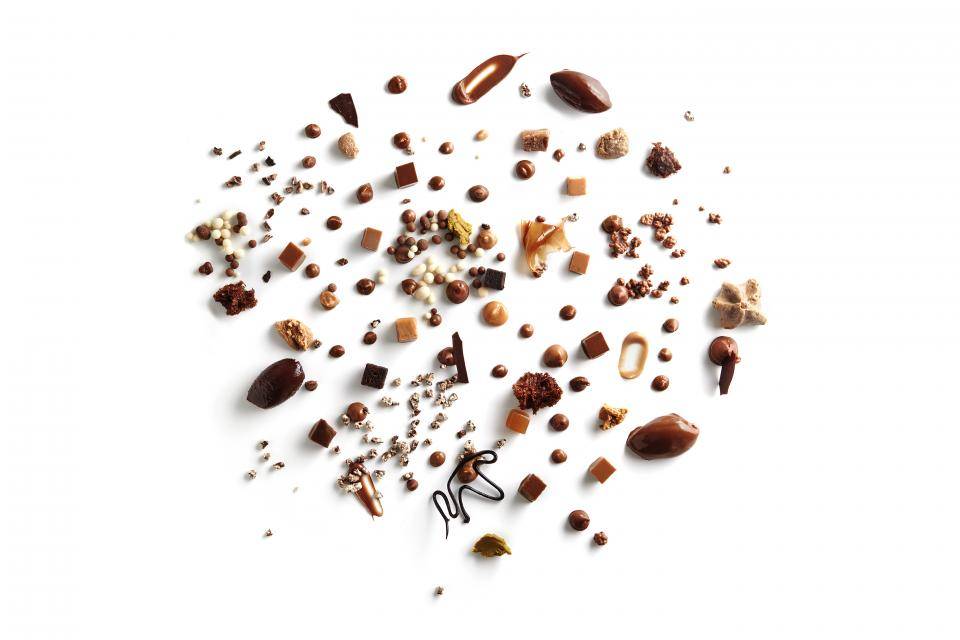 What about chocolate? What does chocolate mean for you?
Is the most important ingredient.
You work with Cacao Barry chocolate and are even a Cacao Barry Ambassador - what do you appreciate best about this brand and its products?
I appreciate the great facility to transfer the aromas of the variety of each country and of a particular area. It is the greatest expression of terroir in chocolate.
Which Cacao Barry chocolate is your personal favourite?
My favourite is Cacao Barry Mexique Single Origin.
You have travelled the world, cooked with many of the world's best chefs, and tasted many unusual ingredients and dishes -
what is your most unforgettable experience?
I had the chance to prepare a chocolate ice cream in Annapurna, at the alpinist Carlos Soria's base camp in the Himalayas. It was the highest ever made ice cream and it was created with Cacao Barry chocolate.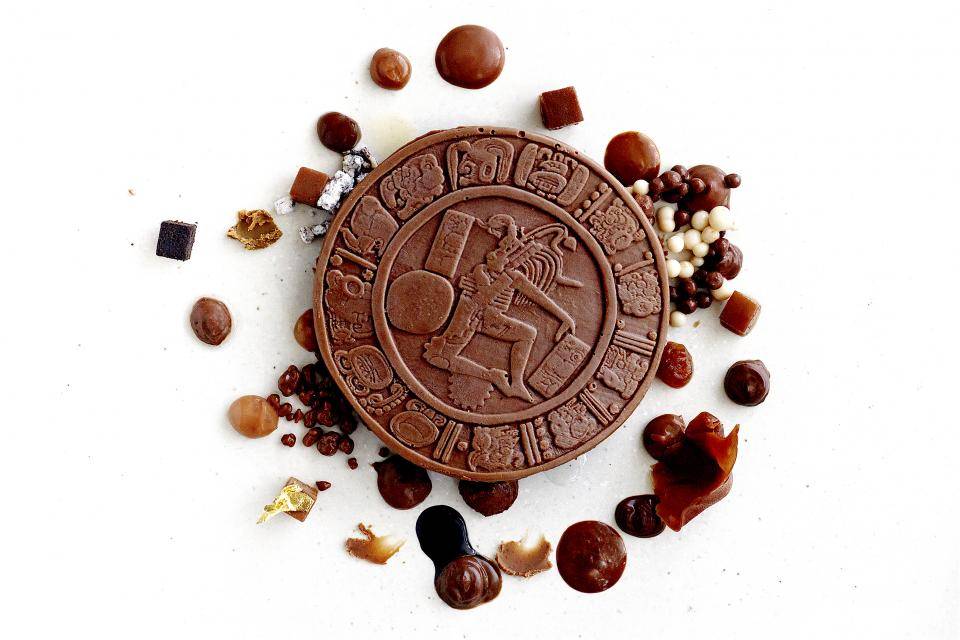 You also created a hot chocolate for the Nepalese children…
Making the ice cream was a challenge I personally enjoyed.
The hot chocolate offered to the Nepalese children was a completely different sort of feeling. They never tasted hot chocolate before and their faces revealed an incredible joy. It was a very touching and respectful moment at the same time, very intimate and unforgettable.
Tell us about your World Tour ...
Our World Tour with BBVA has lead us to discover cooking in countries where the gastronomic culture is very strong - Mexico, Peru and Argentina in South America or Turkey for instance. This year I'm looking forward to August and to experiencing Hong Kong.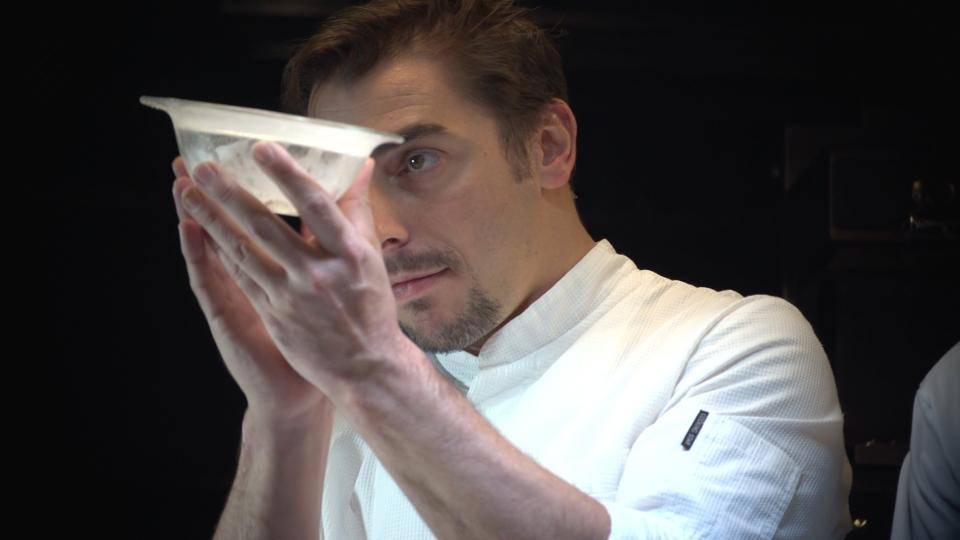 What about your plans for the future?
To keep on creating, be committed to excellence and sustainability, sharing the restaurant project along with my brothers. This year we will celebrate the 30th anniversary of El Celler de Can Roca and now we are creating the Roca Brothers Foundation, the next step of our first dream that has been widely accomplished - a place for sharing culinary knowledge, developing our cooperation program with United Nations and sharing la Masia I+R contributions around the world.
What would be your advice for the young pastry chefs?
Passion, endurance and generosity.
Discover Cacao Barry Products