Strawberry picnic by Sarah Barber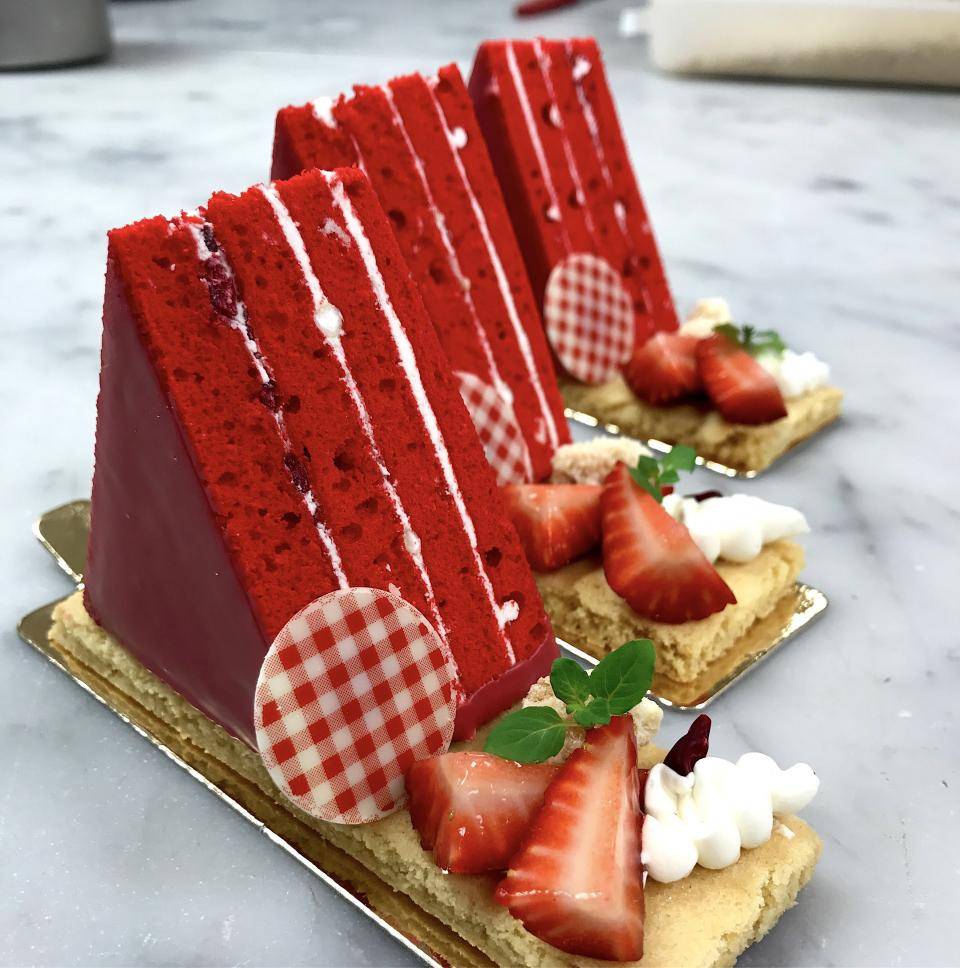 Sarah Barber from Cafe Royal is sharing with us the recipe of the lovely strawberry dessert from her summer collection.
RED GENOISE SPONGE
6 whole eggs
280g castor sugar
300g t55 soft flour (sieved)
75g melted butter
12g strawberry red colour (liquid)        -850G PER SHEET
Make a sabayon with the eggs and the sugar, fold through the butter, flour and colour lightly by hand. Bake at 170°C for 8 minutes. 4 sheets per frame.
STRAWBERRY BUTTERCREAM
500g egg whites
2kg soft butter
50g glucose
1400g castor sugar
50g sosa wild strawberry essence        
Make an Italian meringue with the sugar, egg whites, and glucose, once cold add the butter and essence. Use 500g of buttercream per layer x 3 layers.
SABLEE BRETON
100g butter
90g Castor sugar
1g salt
44g egg yolks
1 Tahitian vanilla pod
1300g T55 flour (sieved)        
4g Baking Powder
-Scale at 700g per sheet / cut at 10.5cm by 3.5cm
Cream the butter, sugar and vanilla pod seeds in the mixer with a paddle until soft and white, gradually add the egg yolks and salt, all on speed no 1 only. Then add the sieved flour and baking powder last and mix gently to a paste. As soon as mix comes together stop the machine-DO NOT OVER MIX.
Roll between paper and freeze. Bake at 180c°C 12-13  mins until golden brown. Cut 12cm by 4cm.
CHOCOLATE DIPPING MIX
500g Cacao Barry Zéphyr white chocolate
100g red cocoa butter
100g Cacao Barry cocoa butter
Melt everything separately to 40°C, mix together then pass through a fine chinois. Use at 28°C to dip the cut sandwich cake.