Summer in the pastry kitchen of the Park Plaza Westminster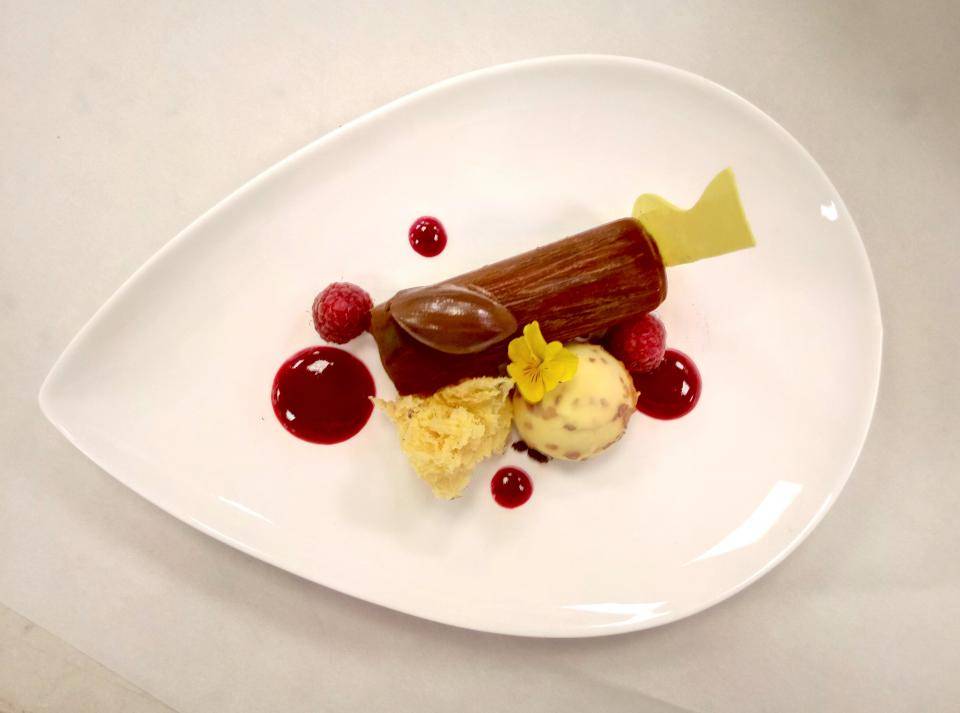 The vibrant energy of summer has spread to the pastry kitchens. Today we talked to Domenico Camporeale, the sous chef, pastry, at Park Plaza Westminster in London about this year's summer flavours.
How does summer look in your pastry kitchen?
It is quieter than normal because we have fewer events than in other periods, so it is a great occasion to test new desserts and get ready for the more intense autumn and winter season.
How is your summer collection 2017?
In my summer collection I love to use fruits with gelatin and compotes paired practically always with chocolate which gives desserts a very vivid look and lovely organoleptic aspect - they are bursting with colours, freshness, lightness and deliciousness.
This year I am trying to use less sugar than normal, using just the natural sweetness of fruits, and less egg to keep them lighter.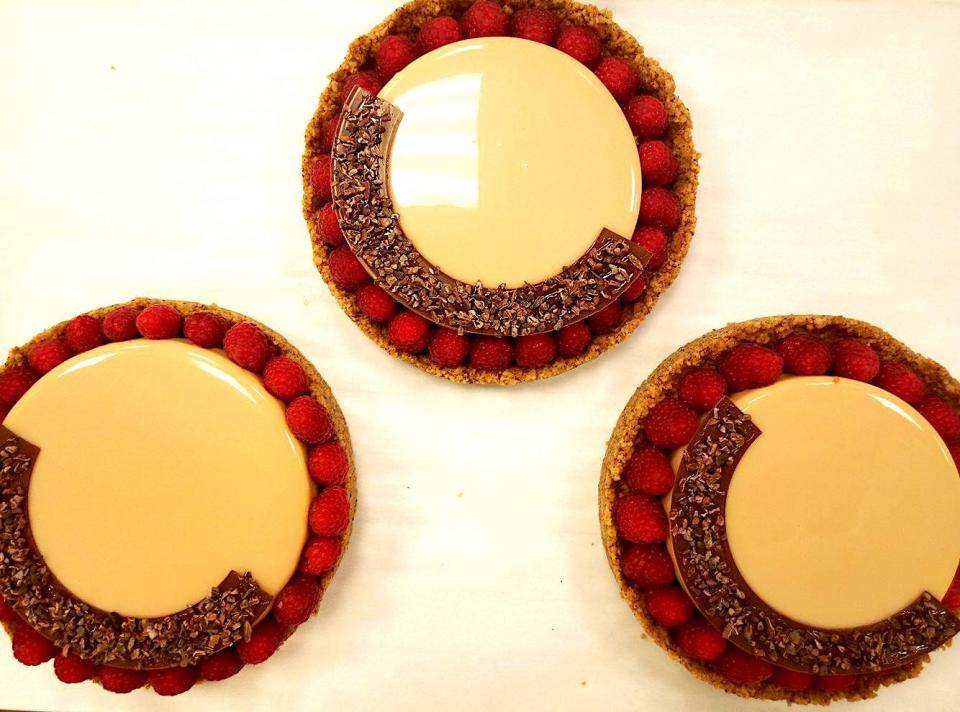 What is your favourite summer combination with chocolate?
In summer I love using fruits with chocolate - I am adding fruits to mousses, custards and ganaches. A good example of my summer dessert is the Zephyr tart (recipe) where I used  the fruit purees instead of milk, giving a new life to caramelized chocolate mousse - with an explosion of exotic flavour.
The " ZEPHYR" tart is made of:
•Hazelnut crumble and lemon zest
•Lemon jam
•Chocolate Zephyr caramel sponge
•Exotic chocolate Zephyr caramel mousse
•Chocolate Zephyr caramel glaze
•Chocolate excellence decoration and grue de cacao
•Fresh raspberries
For me it's special due to ingredients as well as colours (refined and elegant) - for me it is like an English summer which can include many seasons in one.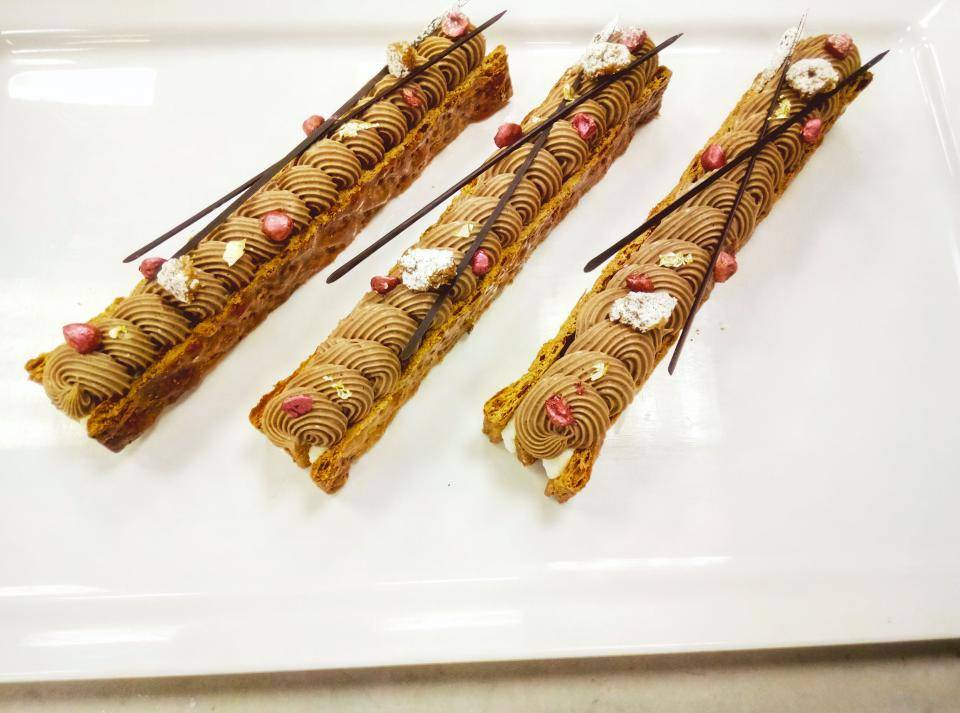 Which Cacao Barry chocolate is the greatest star in your pastry kitchen this summer. Why?
This summer I am focusing particularly on three chocolates.
One of them is, as you could already see Cacao Barry Zephyr Caramel. I love its sweetness with the bitter accent of the caramelised sugars.
The other one is Cacao Barry Fleur de Cao with intense cacao flavour with floral accents. One of my favourite desserts is the tart made with Fleur de Cao with a cherry compote and vanilla custard.
The third one is Cacao Barry Blanc Satin which I love because of its creaminess and delicate vanilla notes. I am using it for all the fruity mousses and for chantilly with vanilla and tarts with fresh fruits.

Have you tried any unusual combination this season?
I didn't try anything too unusual - I am not sure if our clients would like it. But I am for example using teas - I infuse them into macarons, custards, ganaches etc. It gives a very particular accent to the desserts. I am also using rosemary in a ganache made with gianduia with kumquat compote. In some of my desserts you can also find roasted black sesame.

Autumn will be here soon. Are you already planning your autumn collection?
Yes, a part of our autumn collection is ready - the one created for events. Soon I will also have ready the other part of the collection and proposals for Christmas and New Year.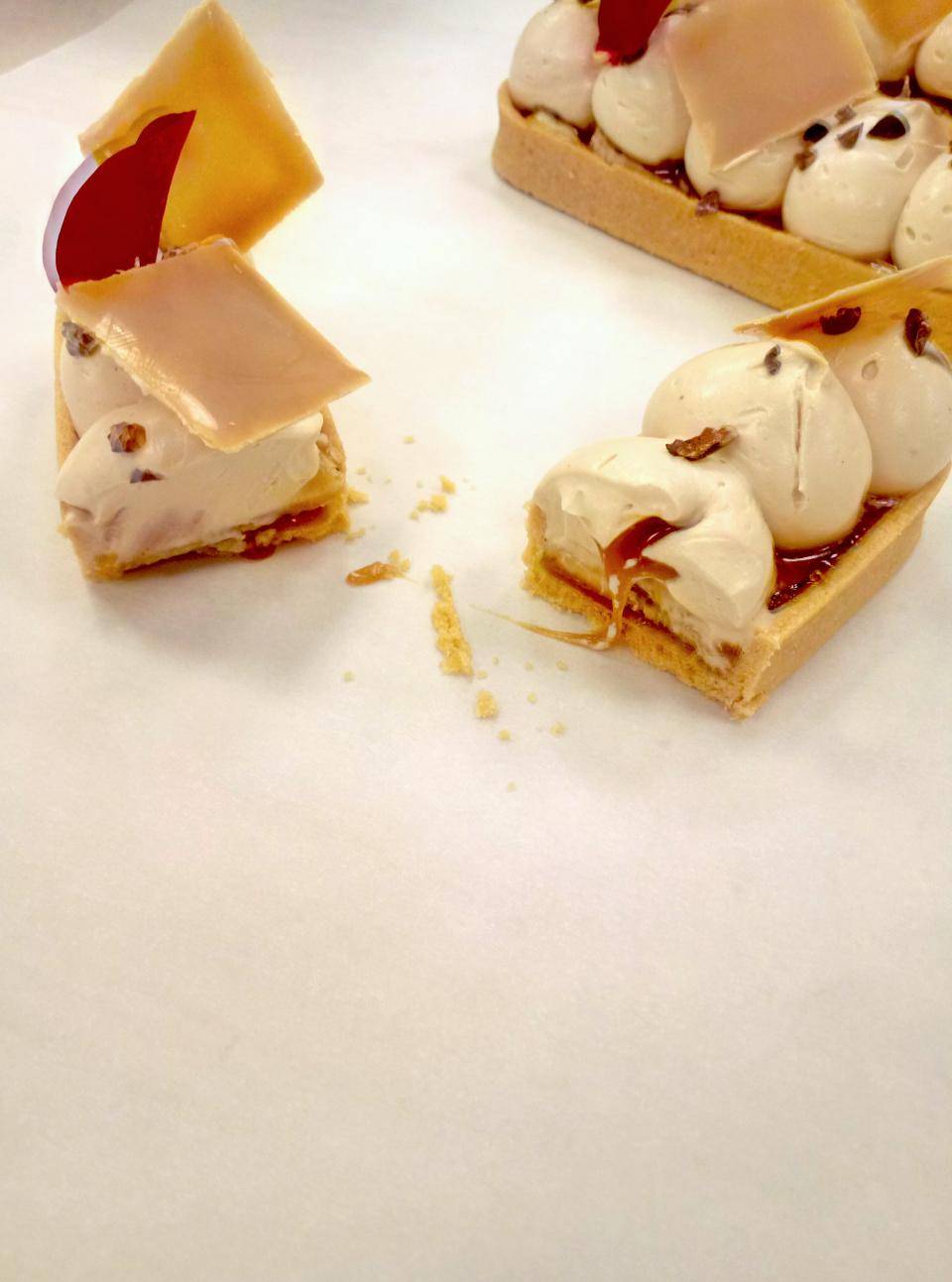 Which ingredients are you looking forward to combining with chocolate in autumn?
This year for autumn I created my version of "Mont Blanc" a beautiful marriage with chestnuts, mandarins and Cacao Barry Blanc Satin chocolate. There will also be my version of "Black forest" - made of cherries, vanilla chantilly, Cacao Barry Fleur de Cao chocolate and vanilla ice cream. I am also working on "White Coffee" made of milk coffee mousse with Cacao Barry Zephyr chocolate, compote of pears and oranges and pecan nut sponge.  As you can see, all my desserts include chocolate. I can't do without it  :)
Do you have any other news to share with our readers?
Yes, I have been at the presentation of the new Cacao Barry limited edition chocolate "Esmeralda 74%" and I fell in love with its intense and full flavour with beautiful sour fruity accents which gives to this chocolate an incredible freshness. As soon as I returned back to work I wanted to try to create something with it and I made a lovely dessert with caramelised banana, ginger and lime and I think I will include it into my winter collection.