Ten minutes with Ji Sun Shin, head pastry chef at The Ampersand Hotel
Ji Sun Shin, Photo: Laura Lajh Prijatelj
Ji Sun is definitely a very special human being. It's not just about her smile, which is so natural and open, that my daughter suggested she could be a model for stock photos. She is very special also because of her passion to learn and to get inspired not just by the local influences but by the best people worldwide. In her work she beautifully unites European tradition (her new home) with her roots in the far Orient. When we have visited her, she has prepared a special new dessert for London Chocolovers which so beautifully talked about her origins and presented chocolate in a very different, beautifully inspiring way. It was delicious – just the way I like it – not too sweet and with beautifully light textures. I have fallen in love with it not just because the wonderful flavours (you should try that chocolate ginseng combination!) but also because of the wonderful presentation.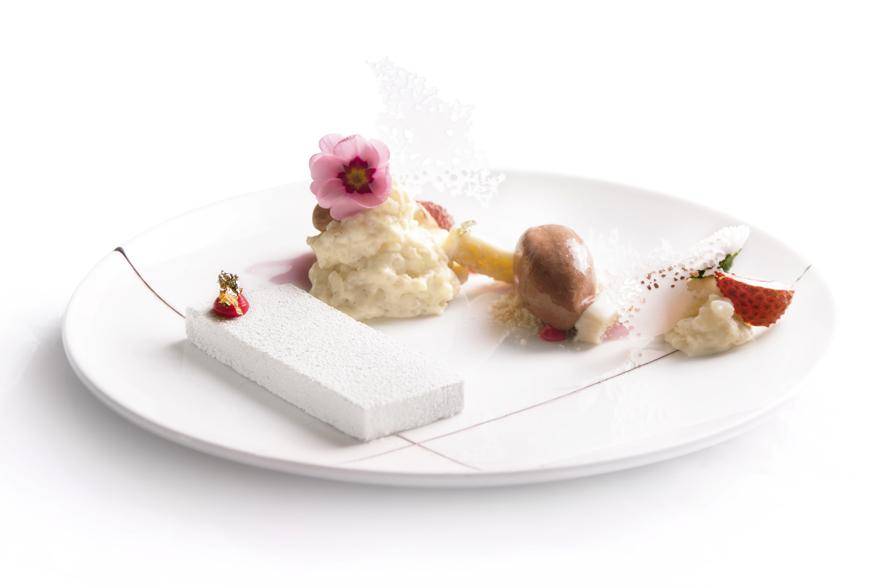 Ginseng milk chocolate mousse, white chocolate rice pudding, dark chocolate sorbet, almond, sake and lychee (the dessert made for us) Photo: Laura Lajh Prijatelj
How would you introduce yourself?
My name is Ji Sun Shin, I am the head pastry chef at The Ampersand Hotel in South Kensington.
I moved to London 12 years from Korea to study English and planned to stay only 1 year. I got a part time job working for Marco Pierre White at Mirabelle restaurant in Mayfair, where I fell in love with pastry and stayed a further 2 years working my way up to chef de partie. From there I worked at Nobu restaurant for almost 6 years working my way up to pastry sous chef.
I took my first role as head pastry chef at The Ampersand in July 2012.
What is your secret desire/ambition?
My ambition is to learn a lot more, to travel more and become a better pastry chef.
What is your dream?
I love reading pastry cook books, and have over 100! It is my ultimate dream to have one day my own pastry cook book, with all of my own dishes.
What is your greatest achievement?
Previously to working at the Ampersand hotel I had never created an Afternoon tea and knew very little about them. But since then I have created many different themed teas and enjoy the challenge of coming up with new ideas and collaborating with my team. I also enjoy trying afternoon teas in other hotels around London.
I feel a great sense of achievement when we are fully booked with guests enjoying my creations.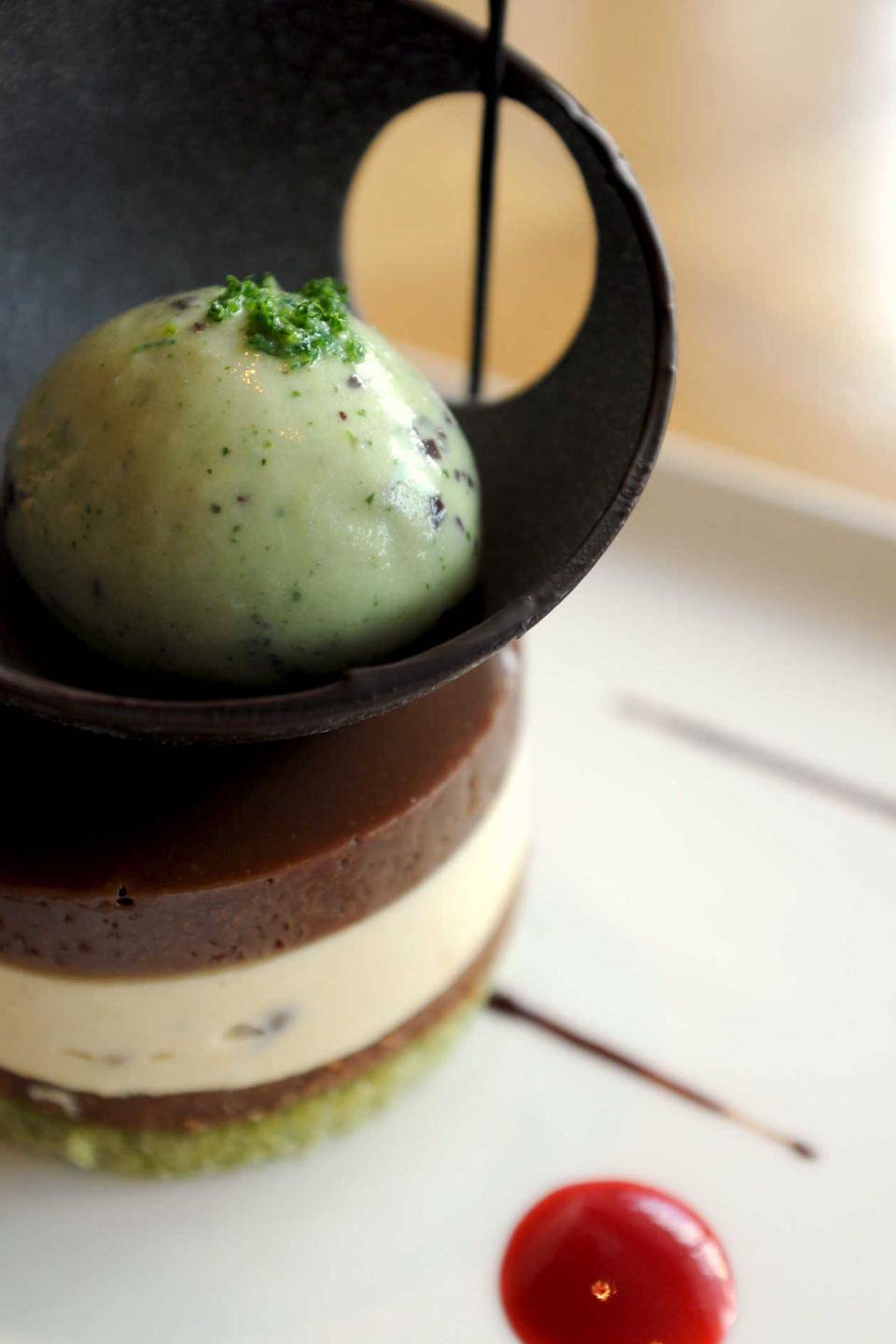 Peanut, milk chocolate and mint chocolate chip. Photo: courtesy of Ji Sun Shin
Who inspires you?
People that inspire me are great pastry chefs such as Ramon Morato, Philippe Conticini and I was lucky enough to spend a week in France studying under Olivier Bajard.
Others that inspire me are my previous head pastry chef at Nobu, Regis Cursan and the team I am working with now.
What do you love most about your work?
I am really happy when I have an idea about a dish and it turns out to be a success, this doesn't always happen but when it does I really feel proud.
What are your favourite flavours?
Some of my favourite flavours and combinations are…..
Macha green tea powder
hazelnut and mandarin
peanut and milk chocolate
rhubarb and elderflower
soy sauce caramel
ginseng and white chocolate
What is your relationship with chocolate?
I enjoy the versatility of chocolate, it can be a mousse, a fondant, a sauce, a foam, hot or cold, etc…. you can eat it in so many different ways.
I also enjoy discovering new chocolate flavour combinations.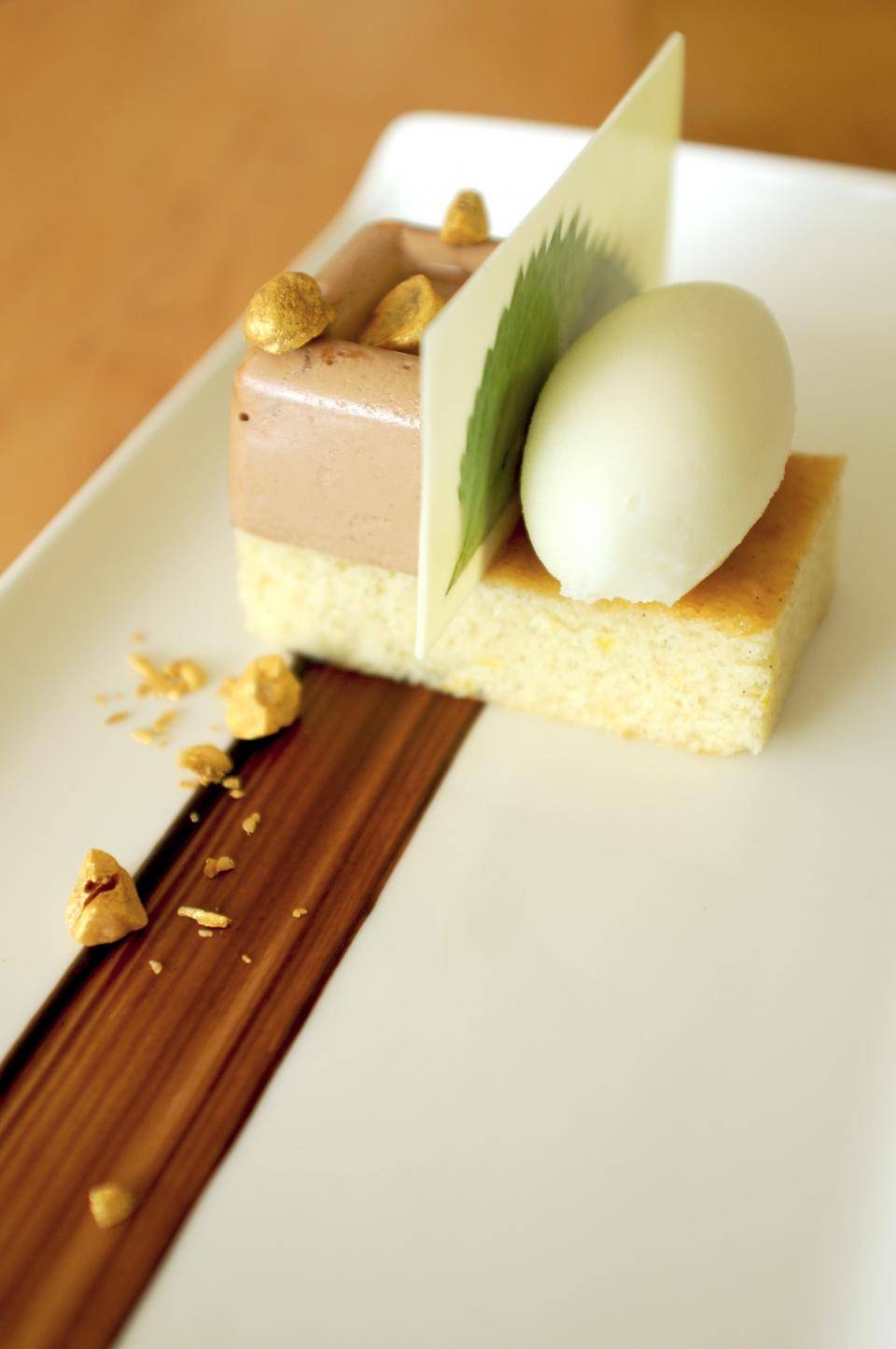 Gianduja, yuzu and shiso leaf, Photo: courtesy of Ji Sun Shin
Which chocolate desserts are on your menu?
White chocolate, yoghurt and Tahitian vanilla mousse with apricot jelly & blood orange sorbet is a dish that I have recently put on my menu.
I also hand make chocolates which include Ginger & lemon, English breakfast tea bon bon, green tea and Sake with almond.
What was the best chocolate dessert that you have eaten and where?
Chocolate tart with vinegar, strawberry, mint & pepper at Espai Sucre dessert restaurant in Barcelona.
What would be your final message for our readers?
You shouldn't feel guilty about eating chocolate, it should be enjoyed!!!
Visit Ampersand hotel to enjoy Ji Sun's delicious creations.