Caramel brownie entrement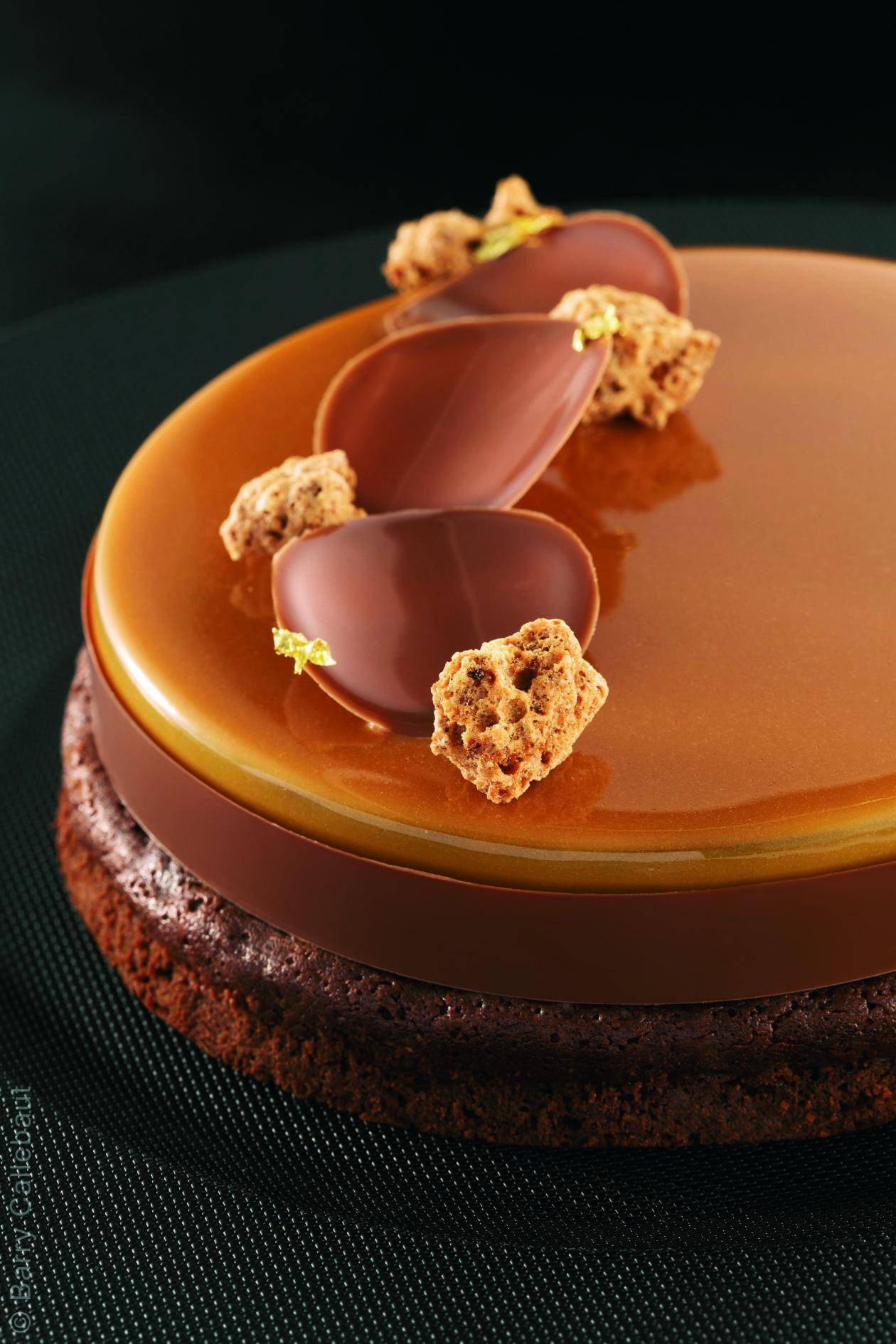 entremets - 180 mm diameter
LACTÉE CARAMEL 31,3% COCOA

Recipe for 3
BROWNIE
Melt at 45°C
300 g Excellence 55% dark Chocolate Couverture - 250 g Fresh butter
Whisk
250 g Eggs - 90 g Caster sugar
Blend the 2 mixtures.
Add
50 g Flour - 60 g Crushed La Mancha Origin Whole Caramelised Pistachios
Bake in a 18 cm ring.
LACTÉE CARAMEL MOUSSE
Bring to the boil 125 g Milk
At 35°C, add
450 g Lactée Caramel 31.3% milk chocolate couverture
Add
375 g Soft whipped cream 35% fat
Cover the disc of Pralin Feuilletine™ with the mousse.
Freeze.
CARAMEL GLAZE
Make a caramel using 300 g Caster sugar
Deglaze with
300 g Glucose - 150 g Water
Weigh and replenish to 750 g with water.
Add
200 g Evaporated milk - 300 g Lactée Barry 35.3% milk chocolate couverture
And
18 g Gelatin 200 bloom - 108 g Fresh Water
Mix
Refrigerate for 24 hours and glaze at 28°C.
HAZELNUT CHIPS
Cook to 125°C
25 g Water - 100 g Caster sugar
Pour over 100 g Egg whites
Cool and add
100 g Icing sugar - 75 g Pure hazelnut paste - 25 g Praliné Grains
Spread on a tray and bake at 160°C.
Let cool, then crush in pieces and add
70 g Egg whites - 80 g Caster sugar
Place lumps on a tray.
Bake for 20 minutes at 150 °C.
BROWNIE
Make some Pralin Feuilletine™ discs in 16 cm rings.
ASSEMBLY
Demould the Lactée Caramel disc, glaze and place on the brownie.
Circle the entremet with a chocolate strip.
Decorate.