Middle East Chocolate Masters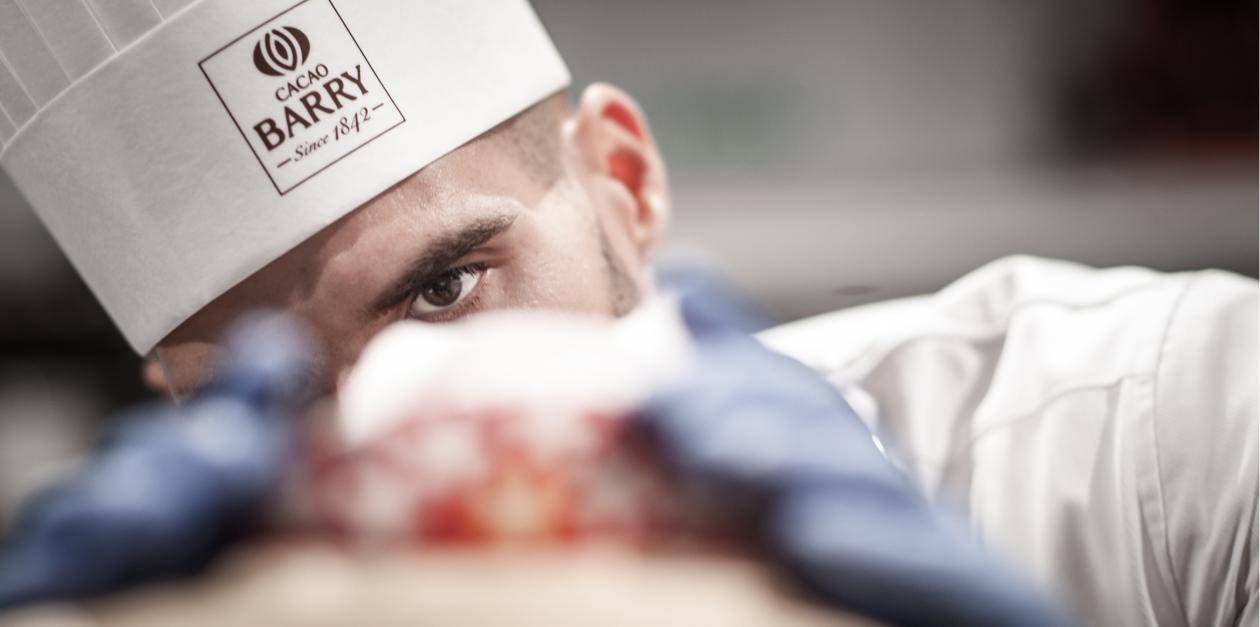 On 6 December, 7 chefs will compete against each other to win the prestigious title of Middle East Chocolate Master before competing in the World Chocolate Masters Final.
Read all about their motivations, inspirations and challenges here!
CHADI KARAM
Age: 31
Country: Lebanon
Work: Corporate Pastry Chef - Lily's
"I am really excited to take part in this incredible adventure. My career in pastry has been launched for a few years, so participating in this competition will teach me a lot about new techniques, new flavours, new products… It will also teach me how to deal with time, stress and innovation.
I am extremely driven to win this preselection and to go to the World Final in Paris. I hope to discover and elevate my potential as a chef, in terms of taste as well as on an artistic level.
In my eyes, Futropolis is a reflection of the future in terms of nature and nutrition. The pastry of tomorrow will be completely revolutionized. For this theme, I got inspired by a speech given by my Lebanese president, Michel Aoun, in which he says: "Where there are plants, there is life".
For my creations, I love working with Cacao Barry Ocoa 70% because it is rich in taste and full of cacao."
ALANNAH FRANCESCA
Age: 27
Country: United Arab Emirates
Work: Savarin - Imdad Foodstuff Catering L.L.C
"I've always wanted to compete in the World Chocolate Masters since I was first introduced to the competition at the age of 18! I was awestruck by the showpieces and entremets I saw. It pushed me to drive harder at work, and really got me fascinated with chocolate. At 21, I entered the very first UK Junior Chocolate Masters and won! I then knew one day I wanted to compete at Senior Level.
With this competition, I hope to learn new techniques but also learn more about myself and how far I can push myself. I am looking forward to meeting other chefs on the same journey that are also as passionate about working with chocolate!
Futropolis have a lot of different meanings because it's such a broad subject. Sustainability is definitely up there for me, as without sustainability there is no future. Living in Dubai has been a massive inspiration. The UAE is always pushing the boundaries and looking ahead to the future. Living here makes you feel as if the sky is the limit.
I'm a sucker for Cacao Barry Saint-Domingue 70%! I have really cut down my sugar intake, and I love the strong cocoa taste, not masked by sweetness. The floral notes also complement it, I love just eating it straight out of the bag!
I can't tell you too much about my secret ingredient, I want it to be a surprise. But I have been working a lot recently with soft tofu, which has a great silky texture and also brings great health benefits to the table. It contains all 8 amino acids, and is a great source of Iron and Calcium, allowing me to substitute for dairy. The world is definitely looking for healthier tasty desserts!
AKEED AHMED
Age: 56
Country: Saudi Arabia
Work: Makkah Clock Royal Tower, A Fairmont Hotel
"I participate in the World Chocolate Masters because I want to enhance my skills in chocolate. I also believe that this competition will inspire me on different levels. I will gain new techniques, insights and creative ideas for my future creations.
When it comes to flavours, I draw a lot of inspiration from the Cacao Barry products themselves. I test a lot of the different couverture and then try to combine different flavours. My favourite is the Cacao Barry Tanzania 75% because of its strong, yet balanced taste."
MANISH THAKUR
Age: 34
Country: United Arab Emirates
Work: Intercontinental, Marina
"By competing in the World Chocolate Masters I want to test my own skills and evaluate myself on a professional level. I hope to gain more knowledge, learn new techniques and improve myself in terms of skills and organization. Hopefully, I'll finish with a good result.
For me, Futropolis stands for the future of the urban culture, cities and its people. Technological evolutions will have a major role in our everyday life. Yet, our roots will always be connected with nature. A lot of my inspiration for this theme comes from the city of Dubai, which itself is somewhat of a Futropolis. The architecture and design here have an influence on my creative thinking. At the same time, Dubai is still rooted in its traditions, so we get to see a glimpse of that as well.
A big challenge for me is the fact that I haven't participated in a competition for a very long time which makes it difficult to organize myself. I must try to keep my ideas and the execution as close to the concept as possible, without being constantly distracted by new ideas.
Tanzania 75% is one of my favourite Cacao Barry couverture in the Single Origin category. I love its strong taste which is bitter and fruity at the same time. It has a great fluidity which makes it a great chocolate to create with."
ADRIAN GAN
Age: 38
Country: United Arab Emirates
Work: Executive Sous Chef - Emirates Flight Catering, Dubai UAE
"About 6 years ago, I received a book titled 'A World of Chocolate'. It was the story about the World Chocolate Masters and its participants. I learned about the participants and their work, and started to follow the competition ever since. I had witnessed the incredible creations from previous Chocolate Masters and it is an honor to now participate myself. My goal is to focus, show what I can do and off course get as far as possible in this competition. Winning this preselection would be a huge personal achievement and historic moment in my career.
I imagine Futropolis as a futuristic metropolis where there are no limits when it comes to science and technology. People are very aware of what they eat and choose for exquisite and well-crafted food. Therefore, efficient serving style, brilliant flavour pairing and healthy inventions are important.
I find inspiration from doing research online, in books, magazines and even from discussing with my colleagues. I respect every opinion and try to look at it from different perspectives. I get easily attracted to architecture, arts, shapes and colours. Everything is a living thing to me.
My biggest challenge now is time. I work for the biggest airline catering in the world, where we cater more than 250 flights daily. It's a challenge to find some quiet time to practice. Luckily, I get a lot of support from my superior, I believe I will manage to overcome this problem.
I hope to convince the jury with simple and honest flavours that are additive free. I'd like to pair new flavours and ingredients, inspired by childhood memories of my grandfather's farm."
ARAVINDA LEELARATHNA
Age: 31
Country: United Arab Emirates
Work: Al Jawaher Reception & Convention Centre
"The World Chocolate Masters is all about letting my talent shine. More than ever, individual freedom and personal vision is at the heart of it. As a pastry chef, it's a great opportunity to share my talent with the world and to exchange different ideas and concepts from other world-class chefs. I hope participating in this competition will help my career grow to the next level. The biggest challenge in this is to set goals and accomplish them, make no mistakes, have attention to details and keep my focus.
In my opinion, the jury wants to see a reflection of my own background, experiences and vision. They want to see the passion that comes with this profession reflected in our creations.
My favourite Cacao Barry chocolate to work with is the Zéphyr 34% because it's a soft and subtle sweet white chocolate with a smooth texture and a strong flavour of whole milk."
ASWHANI PATHANIA
Age: 34
Country: United Arab Emirates
Work: Radisson Blu Hotel and Park Inn By Radisson
"It's a great honour to participate in the World Chocolate Masters. Representing the UAE during the world final would be a big goal achieved. I hope to get more name and honour out of this competition. It will also open doors to a platform where I can learn new trends and techniques, and exchange with the best chocolatiers from all over the world.
Futuropolis for me is a mix of culture, taste, lifestyle, architectural design and a lot of greenery and plants. Huge development in technology, less packaging, and more new food pairings.
A lot of my inspiration comes from nature, my surroundings, other people and the internet. I am mainly studying architectural and design websites and magazines to get new ideas. I also exchange a lot of ideas with friends who are also chefs.
Time is my biggest challenge, as well as finding the perfect flavours. I try to create an innovative dessert by using unique and exciting flavours and designs. Therefore, I use Asian flavours to give a new twist to my creations.
My favourite Cacao Barry chocolate is Ghana 40% milk couverture because of its sweet chestnut, a hint of fruits and caramel taste and Tanzanie 75 % dark couverture because of its Strong fruitiness, floral note and cacao bitterness taste."
JURY
Emmanuel Ryon (France)
Philippe Morbelli (UAE)
Charles Azzar (Lebanon)
David Lessard (UK / UAE)
Viktor Stamper (UAE)
PLACE
The Middle Eastern qualifying rounds will take place in:
Chocolate Academy of Dubai
Ontario Tower, Ground floor, Shop n°1,
Business bay
Dubai
Dubai
+971-4-2782000