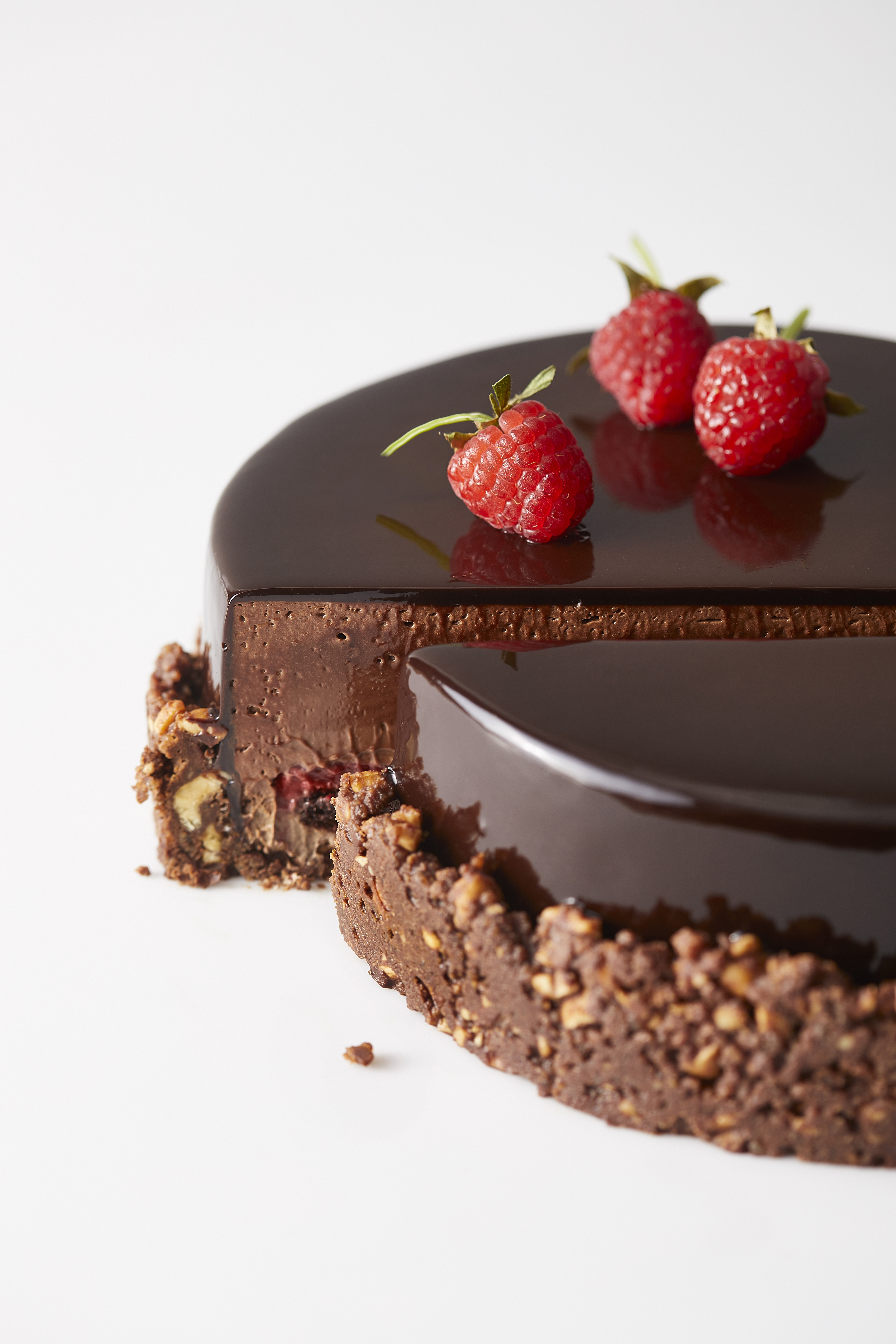 Used Cacao Barry products
Entremets Creations
Evocao™ Entremets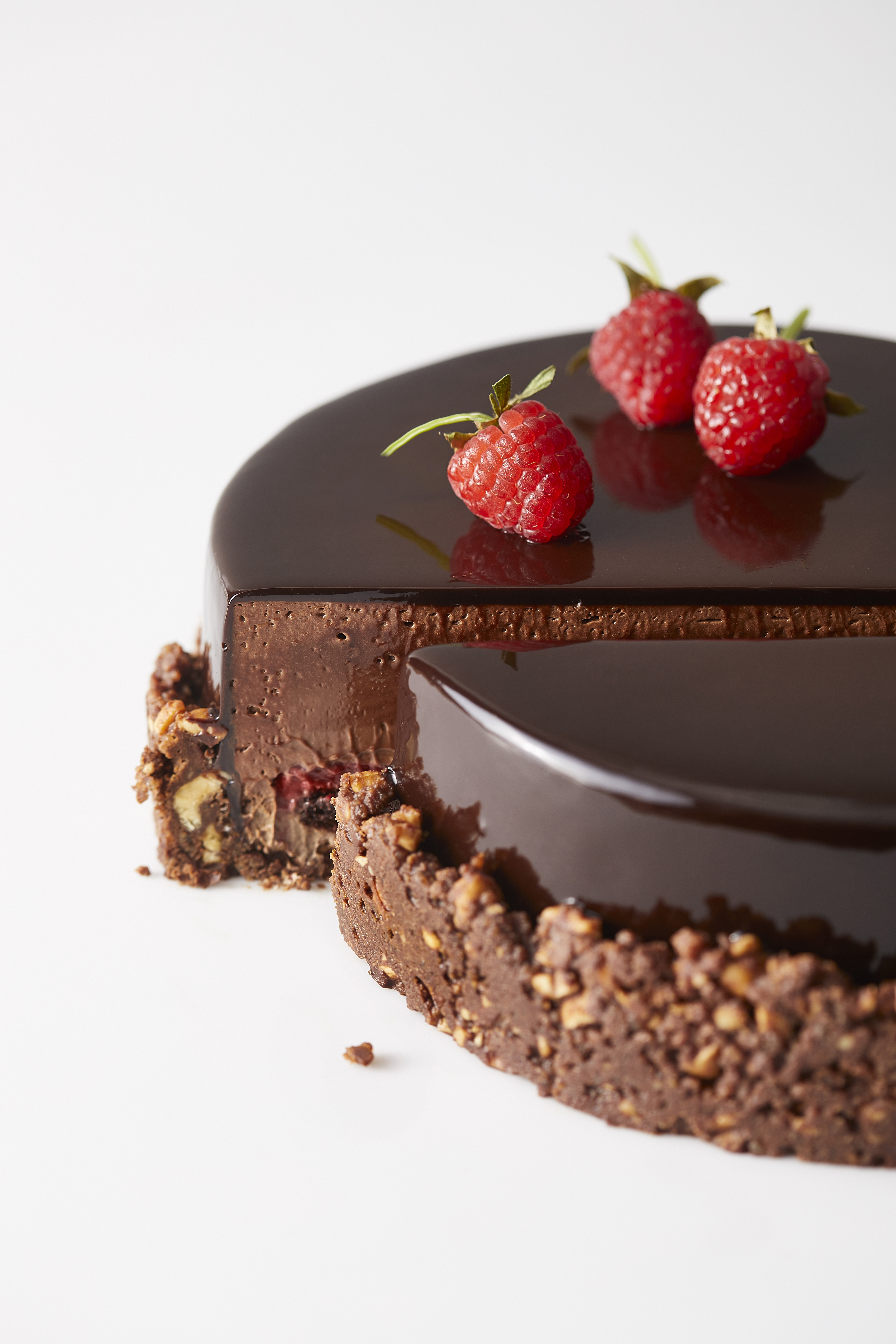 INSPIRATION
I wanted to create an entremet with Evocao at the forefront that was also gluten free, using the chocolate in multiple components (cremeux, mousse, and crumble) with a straight forward cocoa profile. Pairing Evocao with fresh raspberries adds a touch of acidity and freshness, and is also in the spirit of upcycling; the whole raspberry is being used.
TIPS & TRICKS
Do not heat Evocao above 40°C, when mixing the pate a bombe, the first stage will look thicker than a traditional one.
YIELD
3- 16cm Entremets
Used Cacao Barry products
Recipe components
Hazelnut Crumble
Ingredients
Preparation

American Almond crushed hazelnuts

Sand the turbinado sugar, cassava flour, crushed hazelnuts, and butter.
Bake at 160°C for 20 minutes.
Melt Evocao chocolate to 35°C and add the fleur de sel.
Mix in the warm crumble.
Shape in 3-18 cm rings using a press.
Crystalize in the refrigerator for 5 minutes. Store in a cool dry place.
Chocolate Flourless Sponge
Ingredients
Preparation

Whip the egg whites to soft peak with the sugar. Add the sugar slowly in 6 steps.
Fold in the egg yolks.
Fold in the sifted cocoa powder.
Pipe 4-15 cm discs and bake at 200°C for 12 minutes.
Evocao Cremeux
Ingredients
Preparation

Bring the cream and milk to a simmer.
Mix the egg yolks with the sugar and temper with the warm liquids.
Bring back to the stove and cook to 84°C.
Pour over the Evocao chocolate and emulsify.
Cast into 3-15 cm molds.
Evocao™ Mousse
Ingredients
Preparation

Melt the Evocao chocolate to 40°C.
Cook the sugar, glucose and water to 118°C, pour over the egg whites and egg yolks.
Whip the cream to soft peak.
Once the pate a bombe is at full volume, mix it with the melted chocolate.
Fold in the soft whipped cream.
Raspberry Pepin
Ingredients
Preparation

Mix the sugar with pectin.
Bring the raspberries to 40°C and add the mixture or sugar/pectin.
Bring to a boil for 2 minutes.
Add the lemon juice and cast over the flourless sponge.
Glacage
Ingredients
Preparation

Bring the cream, sugar and water to 103°C.
Add the cocoa powder and boil for 1 minute.
Add the gelatin mass, handblend, and strain.
Store in the refrigerator.
Assembly
Line a flat sheet pan and 4-18 cm rings with acetate.
Add a layer of Evocao™ mousse.
Place the Evocao™ cremeux.
Add a layer of Evocoa™ mousse.
Add the disc of sponge with raspberry pepin.
Add a thin layer of Evocao™ mousse and spread to height.
Blast freeze.
Once frozen, warm the glacage to 40°C.
Glaze the entremets and place ontop of the crumble.
Decorate with fresh raspberries.