Martin Berasategui, head chef at Martin Berasategui (Lasarte-Oria/San Sebastian, Spain)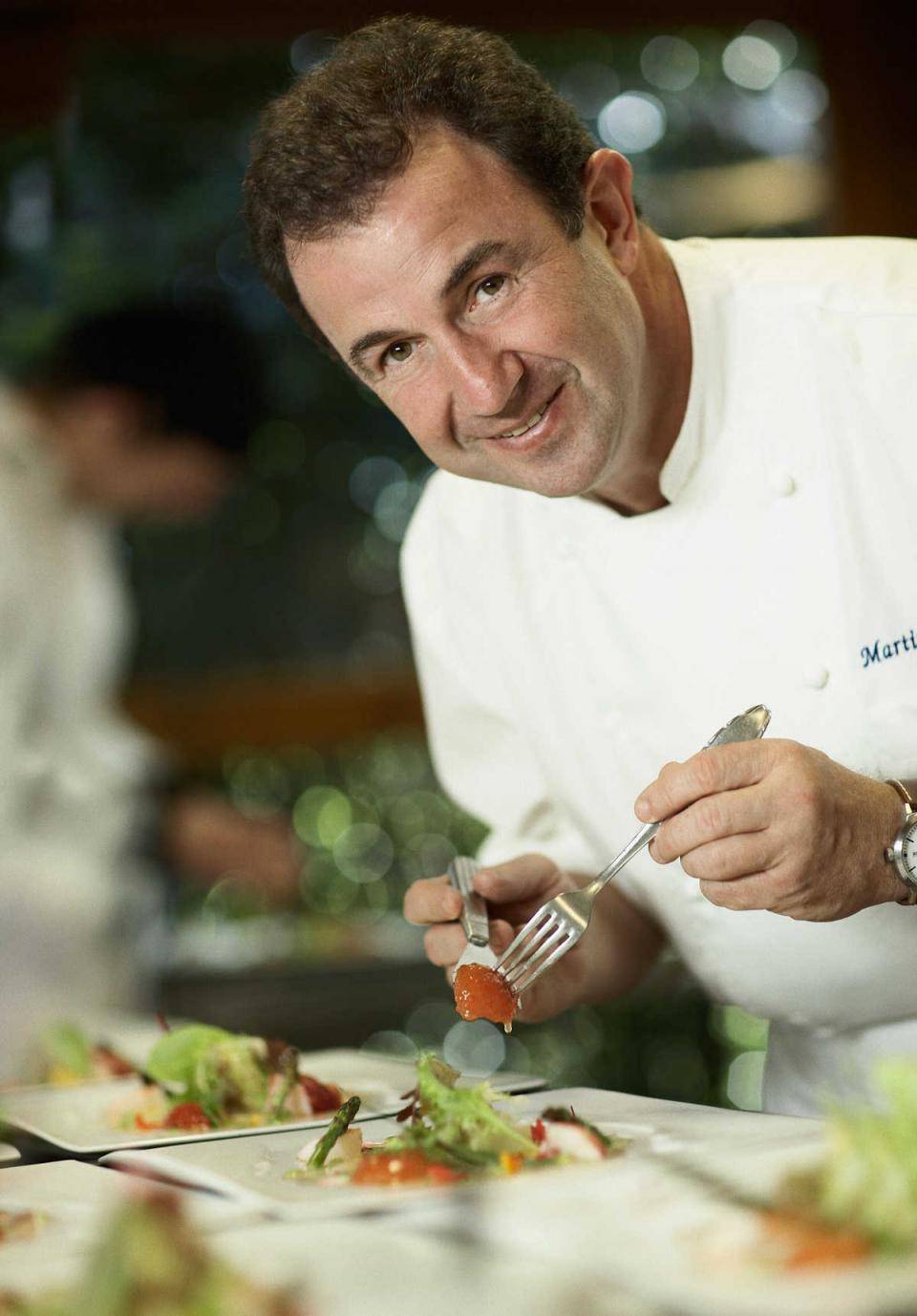 Martin Berasategui is a legend. He started working at his parents' restaurant at the age of 14 and was sent to France ​at the age of 17 to continue his culinary education​. At that time there was no Michelin-starred restaurant in the Basque country. He came back to his home town and won his first Michelin star at the age of 25. In 2001 his restaurant received the third star and has been on the World's 50 best restaurants list for 6 years​. Martin has now seven Michelin stars in total​ – more than any other male Spanish chef (the same number of stars has also a famous Spanish female chef Carme Ruscalleda). Besides the three Michelin-starred restaurants just outside San Sebastian, he also has​ two Michelin-starred restaurants Lasarte in Barcelona and two Michelin-starred M.B. in Teneriffe. He also owns six other restaurants around the world (in Dominican Republic, Mexico and Costa Rica). Martin's cuisine is very innovative, but less conceptual than the cuisine of some other Spanish chefs. He is great on technique and highly respected by his colleagues and food opinion leaders. I'm very happy that he shared with us his view on chocolate.
What does chocolate mean to you?
Chocolate is an ingredient that fascinates me and I love working with it.  It is very technical but extremely sensual and pleasurable. It is an ingredient that gives me great satisfaction. I was fortunate at the start of my career to specialize in pastry, chocolate and ice cream in France. Later on, these disciplines helped me to improve and then perfect my savoury cuisine.  I owe a lot to the world of chocolate. It is one of my favourite raw materials.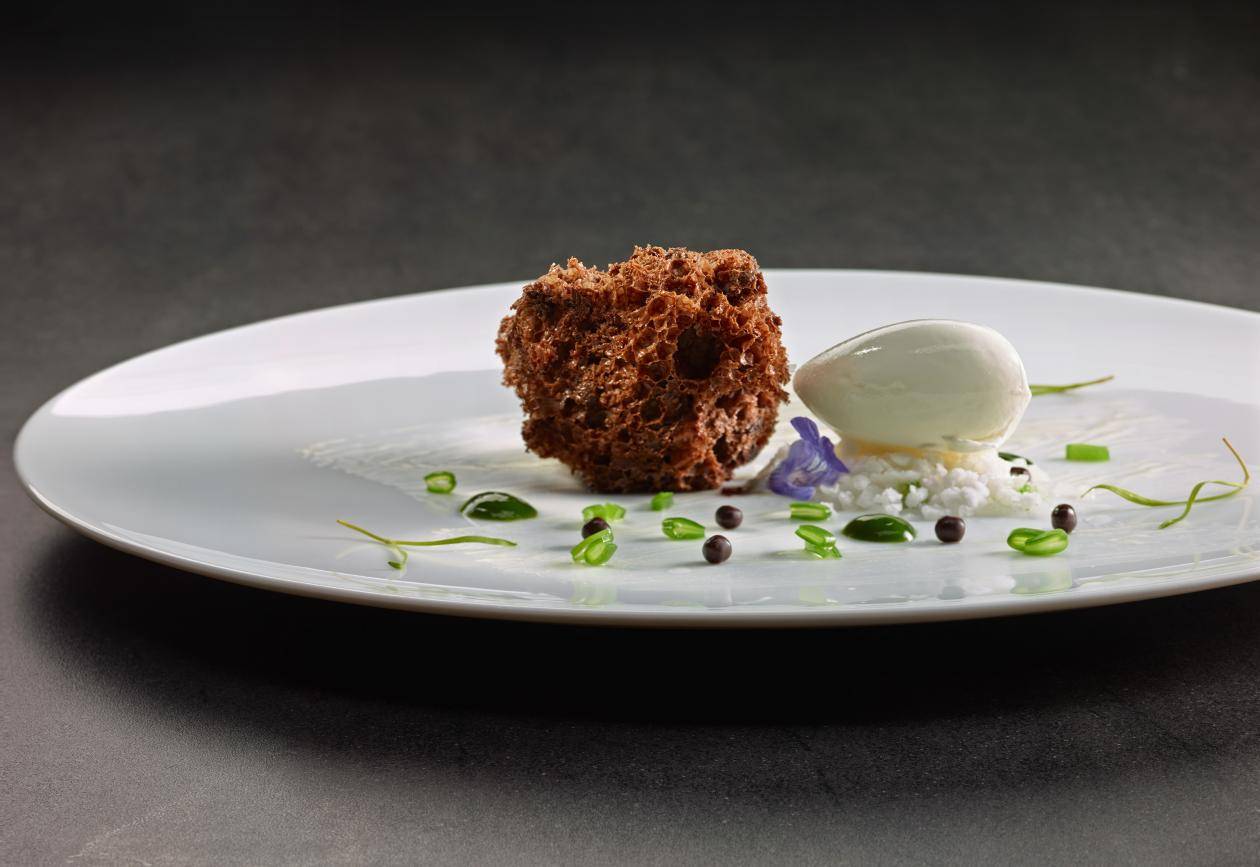 Why have you chosen this dessert? What is in your opinion so special about it?
This chocolate dessert is an explosion of taste prepared with great techniques and contrasts, full of nuances, with a sophisticated yet fresh touch, it's light and extremely appetizing. The smoked chocolate sponge, crunchy cocoa and whiskey ice cream scare the chocolate, whilst the slush, and brushstrokes of mint and green beans, (which enhance the vegetable contribution) all combine in an explosion of flavours, that harmonize like a charm in playful yet striking textures.
Please describe your dessert – tell us please about the flavours, temperatures and textures that describe this dessert.
The main component of the dessert is a frozen chocolate sponge. This was technically hard to perfect, but in the end we are very proud of it. It is a frozen sponge with an airy top and tremendously pure chocolate flavour; simply a delight. The remaining elements are the perfect accompaniment to a symphony of flavours including:  almond foam, whiskey ice cream and iced whiskey, mint water, sweet beans, basil, and fennel sprouts. It is a very fresh chocolate dessert, with a hint of vegetables, which perfectly reflects nature.
What has inspired you to create it? How was it born?
We have made countless chocolate desserts and were looking for something new, with a different formula, which would provide something more. After many tests, we found what we were looking for.
Does it require any special technique? 
We make a very tasty chocolate mousse and what we want to achieve is a kind of aerated and chilled rock form. With specific machinery, we insert air until it has reached five times its volume and then we evacuate to maintain the oxygenation and put in nuggets to add the crisp contrast when eating. The difficulty is to place the rock gently in the freezer and freeze it without it losing its shape.
Any final message for our readers?
Investigate and enjoy the world of chocolate because it really is exciting. Do you like the presented dessert? Here is the recipe.
Related Recipes & Products