Juan Pablo Colubri, the Argentinian in London
Born and raised in Argentina, he started building his knowledge and career in his home country, but soon his thirst for learning took him to Spain to one of the greatest masters of confectionery, Paco Torreblanca. Next step was London, where, less than four years after arriving in the city, he became head pastry chef of HKK, one of the most prestigious restaurants of the Hakkasan group. Who is this passionate and talented pastry chef?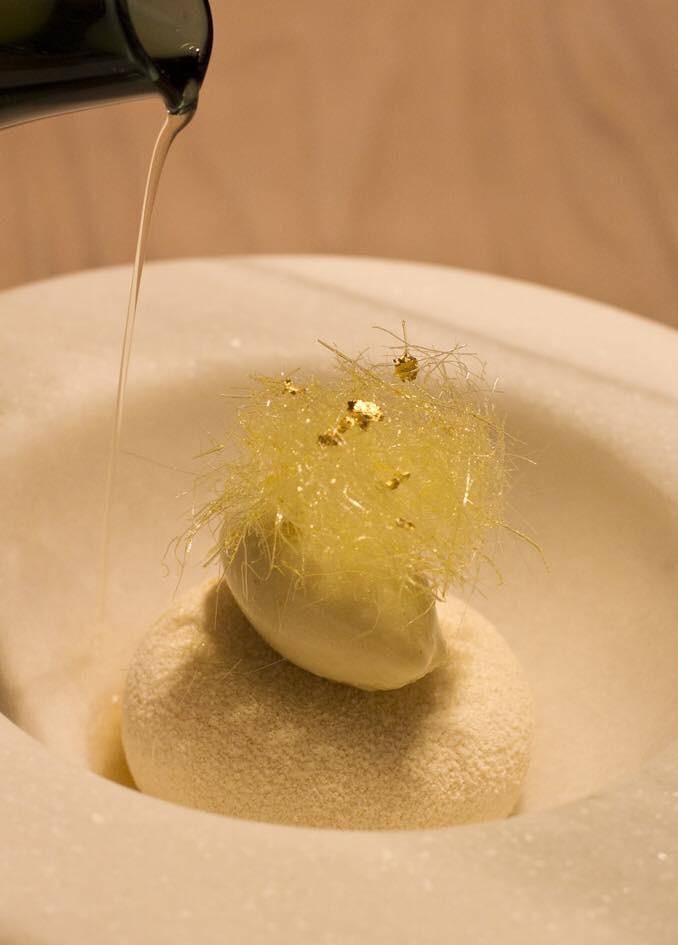 How would you introduce yourself?
I'm Juan, the Head Pastry Chef at HKK, London.
How did it all start? How did you fall in love with pastry and chocolate?
My passion for food started when I was a kid, enjoying watching my grandmother cook for hours every weekend for the entire big family. Whilst growing up I realized that there was something behind all those long hours of preparing meals and desserts, it was the environment created around the meals; it was that gathering around the table that I was passionate about. When I was eight years old I started cooking for myself because my parents were both at work, and I realized that I could feed myself and it was a pretty easy job. I used to try different new ingredients for my grandma's recipes. I also studied cooking while I was at high school as an extra subject, it was for fun at that moment.
When I started working, my first job was of course in the kitchen. I used to work in a savory part of the kitchen first; this was for a long time although I was always impressed by the pastry. There was something about pastry that always caught my attention, it was the kind of laboratory that the pastry kitchen is - full of formulas to create, to follow... I found that amazing and I still do. It also involves lots of creativity - you can almost be an artist.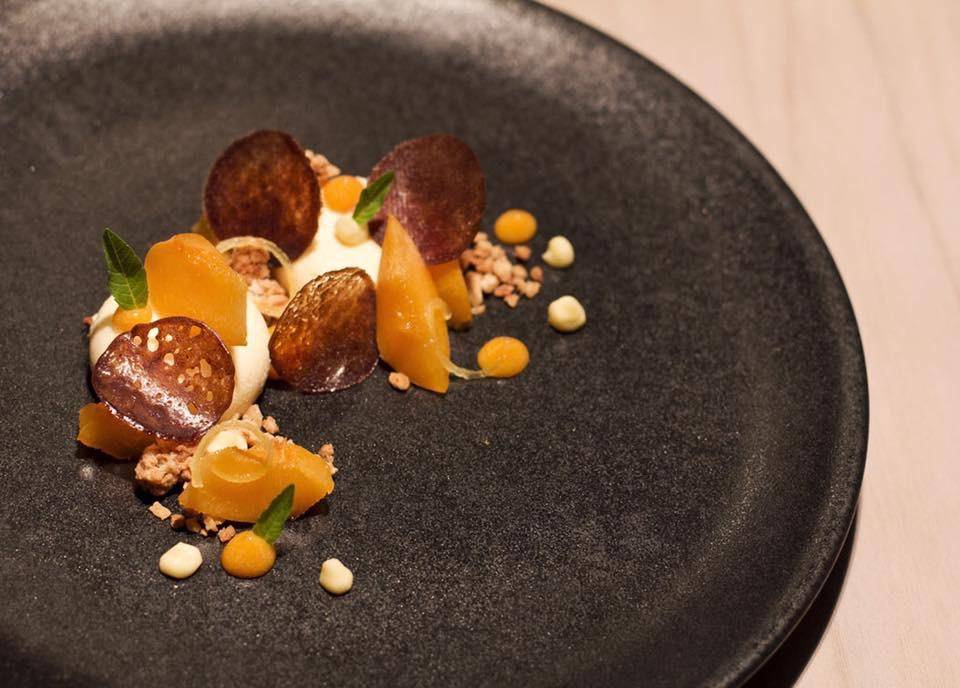 You're Argentinian, you were working in Spain with one of the greatest pastry chefs and now you live in London. How does this international mixture influence your work?
From the moment you take a plane and you travel somewhere else you take with you your essence, that would be my Argentinian side. Then you land in a new country where everything is new for you, so your mind is open to try everything. And then there is a moment when you start incorporating these new flavours and ingredients into your palette and recipes. When you develop a more complex list of flavours, ingredients, textures and experiences you move to another country; in this new city where you live everything new again: new fruits, new combinations, new flavours and again you learn how to use them, how to combine them with your list and; you share with others what you have to offer that is new for them. There's always an exchange and you get richer from it, that's the beautiful part of it.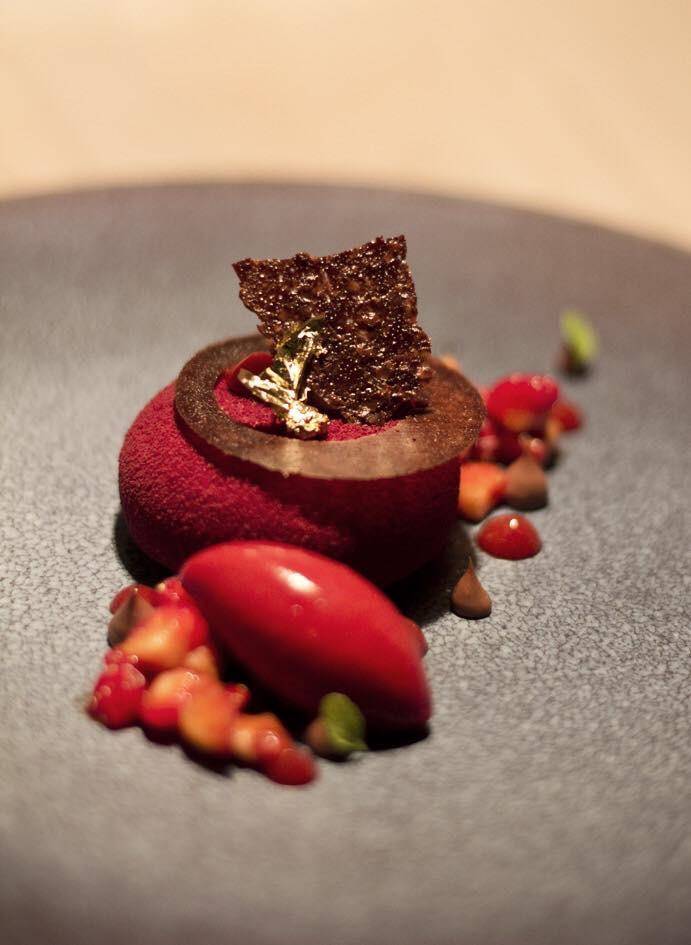 Who was your greatest teacher?
There were two great teachers in my career, Paco Torreblanca and Graham Hornigold. From Paco I learnt how to work the classics of pastry and to take the basics to a supreme level, and I discovered chocolate and just fell in love ... Its textures, its perfume, and also the great and exotic combinations you can do with it. With Graham I learnt a lot about restaurant desserts, from developing to plating a dessert, the commercial part of creating for sales, I learnt to understand the clients' minds and to manage the whole team. He also taught me to respect the ingredients, how to develop the flavours and to be authentic.
What was the best lecture you got?
My baking lessons with Claudio Olijavetzki in Argentina were the most enjoyable - Claudio knew how to transmit his passion and how to teach anybody no matter how good or bad his skills were or how gifted he was; you would learn with him.
What was most difficult to master?
There were different difficult things to learn along my career. Of course these difficulties change and what you thought impossible to achieve two years ago becomes only an anecdote of something you can now laugh about. I can say that it was an enormous challenge for me when I arrived in London with practically no knowledge of English (except for a "Thank you" and a "Hello") and in a blink of an eye I was standing in front of a team and managing the service of one of the busiest and most prestigious restaurants in London.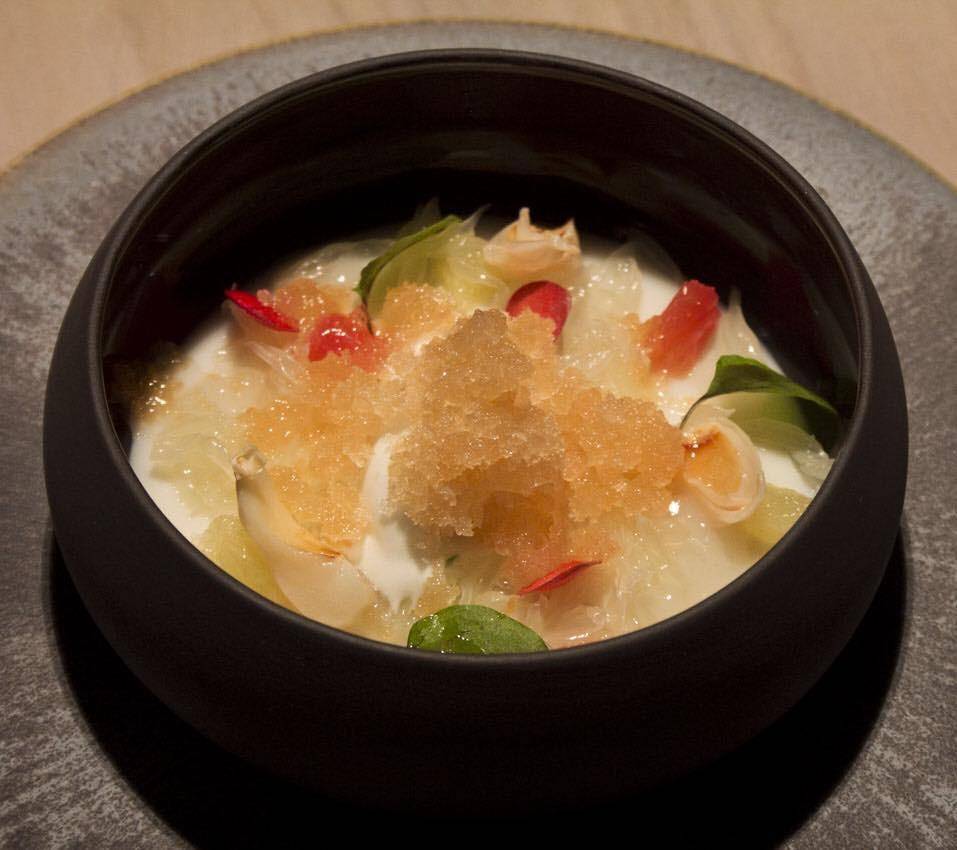 And what are you most passionate about?
Chocolate. I love the chocolate world, from the cocoa beans, its cultivation, to the tempering of the chocolate itself up to the final exquisite end product on the table. I'm also passionate about ice creams.
What/who is inspiring you?
I'm proud of my team, how they developed as individuals in pastry and as a whole; how their creativity started to develop and the optimism they have in every day's work.
What has been the greatest success in your career so far?
To be in charge of the pastry at one of the most prestigious restaurants of the Hakkasan group in London.
You were a special guest at the WCM competition in Paris in 2013 - how was that experience?
It was amazing, I will never forget it. Being there surrounded by the judges, the best pastry chefs... It was simply "incroyable". I participated also as a press judge at the moulded chocolate and pralines competition - such a great level! I remember my excitement about seeing the final chocolate masterpieces - there were some really excellent pieces that day! 
Are you also planning to compete one day?
Yes, competition is on my "to-do" list.
Which of the Cacao Barry chocolates are your favorites?
My favorites are Alto el Sol (Single Estate Peruvian 65%) and Tanzanie (Pure origine dark, cocoa 75%).
How do you like to enjoy chocolate?
Just plain and on its own. I enjoy tempering chocolate into a beautiful marble.
What was the best dessert you ever tasted?
It was in Spain, a dessert that called Red fruit salad; it had strawberry, cherry and black tea; although there is nothing better than my grandma's rice pudding.
What flavours in combination with chocolate are your favorites?
At the moment my favorite is porchini mushroom with Cocoa Barry Tanzanie and Ghana.
Any special goals you have for the future?
It would be to win an award.
What would be your advice to young pastry chefs?
I would advise them to study, travel, experience and to follow their dreams. To learn since the beginning the pastry basics, respect the flavours and ingredients. And repeat … study, travel, experience, and follow their dream.