Heather Kaniuk presents the Black Forest Choux
Heather Kaniuk joined The Rosebery Lounge of the Mandarin Oriental, Hyde Park, London, after being involved in the opening of the Yauatcha Broadgate (Hakkasan Group). Originally from New Zealand, Heather has worked in various locations worldwide, bringing with her a wealth of knowledge. She shows great creativity skills that result in a classic French patisserie style with Asian influences - the mixture of East and West; a philosophy which harmoniously complements the oriental heritage of Mandarin Oriental, Hyde Park, and the quintessential British tradition of afternoon tea at The Rosebery Lounge. Heather's greatest passion are petit gâteaux, handmade chocolates and macarons and she is becoming a staple name on the London scene, affirming The Rosebery Lounge as the place to enjoy one the city's best afternoon teas.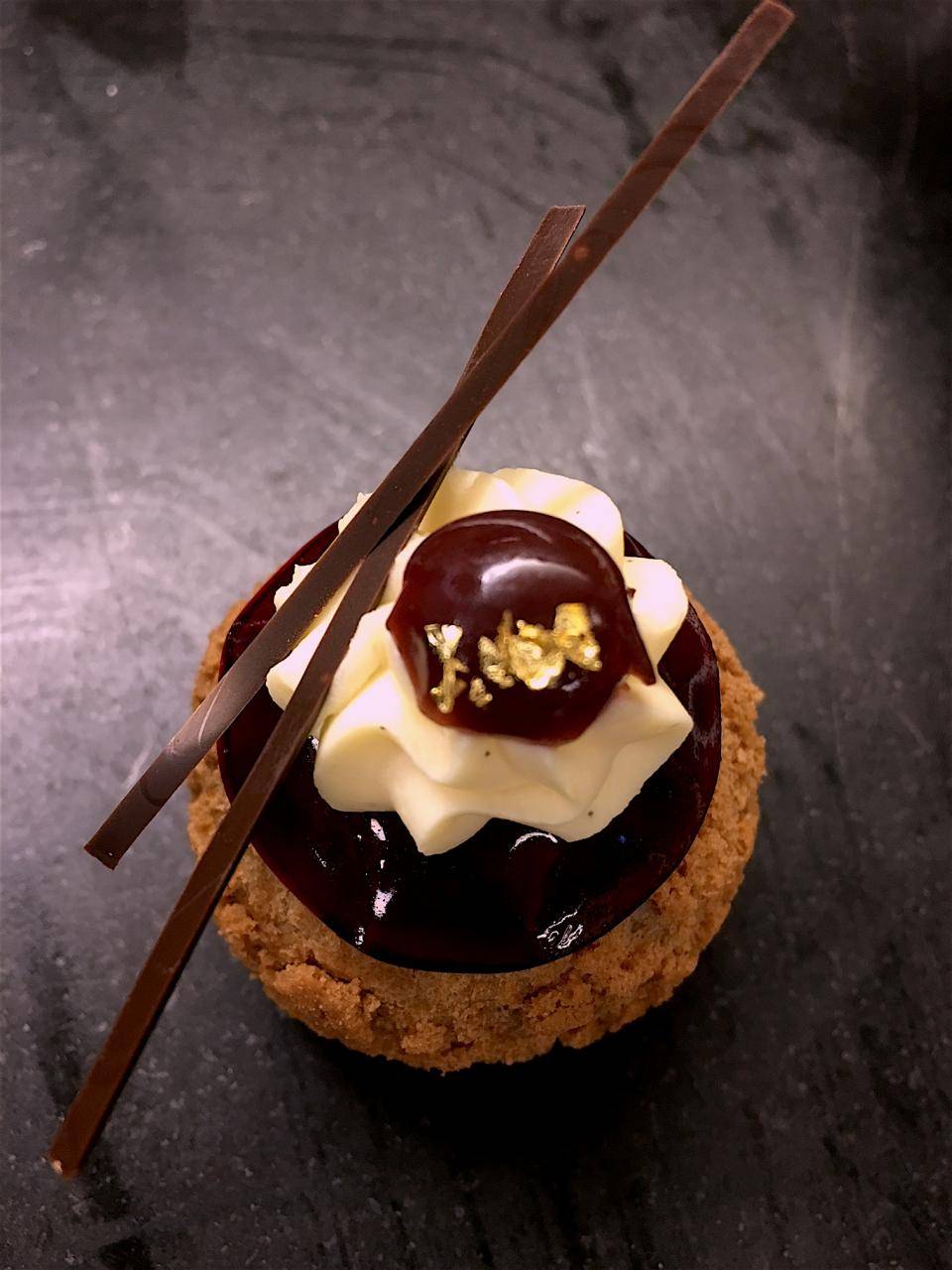 Which of the chocolate desserts that you created in the last 12 months is your favourite and why?
My favourite is the Black Forest Choux. It was launched as part of our Valentine's menu but it keeps coming back for special appearances. I think people identify with the flavours but appreciate the innovative take on the original.
How would you describe your dessert?
The choux bun is made with Cacao Barry Grand Caraque, which is 100% pure cocoa  and gives a great depth of chocolaty flavour without added sweetness, as well as the craquelin topping which gives the choux its crunch. It is beautifully paired with the classic Black Forest flavours of cherry, kirsch, vanilla and chocolate.
What inspired you to create it?
I love good black forest in many forms, and I wanted this version to work well with our afternoon tea range, but in a more contemporary form.
Did it require any special technique?
I wanted to create an intense flavoured cherry jelly on top of the choux and this took a bit of development. I finally settled on a poached cherry consommé set with agar agar and gelatin for the perfect texture and shine.
What was the most challenging thing in creating this dessert?
Probably the most challenging was to ensure that the choux remains crispy throughout the day, so that when you bite into it you get a full range of textures, from the crunchy craquelin, to the smooth creamy cremeux and the cherry compote.
Which Cacao Barry Chocolate was used in this dessert and why have you chosen that one?
I used Cacao Barry Grand Caraque, in the choux, which is 100% pure cocoa and gives a rich cocoa flavour, and for the filling, Cacao Barry Madirofolo Millésime, which is a plantation couverture chocolate with 65% cacao content. It's from the Sambriano Valley in Madagascar and imparts a sour fruitiness.
If you had to promote this dessert to attract people to try it, what would you say?
If you love a black forest cake then you have to sample our black forest choux in the glamorous Rosebery Lounge at Mandarin Oriental, Hyde Park. I am sure you will enjoy it.
Discover Cacao Barry Products
Discover Cacao Barry Recipes