Cherish Finden, the executive pastry chef at The Langham Hotel London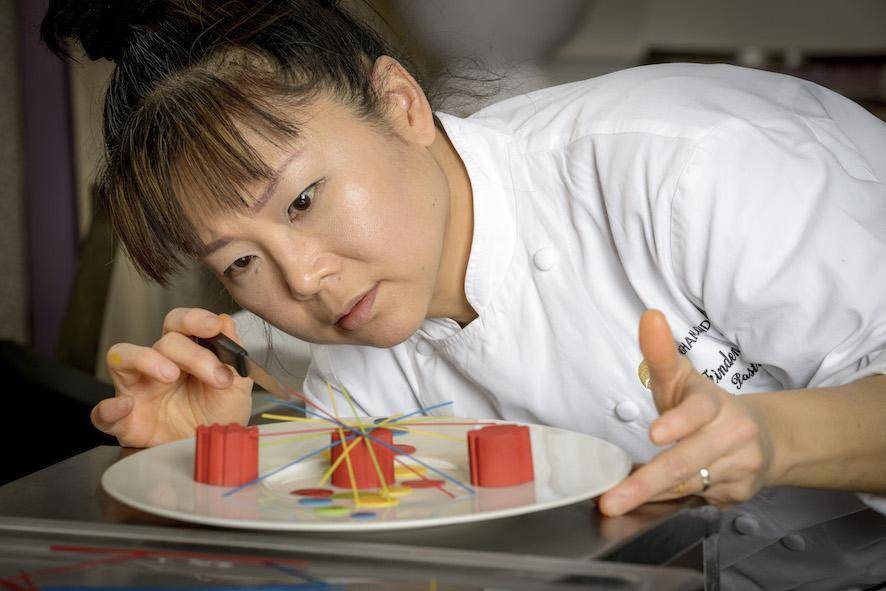 Cherish Finden is one of the Grandes Dames of the British pastry. Born in Singapore where she gained education and very valuable experiences, she moved to London in 2001 to continue her career in the food metropole she loved best. Her career was blooming right from the start and now she is in charge of everything sweet at the legendary Langham Hotel which is also known as the birthplace of the British tea tradition.
When and how did you fall in love with pastry and chocolate to become a pastry chef?
At the age of eight, my dad got sick and my mother had to work so I had to start cooking for the family. I was the youngest of all brothers and sisters and they loved my cooking, so I received many compliments from them. This made me happy, so I felt motivated to do it better and better.
I started working very young, at the age of 14. My first job was waitress, but I soon asked if I could help in the kitchen. I did it on a voluntary basis and had great fun. That's where my love for cuisine was born and so at age of 16 I started learning at the cookery school and later, during my first working experiences moved to the world of pastry. I was enchanted with the magical world that opened in front of me. I started as a chocolatier entering into a wonderful world of unlimited possibilities.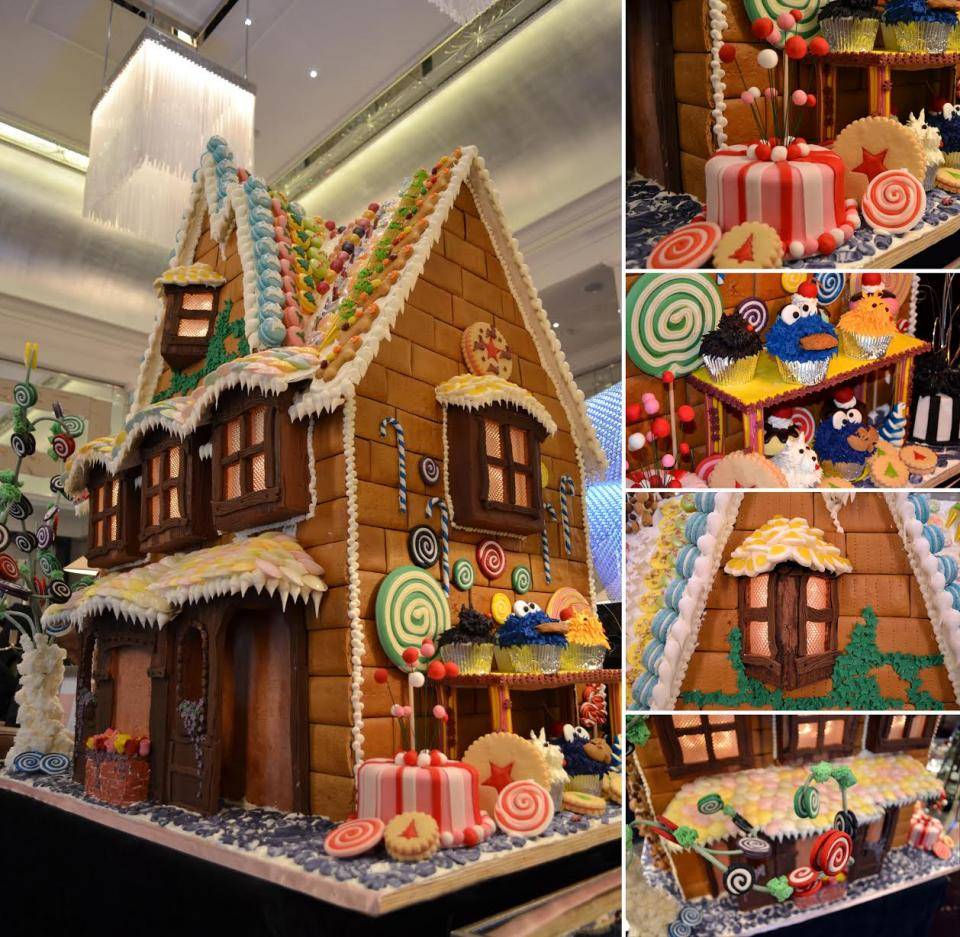 Where did you learn your art?
I learnt it at the art school. I wanted to know how to use airbrush and different artistic techniques, so on my day off I  went to art school to take lectures. I did it for three years and learnt a lot about fine art, graphic design, window display, and sculpture. For me pastry is not cooking, it is an edible art, so I wanted to work on my art education. I am still learning every day, attending seminars and lectures around the world. Learning is a never-ending process so I am never stopping to learn.
What was most difficult to master?
For me, it's all about perfection and I am striving to be better and better day by day.
Who was your greatest teacher?
My greatest teacher was Peter A. Knipp, with who I was working in a six-star hotel in Singapore. He pushed me always to the maximum by saying that I was actually not good enough, so I was doing more and more and better and better. I also did many competitions but he did not care about certificates, he just cared about what he saw and tasted on the plate. Another great teacher was Martin Chiffers – he guided me on the culinary side.
What was your most valuable experience?
I must say the work with Peter A. Knipp again at the six-star hotel because of the many Michelin-starred chefs who were visiting – Alain Ducasse, Gordon Ramsey etc. It was really challenging – we had long working hours, I worked regularly till 1 or even 3 am and we were really striving for perfection.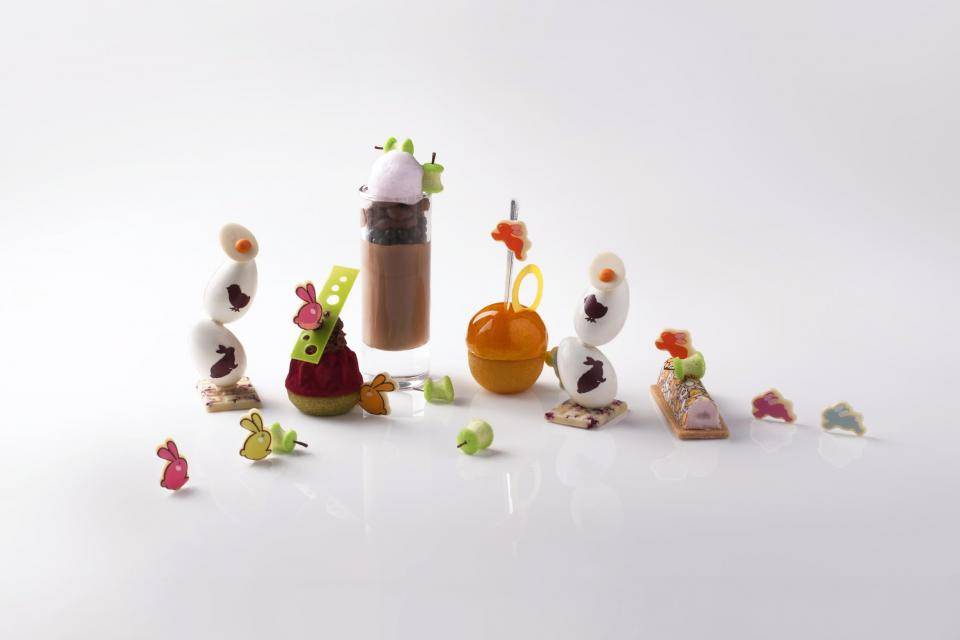 Do you have any special memory related to chocolate?
Yes, the lovely chocolate eggs we have created for the Jubilee. We did sixty wonderful handcrafted eggs. I love to create beautiful magical things out of chocolate. I never had a real childhood, so it somehow brings back the child in me.
What is inspiring you today?
I'm hugely inspired by modern art but when I am creating I always think about how to make my creations look very edible. And then I like to create playful stories. If you look at this year's Easter collection you will see the playing rabbits. You can follow their story.
Also, my team is inspiring me a lot. I often ask them what they want to create and then we do it. I like to make their dreams come true too.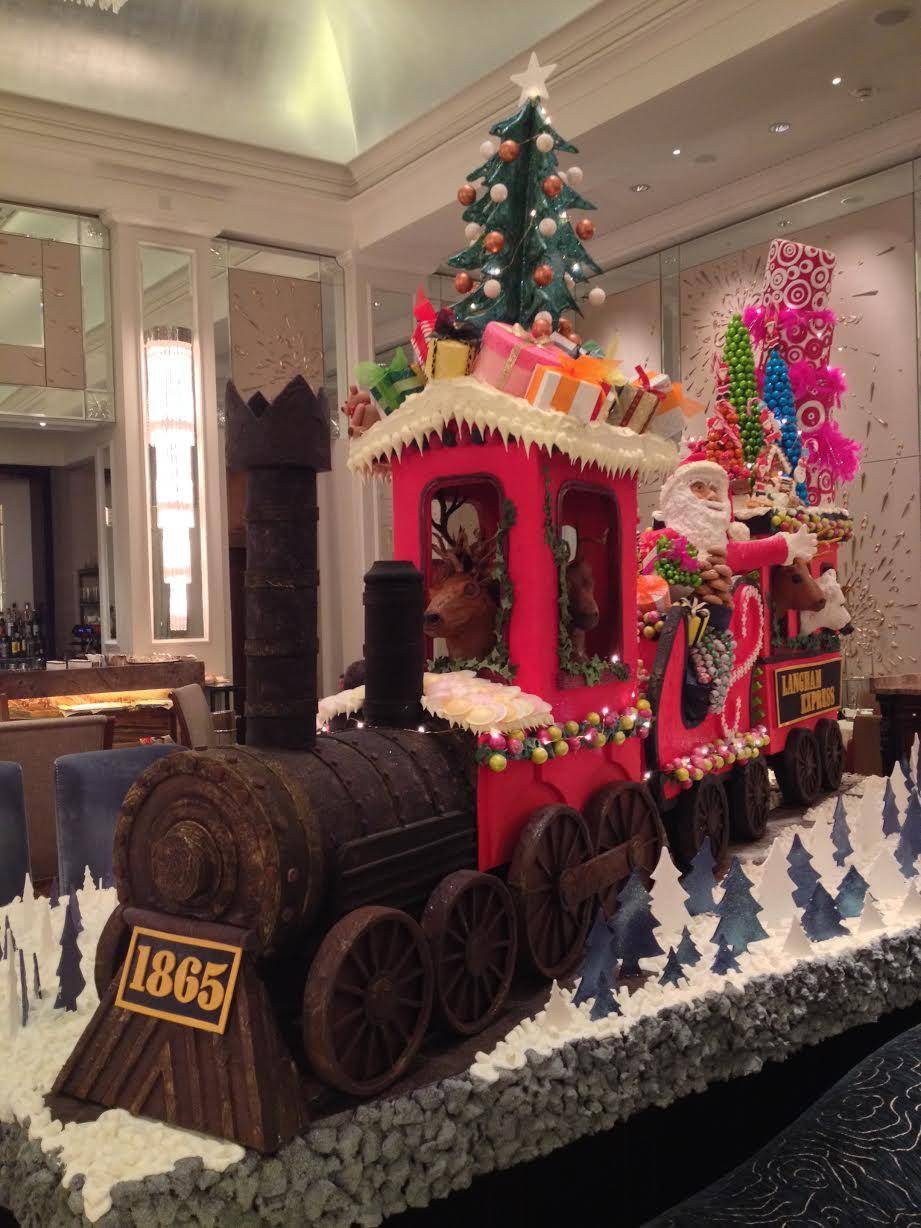 And your greatest challenge?
That was the Langham Express. It was 2.5 meters long and had eight animals in it which were all handcrafted. It was really a great project which we started to work on nine months in advance to structure it well and we needed four to five months to create it. It was wonderful. Full of magic. We created this train to give a break to Santa Claus who is always working so hard so that he and his animals could travel comfortably. There were around 8888 sweets on the train as well. Christmas is magical, so the children had to get a piece from the train. I want to create pieces that put a smile on faces.
What is your relationship to chocolate?
I love chocolate. I  started my career as a chocolatier. It's a really fascinating world. There is a big block of chocolate in front of you and you have to find a way to make it interesting, to bring it to life. I think it would be difficult for me to make pastries without chocolate.
What are your favourite flavours?
I love European flavours, but I always love to play also with Asian flavours. Especially Pandan leaf which is so fantastic to use. It's used in a similar way as lavender and gives a very floral green flavour. Or rose and lychee which is very much used in Asia, but I see that English people love it as well. So I like to bring to the table also the flavours which take me to my roots. But whatever I create I always ask myself if my guests will enjoy it.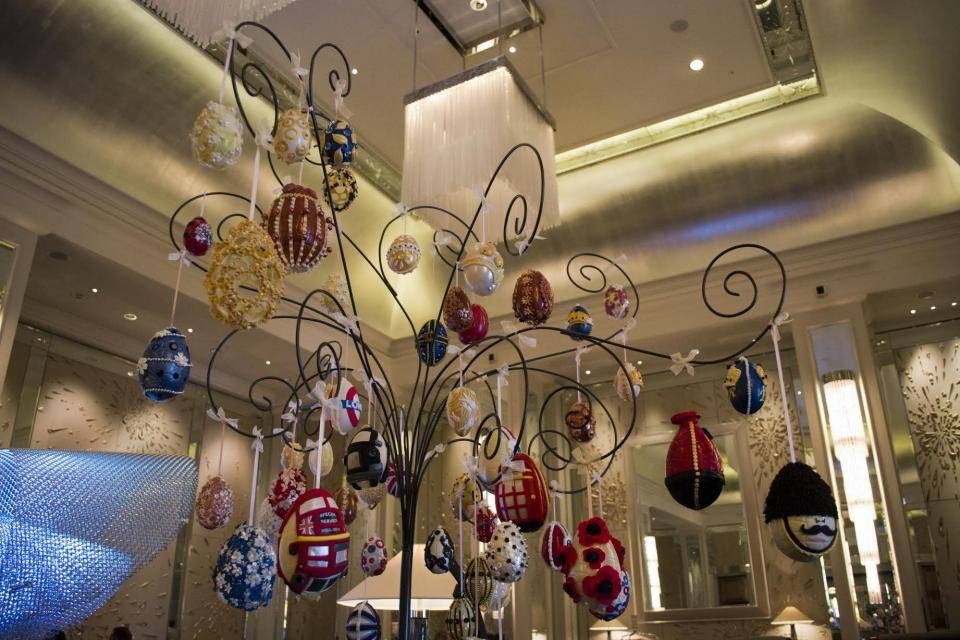 You have just received your own chocolate which you have created in the Cacao Barry's Or Noir laboratory in Paris ….
Yes, I am very proud and excited about it. We will do so many things with it!
It was a very interesting experience creating it because you have to create and taste a lot of different chocolates. We have then narrowed it down to a couple that I really liked. I wanted to create for Langham a chocolate that is friendly for everyone so it is milk chocolate initially, very floral and fruity, which turns into a dark chocolate at the end. The more you eat, the more addicted you are to it. It's about 48% cacao and quite magical. I really love it!
Which desserts are now on your menu and which is your favourite?
It's the crunchy popcorn meringue with salted caramel, sous-vide apple gel and sticky toffee sponge arranged in a swirly maze like pattern. The a-maze-ing or a-mais-ing… A nice sweet and salty combination in the form of a question mark because people have to find a way to eat it. It's quite magical! I really enjoyed creating it. It is fun, it makes you think and it tastes great, so this is my favourite dessert at the moment.
How do you like to enjoy chocolate?
Many people who love chocolate just simply eat it.  I eat it differently, probably because I am a professional. I always eat my chocolate three times. I bite it, feel it with my tongue, crunch it in my mouth and I breath it in so I have the sensation of the smell as well and I repeat it two more times to confirm that in my mind I like that piece of chocolate. I also love my chocolate and wine.
The best chocolate dessert you have ever eaten?
The black forest at Fat Duck. We had a sixteen courses tasting menu and each course was just amazing. The black forest there was delightful.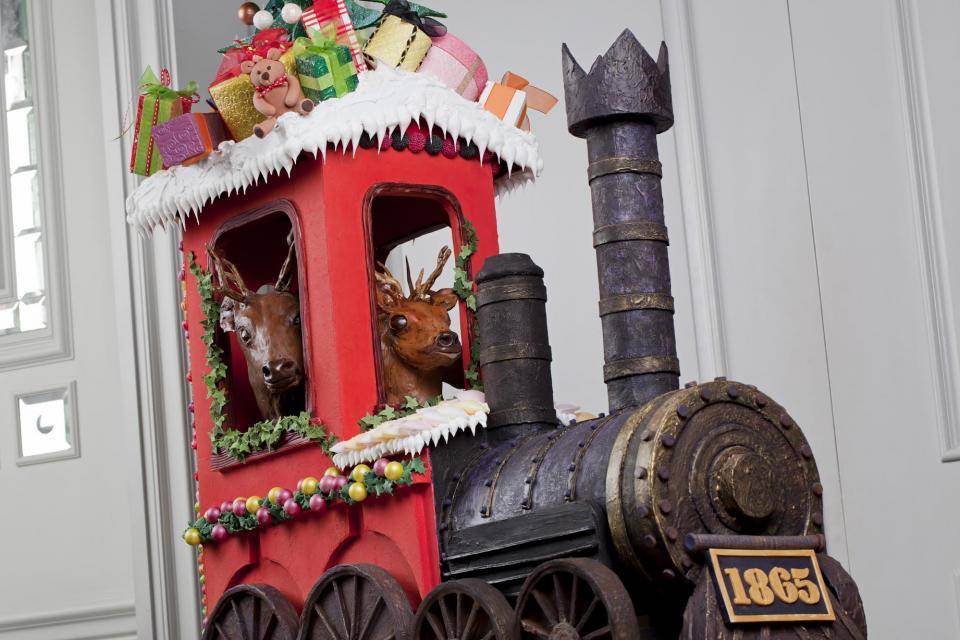 If you could choose any place to go and try their cuisine, where would you go?
Spain. Absolutely Spain. I would love to visit El Celler de Can Roca. I would love to enter into the mind of Jordi Roca.
What is your greatest achievement?
My greatest achievement was when I won the 1st place in the pastry and second place in general at the IKA Culinary Olympics in Germany between participants of 32 countries. I was still living in Singapore then. You expect the French to win and then they called Singapore! I felt so happy and surprised! It was really a great feeling.
What would be your ultimate dream?
I would love to become the best pastry chef in the world. That's still a long way away, but I really desire it.
And the final message to our readers?
Try the Langham chocolate and our afternoon tea. And have fun when you eat. Enjoy it!
Enjoy the most famous tea in London, created by Cherish Finden at THE LANGHAM, LONDON
Notable Awards & Accolades
2015 JUDGE 'DESSERT OF THE YEAR' ASSOCIATION OF PASTRY CHEF
2014 JUDGE 'DESSERT OF THE YEAR' ASSOCIATION OF PASTRY CHEF
2014 JUDGE 'GOURMET DESSERT CHEF OF THE YEAR' (MOVENPICK)
2014 JUDGE 'ROYAL ACADEMY OF CULINARY ART – ANNUAL EXCELLENCE AWARDS'
2014 JUDGE 'BRITISH KAZAKH DESSERT COMPETITION' (KAZAKHSTAN)
2013 TASTING JUDGE UK PASTRY CLUB – COUPE DU MONDE
2013 JUDGE 'GOURMET DESSERT OF THE YEAR'
2012 PASTRY CHEF OF THE YEAR, CRAFT GUILD OF CHEFS
2002 LE SALON CULINAIRE INTERNATIONAL DE LONDRES, Gold for Petit Four
2001 DESSERT OF THE YEAR (LONDON), 1st Place
2000 OLYMPIC IKA, 1st Place for Pastry Category C, Gold for Plated Dessert & Petit Four
2000 OLYMPIC IKA, 1st Place for Hot Cooking Category D
2000 OLYMPIC IKA, 2nd Place for Overall Singapore National Team Achievement
1999 IEGHO CULINARY COMPETITION, 1st Place for Petit Four
1999 IEGHO CULINARY COMPETITION, 2nd Place representing Singapore National Team
1998 SALON CULINAIRE INTERNATIONAL COMPETITION, 3rd Place representing Singapore National Team
1995 AMERICAN CULINARY CLASSIC, 7th Place representing Singapore National Team
1994 FHA INTERNATIONAL SALON CULINAIRE, Gold for Petit Four
1994 FHA INTERNATIONAL SALON CULINAIRE, Gold for Confectionary
1994 FHA INTERNATIONAL SALON CULINAIRE, Silver for Pastry Showpiece
1994 FHA INTERNATIONAL SALON CULINAIRE, Bronze for Dessert
1994 PRIMA BAKING AWARDS (SINGAPORE), 2nd Place
1992 FHA INTERNATIONAL CULINAIRE, Gold for Praline
1992 FHA INTERNATIONAL CULINAIRE, Gold for Confectionary
1992 PRIMA BAKING AWARDS (SINGAPORE), 4th Place
1990 FHA INTERNATIONAL CULINAIRE, Bronze for Confectionary