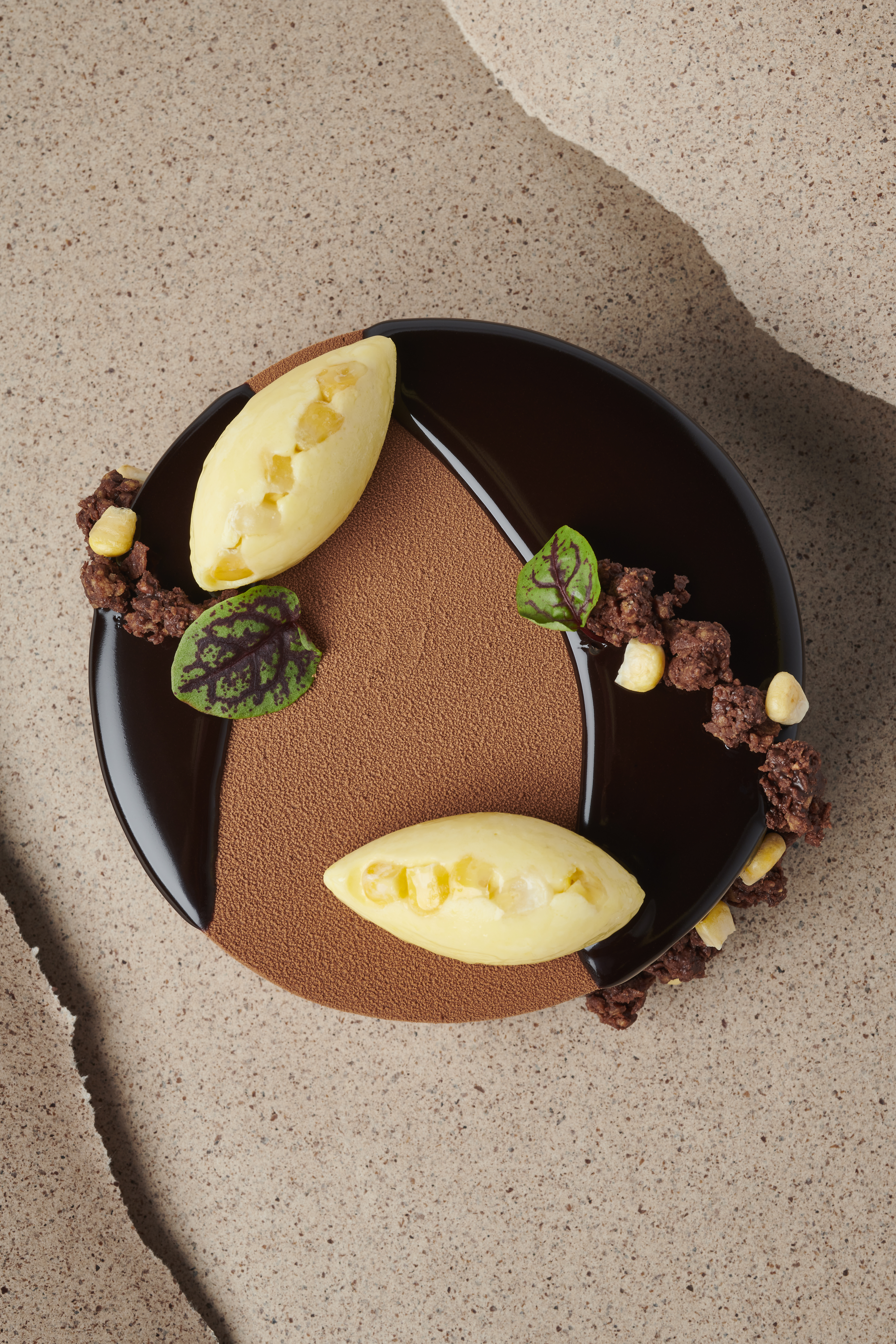 Used Cacao Barry products
Entremets Creations
Evocao-Haskap-Corn Entremets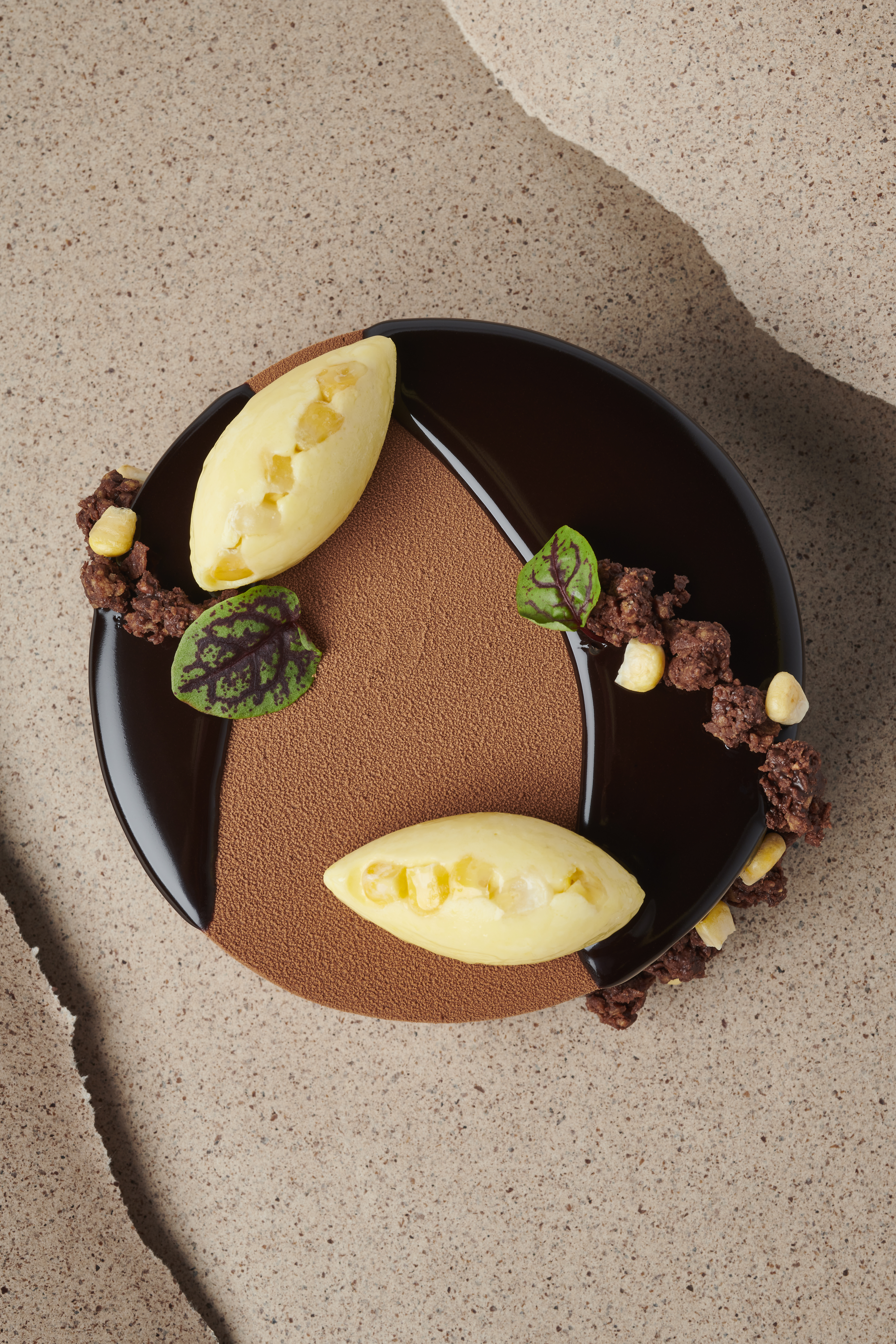 INSPIRATION
Inspired by the pairings of François Chartier, this entremets lets the unique Evocao chocolate flavors shine.
TASTE
Between sweetness & freshness
TEXTURE
Creamy, crunchy & frothy
RECOMMENDATIONS
Taste this application at 8°C in the center.
YIELD
2 entremets of 14 cm diameter and 6 cm height
Used Cacao Barry products
Recipe components
Soft Corn Biscuit
Ingredients
Preparation

Sift the dry ingredients.
Whip the egg yolks and sugar (1) to ribbon stage.
Fold in the sifted dry ingredients.
Then add the melted butter.
Make a french meringue using the egg whites and sugar (2).
Fold the meringue into the egg yolks mixture.
Pour onto the silicon sheet to a thickness of about 1 cm.
Bake at 180 C for 15 minutes.
Cut 4-12cm rounds.
Crunchy Roasted Corn
Ingredients
Preparation

Mix all the dry ingredients together.
Melt the chocolate and butter.
Add the melted chocolate and butter to the dry ingredients and mix.
Spread on top of the mousse to fill the ring
Salted Crumble
Ingredients
Preparation

Mix all the ingredients to sanding stage.
Bake at 160°C for approximately 15 min.
Reserve for the Crunchy Corn Base (above) and decoration.
Corn Crémeux
Ingredients
Preparation

Boil the cream with the corn.
Blend the mixture and sift to obtain a purée.
Mix the milk and the above purée.
Mix the corn starch and the egg yolks.
Add to the hot liquids and cook until thickened.
Add the gelatin.
At 40°C, incorporate the butter and mix well.
Pour 180 g on 2 of the Soft Corn Biscuit into a 12cm ring.
Haskap Confit
Ingredients
Preparation

Heat the haskap, black current purée and glucose.
Pour the sugar and the NH pectin into the mixture.
Boil for 1 min.
Add the lemon juice.
Pour 100 g on 2 of the Soft Corn Biscuit into 12 cm ring .
Place the insert in the freezer before assembly.
Evocao Mousse Ganache Base
Ingredients
Preparation

Boil the cream and the milk.
Pour onto the chocolate and mix well with a hand blender to obtain an emulsion.
Incorporate the soft whipped cream.
(Tip: make sure the ganache temperature is between 40-45°C.)
Inverse Assembly
Pour 200 g of chocolate mousse in the ring.
Place the haskap insert.
Pour 100 g of chocolate mousse.
Place the corn cremeux insert.
Seal with the crisp.
Place in the freezer.
To finish, decorate with crunchies around the previously glazed entremets.