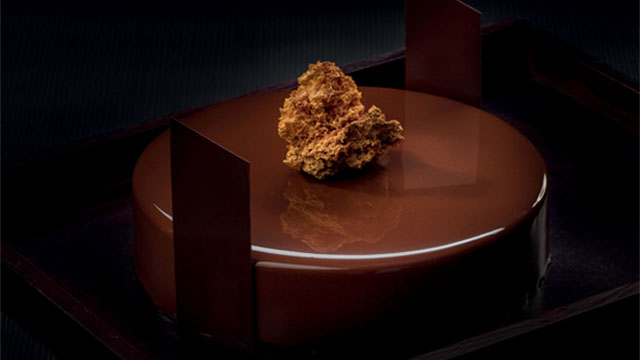 Used Cacao Barry products
Fall / Winter
Pure Balance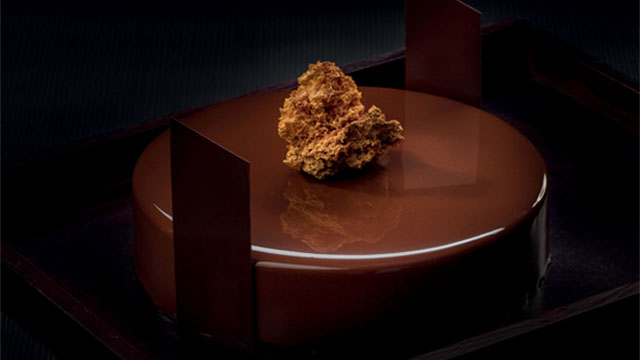 Dosage
Recipe for approximately six entremets 7 in / 18 cm in diameter and 1.4 in / 3.5 cm deep
Used Cacao Barry products
Recipe components
Flourless chocolate and apricot spiced cake
Ingredients
Preparation

Prepare the spice mix with

Whip

Add the egg yolks without beating

Add

Add

Make some discs of 6.3 in / 16 cm in diameter and top with

Finish by baking at 356°F/180°C for approximately 10 minutes.
Salted caramel
Ingredients
Preparation

Dry caramelise

Deglaze with a mixture of

Add

Chill at 122°F/50°C and add

Mix and add when the caramel reaches around 86°F/30°C.
Ocoa™ discs
Ingredients
Preparation

Melt at approximately 113°F/45°C

Pre-crystallize and spread a fine layer on guitar sheets.
Cut out discs of 6.3 in / 16 cm in diameter before total crystallization takes place.
Reserve for assembly.
Ocoa™ Mousse
Ingredients
Preparation

Make a custard and heat to approximately 179/181°F or 82/83°C

Pour the custard over

Emulsify everything properly and check that the temperature of the mixture is approximately 113°F/45°C.

Add

Assemble components immediately.
Ocoa™ icing
Ingredients
Preparation

Bring to a boil

sweetened concentrated milk

Add

Pour all over

Emulsify well and strain to finish.
Store in the refrigerator and use at around 104°F/40°C on the well frozen desserts.
Assembly
Prepare rings of 7 in / 18 cm in diameter and 1.4 in / 3.5 cm deep.
Pour the chocolate mousse into the base of the tin and insert 2 chocolate sheets which have been topped with a spiral of salted caramel.
Top with the flourless chocolate cake.
Store in the freezer.
Once frozen, unmold and glaze with the Ocoa™ icing.
Finish by placing chocolate sheets on the sides of the cake as shown in photo.